The Wizards mid-range doom seals their fate in Game 3
The Wizards' problem in Game 3? Their over-reliance on mid-range shooting.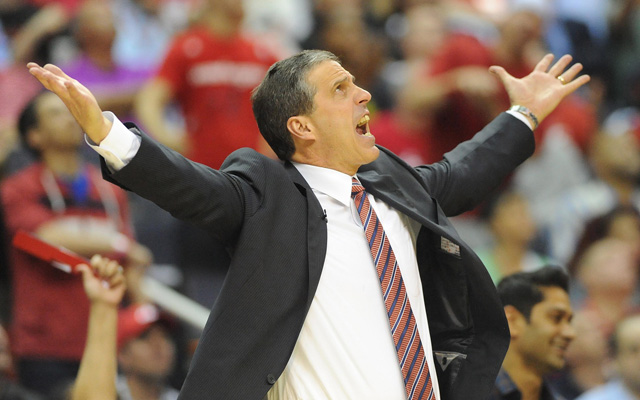 More postseason coverage: Playoff schedule, results | Latest news, notes
Pacers defeat Wizards 85-63, go up 2-1 in their semifinals series.
The Washington Wizards love the mid-range shot. They took the most mid-range shots in the regular season. They've taken the most per-game of any team in the playoffs. But they're also very reliant on the least efficient shot in basketball... and they're not very good at it. 
The Wizards were 21st in mid-range field goal percentage, shooting 38 percent. In their wins in the playoffs, they shot 41 percent from the dreaded long-two, and in their losses, after Friday night's blood-weeping performance vs. the Pacers, they are shooting 31 percent from mid-range in losses. 
OK, so big deal. They didn't shoot well in losses, they shot well in wins. 
Well, what the big deal is is sustainability. If you take a lot of shots that don't go in often anyway, and you're not particularly good at it, what's going to happen eventually? 
Here's the shot chart for the Wizards. Brace yourselves, and put the kids away before you look at this.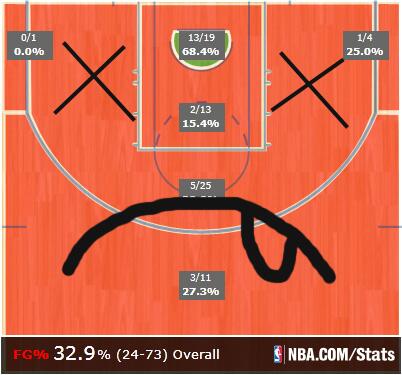 25 shots from mid-range is below their regular season average, but this was also a low-possession, ugly game overall. They couldn't hit from anywhere, but the Wizards kept trying to get that pull-up jumper game going. Part of that is what the Pacers were giving them. The Pacers were going way under every screen, daring Bradley Beal and John Wall to beat them with it. 
That's a bold move, considering it didn't really work in the first two games. But it paid off big time in Game 3. And the worse the Wizards shot, the more out-of-rhythm they became. 
The Wizards would do well going forward to start moving some of those shots to the perimeter and down low. Nene has been great from mid-range, but the Pacers moved Roy Hibbert on to him and that froze his shot with Hibbert's length just enough. Meanwhile, the Wizards couldn't find enough spot-up shots on the outside. The Wizards need to find higher qualiy looks going forward. It's not just about knocking them down, it's about finding an offensive model that can work consistently. 
Because the Pacers aren't going to let them do what they want; not anymore. 
If Charlotte indeed moves its star guard, there's going to be more people impacted than just...

Trading Kemba Walker (and dumping salary in the process) may be harder than expected for C...

Our advanced computer model simulated Friday's Jazz-Knicks game 10,000 times
There was some explosive guard play this week in the NBA's rookie class

With half of the season in the books, there were some clear favorites for our Midseason Aw...

SportsLine's Mike McClure, a DFS pro with more than $1M in winnings, gives optimal lineup...