VIDEO: Check out the top unreal D-League dunks from this season
It may not be NBA basketball but the top dunks from the D-League were probably better than their NBA counterparts. Check them out.
The top D-League dunks in the 2013-14 season are legit. 
They may not be NBA highlights, but you'll be hard-pressed to find better dunks from the NBA this season than many of the ferocious slams we see in this video. We see highlights from Ra'shad James, Rodney Williams, Joe Alexander, and Chris Wright. Tony Mitchell, Archie Goodwin, Dennis Schroder and Glen Rice Jr. also make some appearances.
Here are a few things from the video that I just love:
1. Check out this still of Ra'shad James' monster tomahawk dunk in the 10th best dunk. This is an incredible display of athleticism.
2. Norvel Pelle's reaction to Rodney Williams' dunk in the ninth best dunk is fantastic. He basically runs away from that side of the court laughing at the destroyed competition: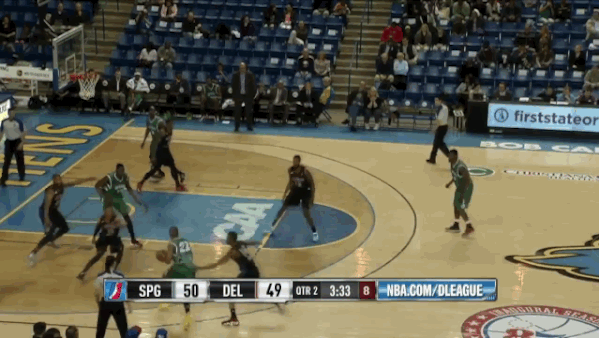 3. Chris Wright can likely jump higher than you. 
4. We have a Joe Alexander sighting! Remember Joe? He was the eighth pick of the 2008 NBA Draft and only lasted two seasons in the NBA. But he's trying to make a comeback and he can still dunk. 
5. Schroder's dunk is pretty cool because on the third replay, you realize he's still going up when he dunks it on the defender. He was moving too quickly to even reach the height of his jump before he threw down.
Warriors' forward doesn't understand the reasoning behind the all-too-common double technical...

Hardaway Jr. gave a 'safe' call like he was an umpire in baseball

Barnes hits the trey with less than a second left to lift Mavericks to dramatic 95-94 vict...
Kevin Durant was once again back in Oklahoma City

Gregg Popovich has never seen an injury lead to the issues that Kawhi Leonard has been fac...

Kobe Bryant, of course, had his 81-point game against Rose and the Raptors back in 2006