Alshon Jeffery offers up a NSFW assessment of the Bears' offensive issues
The Bears travel to Lambeau Field looking for their second win of the season
• 1 min read
Between the 20s, the Bears' offense is rolling. Inside the red zone though, the Bears' offense stinks.
The Bears are ranked seventh in yards gained per game. They're ranked second to last in points scored per game. So, clearly, there's a problem.
Bears receiver Alshon Jeffery can sum up that problem, as he did after the Bears' blew yet another fourth-quarter lead on Sunday, this time to the Jaguars. Here's what Jeffery had to say about the Bears' offense, per Adam Hoge of WGN Radio:
"We gotta score f------ touchdowns. That's it. Touchdowns win games. S---. You see what three points get us."

Jeffery is not wrong. The Bears can't stop settling for field goals. They're scoring touchdowns on just 47.37 percent of their red zone trips.
He also has every right to be frustrated. In each of the Bears' past two losses, Brian Hoyer has missed Jeffery on wide-open easy touchdown throws.
The first of those plays came on the Bears' final offensive play against the Colts, when Hoyer misread the coverage and didn't even look Jeffery's way. Of course, Jeffery had beat his man and would've walked into the end zone had Hoyer thrown him the ball.
Instead of celebrating a game-winning touchdown, Jeffery slammed his helmet to the turf.
The second miss came against the Jaguars this past Sunday. This time Hoyer did spot Jeffery -- he just completely overthrew him.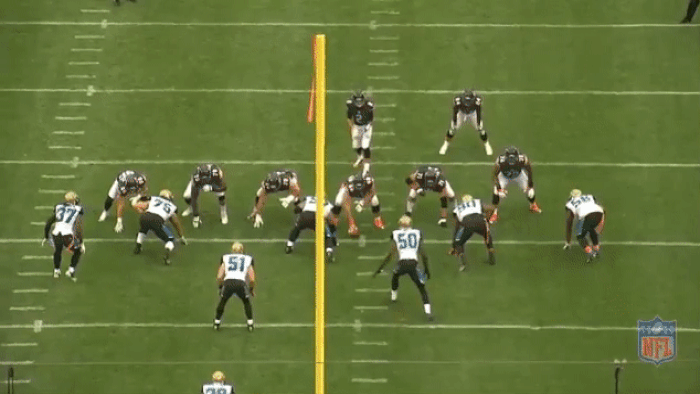 Unfortunately for the Bears, touchdowns aren't coming. Jay Cutler, who is still dealing with a sprained thumb, didn't practice Tuesday. And that means it'll likely be Hoyer, again, under center against the Packers on Thursday.
So, get ready for more short passes and more field goals -- aka #BearsFootball.
Plus Jordy Nelson's lonely pre-game, Jamal Adams' Milly Rock, Le'Veon Bell's stiff arm and...

Justin Timberlake is headed back to perform at the Super Bowl for the first time in 14 yea...
Burfict could be facing his second suspension of the 2017 season

J.T. is reportedly set to bring sexy back to the Super Bowl stage

Eight months after 28-3 happened in Super Bowl LI, the Falcons and Patriots meet again in Week...