Bears locking up Jay Cutler was the right thing to do
The Chicago Bears gave Jay Cutler a long-term extension Thursday, and some will say it's not a wise thing to do. I disagree.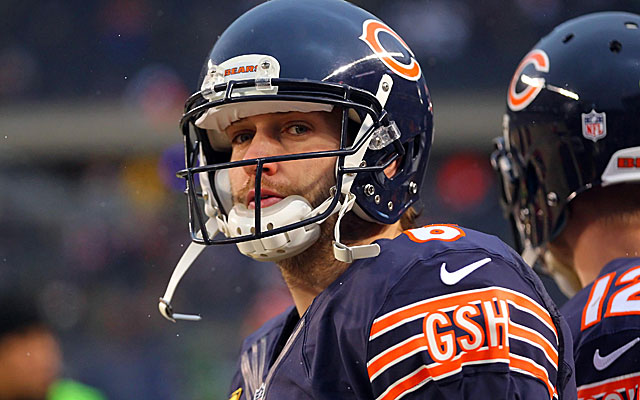 Don't give me this crap that his aging backup signed off the scrap pile is a better option than Jay Cutler.
The Chicago Bears had no choice but to extend Cutler, a deal they announced Thursday. He's a franchise passer. They don't come around that often.
Is he top-tier? No. Is he as good as some of the guys who won Super Bowls in recent years -- see Eli Manning and Joe Flacco? Yes.
During the season, when Cutler was hurt and Josh McCown went in as the starter, there was this thinking that the Bears were better off without Cutler playing and to keep playing McCown.
That's just crazy. Numbers. Throw out all the numbers you want. Study their tapes and come back and tell me McCown was better. If you do, you need new eyes. 
Take a look at the quarterback landscape. How many off-the-scrap-heap guys win Super Bowls? Yes, Tom Brady is an exception -- a rare one. But pedigree matters. 
The Bears did the right thing locking Cutler up to a long-term deal.
It's so hard to find Cutler-type of quarterbacks. Giving up on him would have been foolish.
Let's put it this way: If Jay Cutler were in the 2014 NFL Draft, he'd be the first pick in a slam-dunk way.
The Bears got it right.
Stop the madness.
The former Buccaneers kicker did not have things start well for him in Chicago

Bears special teams showed up in a big way against Arizona

Beast Mode got loose with Oakland and looked pretty impressive in the early going
Beast Mode was one of several players to sit during the Raiders-Rams game

The cleaning staff in Houston missed a couple of things while cleaning up after Super Bowl...

Marvin Jones had some serious fun in the end zone after scoring against the Jets