Cam Newton can learn a lot from other great QBs who lost a Super Bowl
Cam Newton's short, curt postgame press conference after an ugly Super Bowl loss isn't a good look, but it's only one moment, one game. What Newton does next is what matters most.
Look past the confetti flittering around Peyton Manning like some kind of all-time-great goodbye party. Get beyond the glaring obnoxiousness of Cam Newton's press conference. Try, if you can, to drown out the hot-takers screaming that everyone on social media disagreeing with their Newton take is a hot-take moron.
There's an overarching truth that bubbled up at Super Bowl 50 that's worth focusing on: You can't judge players -- not even the quarterbacks in Super Bowl 50 -- on a single game, or a single moment.
Let's start with Newton. After a terrible game and an inexplicable play where he didn't try to retrieve a crucial fumble, the dabbing, dancing, divisive superstar turned in a postgame press conference that was an all-timer on the petulance scale. He was short. He was curt. He pouted. He glared. He gave his haters ammunition and his supporters -- I speak knowingly here -- deep second thoughts. Then he dashed off like some kind of unprofessional prima donna.
Even in the forgiving light of a Monday morning, the Panthers QB's behavior was absolutely unacceptable. No question.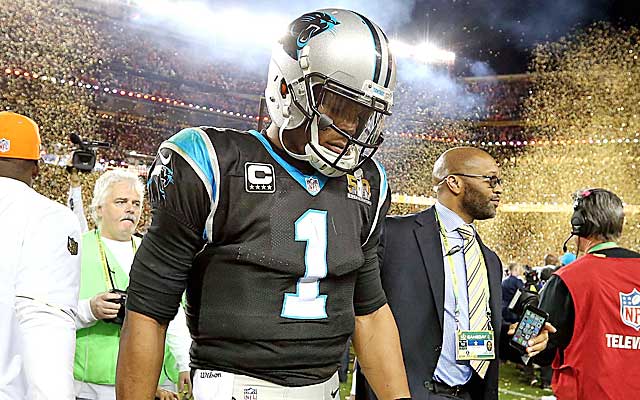 So save us all the talk that it was a big moment, that to criticize his conduct is unfair, that he'd just had a bad day. Bad days are part of life. Bad days are part of work. Bad days are certainly part of the brand of football, and being the face of your team -- and an important steward of the Shield -- comes with an obligation to deal with them. With class, grace and a grown man's temperament.
If Tom Brady, Jim Kelly, Russell Wilson and, yes, Manning have been able to do it, so can Cam. So can anyone in that seat. Because that's the job.
But there's a middle-ground here, between pointing out correctly that Cam's conduct was ridiculous and making some leap that he is now certifiably a bad dude.
Hot-take-ism isn't refusing to acknowledge the complicated or ugly in the guys we support. And it's not reveling in the pitfalls of the guys we don't, and then trying to shout down the people who disagree. It's hearing over our own silly screaming and seeing the world, and those like Newton, with the nuance that fits them.
So hear this: One moment doesn't define what Cam Newton did, even though that moment was ugly. What will define him, and that moment, is what comes next.
Leadership, greatness and the success we all crave come from how we react to our most daunting, difficult and, often, humiliating moments. Cam was wrong. Cam was a jerk. But that doesn't make Cam a bad guy. Not yet.
I've seen this first-hand, several times. LeBron James might be the highest-profile example. At times his first year in Miami he couldn't have been more off-putting. And I, like many today toward Cam, killed the guy. And then LeBron taught me this: People change. Human beings are complicated. And owning our own mistakes can forge them into strengths, and us into better people and competitors.
That's true in life for these guys, or at least it has the potential to be. It's true on the field, too.
Take Manning, last night.
I made a promise a few days ago to Peyton, so I'm going to tread lightly here. But in his career, Manning commanded so much power and influence over the offenses he shepherded that he was in many ways the de facto offensive coordinator. And the end result, in his postseasons until Super Bowl 50, was a 1-2 Super Bowl record. His lone championship until last night came by letting his defense do most of the work while he was mostly lackluster.
On Sunday, with a chunk of self-awareness easier said than done (looking at you, Cam), Manning conducted himself during what surely was his final football game as the liability he was. He understood his role, mostly got out of the way and won a second ring.
Think about that: One of the greatest quarterbacks of all time, who surely heard people saying he couldn't win the big games in his prime and wouldn't win it now that he was a shadow of himself, did his best Trent Dilfer imitation anyway.
He had the fewest passing attempts of his postseason career, going 13-for-23 for 141 passing yards, an interception and a lost fumble. His quarterback-rating was a paltry 56.6.
He was, frankly, pretty awful.
And yet … there was greatness there, too. In not doing as much. In knowing where he's at -- a battered great, a leader by example rather than deeds. No easy thing as an NFL quarterback with one last chance to rewrite how we'll see him. But it worked. Behind Von Miller's marvelous night, and a Broncos defense that should earn best-of-all-time comparisons, Denver became only the third team to ever win a Super Bowl with only one offensive touchdown. And one of 10 to win despite having fewer than 200 total yards of offense.
"That's the best defense I've ever seen," John Elway said.
And Manning, despite his ego and greatness and legacy and impending goodbye, trusted all of that and more to them rather than the arm and offensive acumen that once defined his life.
You can't judge a player, not even a Super Bowl quarterback, by one game. Peyton Manning just demonstrated that on the field.
So if you're screaming, Cam Newton is a bad dude, stop. If you're shouting at those of us who rightly said his conduct Sunday night was wholly unacceptable, simmer down and listen.
The fact is this: In the bright light of Monday morning, far from the emotion of winning or losing Super Bowl 50, the truth for Cam Newton depends on what he does next. He was a petulant jerk for those three minutes. But that doesn't mean he has to be one going forward.
That'll be up to him, not us.
Here's an up-to-date look at the 2018 Pro Bowl roster

New England is 3-0 wearing white in Super Bowls under Bill Belichick

Bettors are favoring the Eagles to keep Super Bowl LII close, but the Patriots remain clear...
No one wants to give the Eagles any respect

The three-time Grammy winner will sing before Super Bowl LII on Feb. 4

Here's a look at the NFL's entire postseason schedule for 2018