Colts owner Jim Irsay says he asked Peyton Manning to retire as a Colt
Super Bowl 50 could very well be Manning's last game.
When Peyton Manning split from his former team, the Indianapolis Colts, it was not exactly all sunshine and rainbows. Manning was essentially forced out the door after sitting out an entire season due to multiple neck surgeries, as the Colts decided to select his replacement (Andrew Luck) with the No. 1 overall pick in the 2012 NFL Draft. About a month and a half before they did so, the Colts released Manning, who was about to be due a $28 million roster bonus at the time.
Peyton signed with the Broncos not long after that, and he's since had three excellent seasons (including one of the best ever) and one bad one (this year), and on Sunday will make his second Super Bowl appearance with the team, the same number of appearances he made with the Colts in 15 seasons.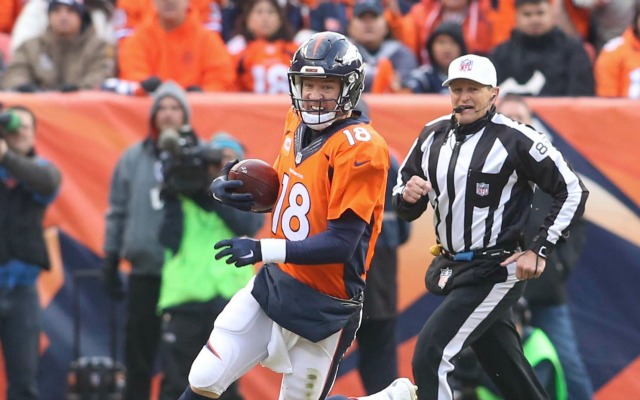 There has been a lot of talk that Peyton will hang up his spikes for good, win or lose, and if he does, Colts owner Jim Irsay would like to see him return to the team one last time to retire as a Colt. (He's presumably referring to having Peyton sign one of those one-day contracts that players sign so they can retire as a member of the team they're most closely associated with.)
"I want him to and I've asked him to," Irsay said in an interview with WISH-TV. "I would love to have him retire as a Colt and how he handles that part of his career. And when it comes, I think he's going about it the right way. Look, he's focused on this game. We all talk about staying in the moment, staying in the day, and I think the older you get, the more you practice that because you realize you're given only one day at a time. I think he really has tunnel vision in the sense that he doesn't want to think about that part of his life after football. Him and I have talked about that through the years, of course, as he's gotten older. What he might do and the opportunities are obviously many for him."
Manning has been talking more openly about the possibility that this might be his last game throughout this week. If and when he decides his career is over, he'll obviously go down as one of the best players in NFL history, regardless of position. Does it really matter what team he retires with? No. He's a legend no matter what. Would it be pretty cool to see him in front of the Colts logo one last time, though? Sure, absolutely.
You can watch the interview below:
Wink of the CBS Eye to the Denver Post
Warren Sapp was one of several players named in a lawsuit against NFL Network

Check out the uniforms that Denver and Indianapolis will be wearing on Thursday

The Cowboys are going to need a few things to go their way to get into the postseason
Rudolph will be put under the microscope in Mobile by clubs looking for a quarterback early...

This fan is taking the Saints to court for using 'football games as a platform for protest...

Can Aaron Rodgers get the Packers to the postseason? Even if they win out, they'll need he...