George Marshall's granddaughter: Redskins need to change name
Yet another proponent to change the Redskins name has come forward. And she has an interesting history to the team's founding.
• 2 min read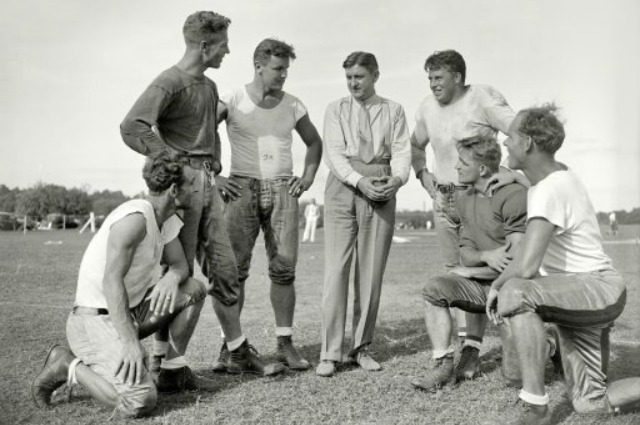 More NFL: Photos |   Videos & GIFs |  Stories | Training Camps | Johnny Manziel watch 
Former Redskins owner George Preston Marshall wasn't a tolerant man. He helped convince the rest of the NFL ownership to institute a color line in 1937, and Washington didn't add a black player, future Hall of Famer Bobby Mitchell, until 1962 and was the last NFL team to do so (and the Kennedy administration had a little something to do with that).
Marshall has been dead since 1969, so we can't ask him what he thinks about the Redskins name controversy (a name Marshall actually gave to the team). But his granddaughter certainly can give her opinion, and that's exactly what's she done.
Asked by Leonard Shapiro for Leesburg Today what she thinks about the Redskins moniker, Jordan Wright said, "They need to change the name. In this day and age, it's just not right."
She has plenty of company who agree. The president, a bunch of U.S. senators, the U.S. attorney general, and the U.S. Patent and Trade Office.
And if owner Daniel Snyder does relent and change the name -- at some point, he's going to have to, right? -- what would happen?
Writes Shapiro, "Just think about all the fabulous fallout that could benefit Washington's favorite football team and its beleaguered owner if he finally reversed his field. Surely he'd be praised by President Obama, all those senators and the entire Congress, a vast majority of the media, the D.C. City Council and virtually every major Native American organization in the country for doing the right and honorable thing. A Nobel Peace Prize might not quite be in order, but surely the NAACP, the Anti-Defamation League, the National Organization of Women and many others would invite him to accept their humanitarian of the year awards, both locally and nationally."
But if Marshall was still around, it's hard to imagine him joining that pro-name change chorus. He wasn't exactly a paragon for progressiveness.
As legendary coach Sid Gillman said in 1961: "Marshall refuses to use Negro players. He's dead wrong from both a moral and practical standpoint. From a moral standpoint, Marshall's policy is disgraceful. He's living in the Dark Ages. From a practical standpoint, he's ruined his football team. It's impossible to compete in any sport without using Negro athletes."
And as the Daily Beast wrote 13 months ago: "This is the man who gave the Washington Redskins their name. He was one of the most despicable racists in the American sporting arena of the entire 20th century. He thought Redskins was funny, just as he thought the war paint and feather headdress he made the head coach wear were funny. And this is the legacy that current Redskins owner Dan Snyder wants to uphold?"
For now, the answer is yes.
CBS All Access allows viewers to stream every NFL on CBS game in their local market

CBS All Access allows viewers to stream every NFL on CBS game in their local market

Two NFC East divisional foes face off this weekend in a big battle for both teams
Owners and CEOs from several teams released statements in response to Trump's remarks in A...

Nick Kostos won big on Monday nights last season and gives his best 3-team NFL parlay for Week...

CBS All Access allows viewers to stream every NFL on CBS game in their local market