Just Because: Pink Floyd's David Gilmour wears a Cowboys T-shirt
Pink Floyd's David Gilmour is one of my favorite musicians of all time. He also once wore a Cowboys T-shirt.
• 1 min read
If any modern celebrity was sporting Dallas Cowboys gear in the real world, we'd probably roll our eyes and shake our fist in apathy. "Jeez, man," we might say, "how much more obvious can you be?"
Isn't that right, LeBron (who's from Akron, Ohio)? Right, Chris Christie (governor of New Jersey, home of the, ahem, Giants)? Right, Eminem (who should be an everlasting Lions fan)?
But frankly, I'm giving a pass to Pink Floyd's David Gilmour, seen below sporting a Cowboys T-shirt while, according to @HistoricalPics,  he takes in a Led Zeppelin concert with Paul and Linda McCartney, circa 1975.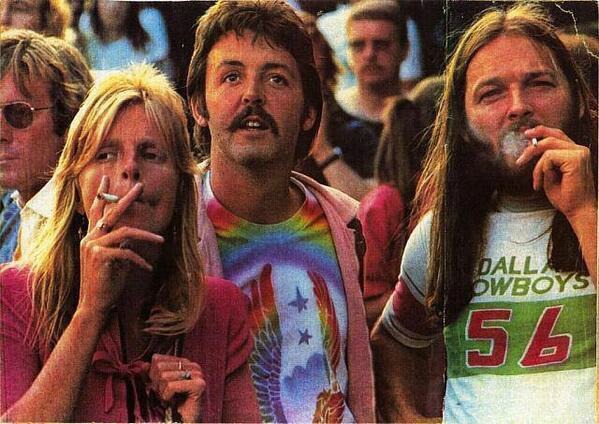 No. 1, Pink Floyd is one of my favorite bands of all time, so Gilmour can do just about anything he wants and I'd be cool with it.
No. 2, the Cowboys weren't America's team back then. Yes, under the leadership of coach Tom Landry, the Cowboys won double-digit games every year but two from 1966-81, but when this photo was snapped, the team wasn't THAT far removed from going 18-46-4 during its first five seasons in existence from 1960-64. So, it couldn't have been that trendy at the time for Gilmour, an Englishman, to be wearing such a shirt (though, strangely, The Who drummer Keith Moon also had been photographed wearing that shirt).
One other thing, after further research, it appears this photo might have been snapped at the Knebworth Festival in 1976 while the trio watched the Rolling Stones (and not Zeppelin).
So, while we don't know who or when Gilmour, McCartney and McCartney were watching at this moment and while we don't know what they were smoking, we do know this:
David Gilmour is wearing a Dallas Cowboys T-shirt. And it looks just fine. 
The NFC is going to be a blast to watch down the stretch, but don't sleep on the Patriots'...

The Dolphins just created a serious shock in the AFC and MVP races by beating the Patriots

With their 2017 season basically over, it's time for Texans fans to turn their attention to...
Now 10 different players have intercepted Tom Brady multiple times in one game

Brady lofted it between two defenders and Lewis snatched it with one hand