Saints Observations: Will the defense continue to improve?
One of the more impressive performances this preseason for the Saints defense has been linebacker Ramon Humber.
• 7 min read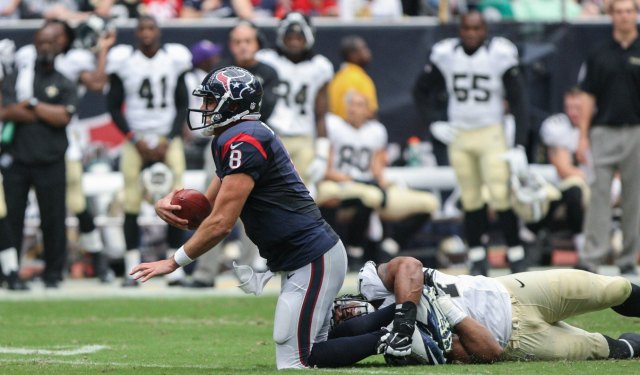 HOUSTON -- You remember the Saints defense from last season, right? How New Orleans was ranked No. 32 in the league after allowing 440.1 yards per game, about 57 more than the second-to-worst team in the league and the highest total in NFL history? How the team really had no choice but to fire defensive coordinator Steve Spagnuolo after only one season in charge? How the Saints brought in Rob Ryan, who flamed out in Dallas, as the coordinator who would reform the defense?
So far, the defense -- using Ryan's aggressive, blitzing 3-4 scheme -- has played better. In the preseason's first two games, New Orleans gave up only 200 yards per game (yes, yes, I know exhibition games don't mean much of anything, but still, it's something), and though the Texans first-team offense blew through the Saints first-team defense early in Sunday's game, New Orleans recovered in the second quarter and continued to give itself needed confidence while knocking off Houston 31-23.
One of the more impressive performances came from fifth-year veteran Ramon Humber. What, never heard of him? You wouldn't be alone. He's spent most of his career on special teams and as a backup linebacker, but because the Saints linebacker group is in flux, he's had a chance this preseason to make a positive impact.
"He's handling a lot of different elements to the game," coach Sean Payton said. "He's playing a lot of football and getting a lot of snaps. That's good."
Despite the fact he's 5-foot-11 and 232 pounds -- he's the smallest linebacker on the roster -- Humber finished with five tackles, tied for second-most on the squad. It's encouraging for the team, because Sean Payton said Humber had an "exceptional" performance in its second preseason game against the Raiders when he recorded nine tackles and a sack.
"He's undersized for a linebacker, but he definitely has a big, big heart," defensive end Cameron Jordan said. "He has a lot of tenacity, and he's downright nasty. That's what you want out of a linebacker."
Humber was an undrafted free agent in 2009, and after signing a deal with the Colts, he started two games that season and recorded 32 tackles. One reason you might not know Humber's name is because that 32-tackle total remains a career high. He joined the Saints midway through the 2010 season, and he has made very little impact on defense since then.
Until this preseason.
"When an opportunity comes up and they call your number, you have to show them you belong in this league," Humber said. "I definitely felt that I just shouldn't be out there on special teams."
Considering the team isn't sure about linebacker Jonathan Vilma's health -- one person I talked to Sunday said the fear is that Vilma's career might be over and that the team might have to place him on the IR list -- Humber is a player who could sneak into the starting lineup and have an impact in Vilma's inside linebacker spot.
He showed the damage he could do Sunday midway through the third quarter when Texans running back Deji Karim took the handoff from T.J. Yates and tried to cut back behind the right guard. Though the Texans hadn't shown that particular play on tape, Humber had a feeling that the play would be a run and that the ball would be heading his way. So, Humber plugged the hole, stopped Karim before he reached the goal line and got him to the ground to force the turnover.
Afterward in the locker room, Humber didn't show much emotion while recounting his performance to a reporter. But it seems as though he's pleased with his progress.
"As long as I can play [in the linebacker rotation] and I'm given the opportunity to showcase my skills," Humber said, "I'm happy with everything."
More Observations
• Drew Brees has missed just one game in the past eight seasons, but it's always good to have a quality backup. You know, somebody with a little more experience than Chase Daniel, who held the clipboard for Brees the past three seasons while attempting only nine total passes.
This year, it's seven-year veteran Luke McCown, and you could see why he's a good choice.
Entering the game with 8:26 left in the second quarter vs. the Texans, McCown immediately led a 10-play drive that ended with a field goal. He was even more impressive on his final drive of the first half when he took over at the Saints 10-yard line, hit Kenny Stills with a nice 40-yard pass on the sideline (and an even better catch) and then tossed a 14-yard touchdown to Stills to give New Orleans its first lead of the day.
On the day, McCown completed 10 of 14 passes for 118 yards and two touchdowns for a passer rating of 136.3. And you can be sure the team has more confidence in him if he has to take over for an injured Brees than it did in Daniel.
"I felt comfortable," McCown said. "It's always nice to get in and get a couple of series with the rest of the 1s, with Jimmy [Graham] and Lance [Moore] and those guys. It feels good to put some drives together."
Payton pulled Drew Brees from the game after 1½ quarters, a bit early for the so-called preseason dress rehearsal (Payton said it was more a scheduling issue than anything else, because New Orleans plays again in four days). But the Saints coach was impressed that McCown kept up the same offensive tempo that Brees displayed.
"The last thing you want as a backup quarterback is to come in the game and there's a lull with how you're getting in and out of the huddle and getting plays run," McCown said. "If anything, you want to push the envelope, because the defense thinks there's going to be a drop-off in play. The more stress you can put on them, as far as getting out of the huddle and getting to the line quickly and executing those shifts and motions more quickly, that's going to put stress on them."
• Pierre Thomas has missed much of the preseason because of a leg injury, but he was in the team's second preseason game for a few snaps to get himself ready for his opportunity vs. Houston. And Thomas -- who is winning his battle to hold off Mark Ingram for the starting running back spot -- put together one of the game's most-impressive plays when, after lining up as a slot receiver, he caught a short pass from Brees across the middle and outraced the Texans defense for a 51-yard touchdown. "We change it up a lot," said Thomas, who also had four carries for 19 yards. "We want to put our backs in different positions that people don't see that often. We have very quick and agile running backs who can also run through the holes and can take that pounding. We also have guys that can run good routes and make people miss."
• Rookie receiver Kenny Stills, who looks to be a fifth-round steal for New Orleans, had another strong game, catching two passes for 54 yards and a touchdown. His first reception was the play of the game, as he battled against Kareem Jackson on a sideline route before making the impressive 40-yard catch. Later in the series, he pulled out a nasty double-move on Johnathan Joseph to catch the 14-yard touchdown. "I'm just getting more comfortable, getting more used to being out there and relaxing," he said. "It's playing football. That's all it is."
• Left tackle Charles Brown, who has beaten out former No. 2 overall pick Jason Smith and Terron Armstead to win the starting job, only has eight starts of experience heading into the regular season. And he looked inexperienced when Texans linebacker Willie Jefferson blew by him on third-and-8 to make Brees leave the pocket and throw an incomplete pass to end the team's first series. On the next series, the Saints began dumping passes to Mark Ingram and Thomas, both of which went for long gains, to eradicate Houston's pass rushing pressure.
• Undrafted free agent Glenn Foster had another solid game, recording his fourth sack of the preseason. After the game, Payton said it wasn't a matter of whether the defensive end would make the team. It was a matter of how much playing time Foster would receive.
• The highlight of the Saints postgame press conferences was due to a Gatorade bottle that wouldn't stay put on the podium. After it toppled off the podium when Payton was speaking, the coach dutifully bent down and put it back in its place. When the bottle fell to the floor a few minutes later with Stills in front of the cameras, he quickly mumbled, "My bad." But he left it lying on the floor, only a few inches away from his feet. And there that Gatorade bottle would stay, a lonely piece of plastic without a podium on which to advertise its colorful deliciousness.


Follow Josh Katzowitz on Google+
Carroll defended his controversial fake field goal call at the end of the first half

The Falcons are trending in the right direction after a 34-31 win over the Seahawks in Sea...

It's the best division in the NFL and it's not even close
Larry Hartstein has his finger on the Vikings' pulse and made a play for the Thanksgiving Day...

National sports writer Mike Tierney tells you who to pick in your Week 12 football survivor...

For whatever reason Seattle decided to try a fake before the end of the first half