Shanahan now says RG3 could play if Cousins, Grossman get sick
Two days after Mike Shanahan said RG3 would be inactive for the final three games of the season, the Redskins coach now says the QB could play if Kirk Cousins or Rex Grossman get sick.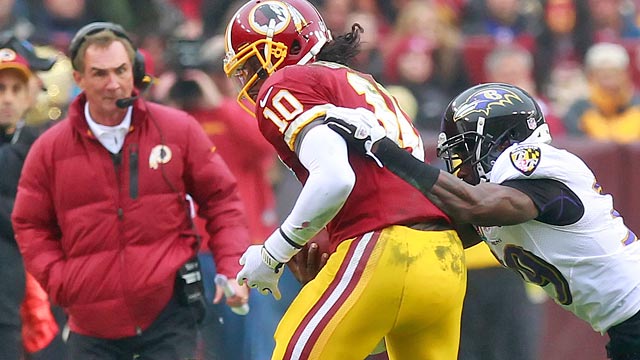 On Wednesday, Redskins-for-now coach Mike Shanahan said that Robert Griffin III would be inactive for the final three games. The decision, at least to hear Shanahan tell it, was to keep Griffin healthy heading into offseason workouts.
(Never mind that the coach had no trouble leaving RG3 in last January's playoff game after the quarterback had reaggravated a knee injury. Or trotted Griffin out for the Week 1 matchup against the Eagles when he clearly wasn't 100 percent.)
Two days later, Shanahan now says there is a scenario in which Griffin plays Sunday against the Falcons: If starter Kirk Cousins or backup Rex Grossman get sick, then it'll be go time for RG3.
As for the suggestion that by benching Grifffin Shanahan is trying to get fired, he told ESPN Radio 980, "I've never quit anything in my life."
Summary: Shanahan said basically it was not quitting but a disagreement w/ Dan Snyder last year & that they could get a 1st Rd pick 4 Kirk.

— Chris Russell (@Russellmania980) December 13, 2013
Without reading the transcript it's not clear exactly what disagreement Shanahan and Snyder had, what it was about, or what exactly Cousins would be worth in a trade. Ultimately, that will depend on how the former fourth-rounder plays over these final three weeks, and then how much demand their is for him this offseason.
"If Cousins plays well and they get a second-round pick for him, great," an NFL front office executive told the Washington Post's Mark Maske. "The next coach can come in and tell Robert Griffin, 'You're my guy,' and try to put it all back together.
"But that team is a mess right now. What if [Cousins] looks bad? What if they can't get what they want for him and he stays around? Then you've got Robert Griffin looking over his shoulder. You've got the fans and media calling for Cousins every time Robert Griffin has a bad game. You've opened that door. This could turn out bad."
CBS Sports NFL Insider Jason La Canfora wrote recently that Shanahan has complete control of, well, everything in and around Redskins Park.
"Everyone in that building knows that Mike has total control," one former member of the organization told La Canfora. "That was never in doubt. That's never been in doubt. Mike is in charge. He runs that building. He has final say on everything. Dan Snyder isn't sitting in on personnel meetings. Mike tells Dan what he wants to tell Dan. Dan's not picking the quarterback. Mike got it all. He put together the staff, he got all the money, he set his son up."
Making things all the more awkward: Offensive coordinator Kyle Shanahan, who also happens to be Mike's son, seems genuinely confused by this father's decision to bench RG3. He called it "ridiculous to act like this is a quarterback competition," and added: "Robert just had the best year as a rookie in NFL history. He didn't do that again this year. We didn't do that again this year. [But] to give up on him like that and say you're gonna play someone else -- I mean that's, to me, that's fun for people to talk about, all right? But that hasn't entered my brain one least bit. That's not even a possibility or an option, to me."
Whatever happens in the coming weeks, this much is a near certainty: Once the season is officially over, so too will Shanahan's tenure as the Redskins' coach.
It might be time for Johnny Football to head to the Great White North

Rodgers has been out with a broken collarbone since Week 6

Mariota and left tackle Taylor Lewan both escaped serious injuries
This might go down as the most expensive snowstorm of Adam Vinatieri's life

The Cowboys unveiled a new look on Sunday and their fans seemed to love it

Conquerors of adversity in 2017, the Eagles are still on the fast track to claiming the NFC's...