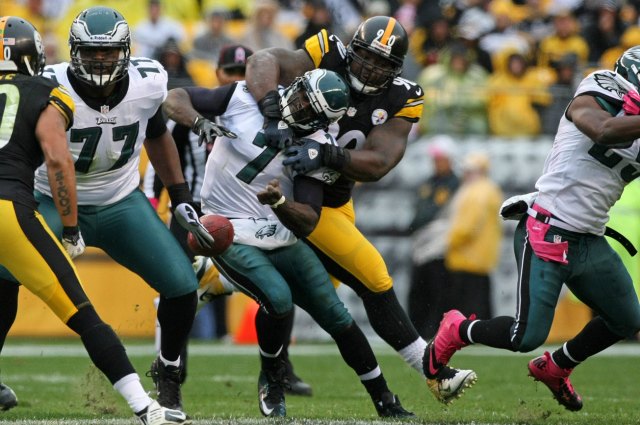 If you like your ballet dancers built like NFL nose tackles, we have got the ballet dancer for you.
That would be Steelers nose tackle Steve McLendon, who says that he's been taking ballet dancing since his senior year of college ( I almost wrote that he "admitted" he's been taking lessons, but in reality, it's awesome that McLendon is macho enough to talk about his other hobby -- of course, it's not like anybody's going to pick on McLendon. He's 320 pounds, for gosh sakes).
But strapping on those slippers isn't an easy task.
"It's harder than anything else I do," McLendon told the Pittsburgh Post Gazette.
Which is not what he expected when he first started taking ballet, in essence to earn some so-called easy credits in his final year at Troy. His instructor told him that learning and practicing ballet could keep him in football, and apparently, he believed it. Enough so that he continues it to this day.
"I work him harder than the majority of women will ever work in a ballet setting," his current instructor, Stephanie Kibler told the paper. "He does it well. He might have sweat dripping off him and looking at me like I'm crazy, but he does it. He really works hard. It's almost like he's mastering the craft of ballet. He's not in there just for football."
And he's trying to keep himself injury-free. In fact, he says the ballet has strengthened his knees, ankles and feet so much that he can tell the difference when he hasn't taken ballet in a while.
But even when he isn't in the mode of taking lessons regularly, McLendon can't help himself in non-ballet situations. He still practices.
"I still do some of the same things, the Plié, walking barefoot on your toes," McLendon explained. "I just walk barefoot doing the lateral."
There is an NFL precedent for this, by the way. Herschel Walker and Lynn Swann were known to take ballet, but of course, neither was as big a specimen as McLendon. That's why you shouldn't believe McLendon is anything less than manly. Because, as Michael Vick found out in the above picture, McLendon can deal out the hurt whether he's sacking the quarterback or simply pirouetting in ballet slippers.