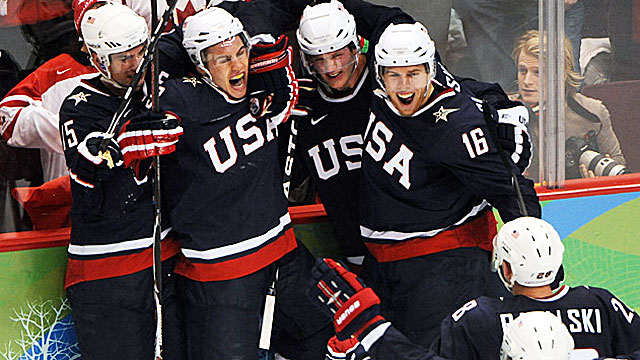 In just over one month's time, soon after the final buzzer sounds at the Winter Classic in Ann Arbor, Mich., on Jan. 1, the US Men's Olympic Hockey Team roster will finally be known. Most of the decisions will be finalized just after Christmas in order to be announced in front of a large US television audience at the NHL's marquee regular-season event.
These final few weeks will be crucial for determining the final 25-player US roster for Sochi, with plenty of tough decisions left to make.
US general manager David Poile hasn't been overly coy about his decision-making process. He has said the defensive selection pool has been narrowed down to 12 players, which is four more than they can take. Additionally, Poile said there are six goalies left in the running for the three spots on the final roster. The forward group has about seven spots locked in stone per previous comments from Poile.
A few injuries with tight recovery timelines for Sochi -- namely to defenseman Paul Martin and goalie Jonathan Quick -- complicate the decision process further.
So with just over a month to go to the final announcement, here's a look at how Team USA could look when the announcement is made on Jan. 1 in Ann Arbor.
Forwards
Next in line: Jason Pominville, Alex Galchenyuk, Brandon Dubinsky, Kyle Okposo, Brandon Saad
A lot of the forward decisions on the surface seem pretty easy. You can shuffle the centers around in a few different orders, but the top eight or nine forwards give the US a solid enough base up front.
Where things get a little tricky is how things will shake out in the bottom of the lineup, among the extra forwards. The US shouldn't lack for goal scoring with wingers like Patrick Kane, Phil Kessel and Bobby Ryan, so it wouldn't hurt to have some more defensive-minded, grittier players with speed fill things out at the bottom.
The US has some interesting options to fill out the extra forward spots. A group of Oshie, Pominville, Okposo, Galchenyuk, Blake Wheeler and Saad all could be in the mix there. Those extra forward spots have some value in that whoever Team USA picks is likely going to bring a different element to the lineup.
At center, it looks like you should be able to write David Backes, Joe Pavelski, Ryan Kesler and Paul Stastny in pen on any projection. Where it gets tricky is what to do with Derek Stepan, who has struggled a bit this season after getting somewhat of a late start due to his offseason contract issues. Could a player like Brandon Dubinsky, who brings more defensive capabilities to the table, slide in? It's possible.
The US also has a lot of experience on its side up front. With at least 10 returnees from the 2010 team looking to make the final roster, the US knows what it will be getting out of a lot of those guys. Additionally, many of the players up front have experience on bigger ice surfaces through many international tournaments with USA Hockey over the years.
With any combination the US brings, there will be a combination of speed and size that will definitely help on any size ice surface. You can't simply throw an all-skill lineup out there even though they're playing on Olympic ice. There needs to be some balance with some defensive prowess and a little dose of grit never hurts. It looks like this US outfit should have that balance.
Defensemen
Next in line: Justin Faulk, Jack Johnson, Seth Jones, Brooks Orpik
The defensive decisions seem to be much more difficult. It is not a star-studded group but it has a terrific anchor in Ryan Suter, who should log major minutes in all situations for Team USA.
Paul Martin going down with a broken leg makes those decisions even tougher. It appears he would be able to recover in time for the tournament, but if there's any doubt about his readiness, depth on the blue line definitely takes a hit.
Both Suter and Ryan McDonagh offer strong defensive play that gives the US two good shutdown options against top opponents. Martin would be helpful in that regard, too. Erik Johnson may also be an option to bring more of a defensive element.
The US has a lot of strong puck-movers in the group, which should prove helpful on the big ice. Kevin Shattenkirk is a good two-way guy who should be able to play some strong minutes. John Carlson is another. Both have offensive capabilities that should help stoke production as well.
For more offensive-minded defensemen, I've wondered if the US can take both Keith Yandle and Dustin Byfuglien. If they had to pick one, it seems like Byfuglien would offer a little more versatility. With the ability to bring eight defensemen along and likely seven dressing in a game, the US could insert either into the lineup for an influx of offense from the back end.
There are still tough decisions to be made. There are good arguments for 2010 returnees Brooks Orpik and Jack Johnson, as well as Justin Faulk and rookie Seth Jones to make the final roster, too. It's just a matter of finding the right mix of strong defenders and how much of an emphasis the US is going to put on its D providing offensive assistance.
Goalies
1. Ryan Miller
3. Jimmy Howard
Next in line: Cory Schneider, Ben Bishop, Tim Thomas
In net, this is not the season the US was expecting from a goaltending group that looked as strong as any coming into the campaign. With Jonathan Quick and Jimmy Howard both coming off remarkable postseason runs, they looked like easy choices for the top two spots, while Ryan Miller, the best goalie at the 2010 Olympics, looked to be on the outside looking in.
That script has been flipped with Miller playing some great hockey on a very bad team and Quick and Howard floundering a bit.
It looks like Team USA could be very comfortable with Miller as the primary starter. His Olympic experience helps a lot, even though they'll be playing on a different ice surface. Additionally, he has remained incredibly competitive in an awful situation with the Sabres. Miller could be refreshed by having something to play for in Sochi.
Quick's groin strain recovery muddies the decision process a bit, but it's hard to see any way the former Conn Smythe winner is left off unless he's still hurt.
Even though Howard has struggled this season, he has a better body of work than most of his competition and more experience, which matters.
The wild card is Tim Thomas, who has played pretty decent hockey and clearly wants to be part of this team. He has more experience than Howard, but would he want to play in a possible No. 3 role and almost surely never see the ice? That's less clear.
The US has a lot of tough decisions to make, but the core for the team is a pretty solid one. With a lot of returnees from the 2010 team sure to make this roster, it gives the US some confidence heading into Sochi.
It also should make for a fairly entertaining team. This US squad should have a lot of speed, have a fairly strong scoring attack and get a lot of output from its blue line. It's going to be a tough tournament, but when the final roster is named, the US should feel like it has a team that can compete for gold.