A look at the top prospects before Tuesday's NHL Entry Draft lottery
The draft order will be set after Tuesday's NHL Entry Draft lottery, but who should fans hope their team picks? David Burstyn of McKeen's Hockey helps identify the best prospects and their strengths, weaknesses and concerns.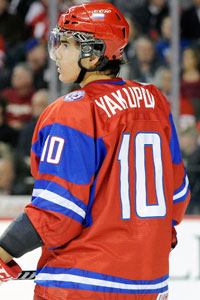 Yakupov had 31 goals and 69 points in 42 games for Sarnia in the OHL this season. (Getty Images)
A long season of hard work is about to pay off.
No, this isn't a playoff story. This one's about the draft, specifically the lottery. I mean really, the Columbus Blue Jackets' season must have felt like it was the length of three seasons. Time doesn't fly when you're not having fun. And hard? Well duh. They found it very hard to beat other teams. That's why they have the top billing in Tuesday night's draft lottery!
A reminder to how the NHL system works. Only one team wins the lottery, it's not like the NBA where a few balls are pulled. Also unlike the NBA, the NHL has a limit to how far a team can move up. Have your ball pulled and the gain is only a maximum of four draft positions.
Teams at the bottom -- with the best odds -- are hoping to salvage at least a great draft pick after a miserable season. But what are they "playing" for tonight? Maybe that should be "who," not "what."
You might have heard by now that this year's draft class isn't as deep as some of the others we've had recently. But this is the NHL Entry Draft we're talking about here, there will always be some good players.
David Burstyn, a former scout for the Atlanta Thrashers who now leads the detailed scouting reports at McKeen's Hockey, doesn't disagree with that notion.
"You've heard mixed reviews of it not being an overly strong draft," Burstyn said. "I don't know if I necessarily disagree with that. You certainly have a few high-end guys and then you have a plethora of defensemen and a handful of good goalies. This draft might lack the depth of some other drafts, however there are still players and NHL teams have to do their homework on it."
The NFL had the Suck for Luck campaign, the rallying cry for fans hoping their team would be bad enough to be able to select Andrew Luck first in the draft. Thanks to another convenient name for rhyming with negative words, the NHL had the Fail for Nail push, the equivalent for fans hoping they get the right to select Nail Yakupov first overall.
When the NHL Central Scouting final rankings were released, there wasn't much surprise at the top. Yakupov, who has been considered the top prospect for the whole season, remained there.
"[Yakupov] is an absolutely dynamic player in terms of his ability to create offense," Burstyn said. "The speed in which he processes and handles the puck is uncanny. He has that kind of innate ability to really slow down the pace of the game when the puck is on his stick. He also played in the world juniors and showed another layer to his game by co-leading the tournament with nine assists. So he kind of showed NHL teams that he's not only a natural goal scorer but that he can also be a very good puck distributor."
Going into the lottery, the odds are pretty heavily in favor of the Blue Jackets keeping the first overall draft pick and being granted the opportunity to draft Yakupov when the draft rolls around in June. But a lot of people are suggesting they should think twice considering their history with Russian draft picks in Columbus (see: Filatov, Nikita). Should they be concerned?
"I think it does bode well though that Nail has come over and decided that he wants to play in the CHL," Burstyn said. "I think if he was playing back in the KHL there would certainly be question marks. But he's been over in North America in the past few seasons. His agent Igor Larionov has said that [Yakupov] wants to play in the NHL. I think because of the fact that he's been over here on North American soil for years, it should really erase a lot of the concerns an NHL team would have moving forward."
But Yakupov isn't the only elite Russian prospect this year. In fact, there's another one on his OHL team in Sarnia.
Another scoring forward, Alex Galchenyuk, will be one of the consolation prizes for the runners-up.
"Galchenyuk is one of those players that his own agent, Larionov, has compared him to Marian Hossa and I really think that's a very accurate description," Burstyn said. "He plays both ends of the ice so hard. He's a legitimate 6'2, 205 pounds, so he's NHL-ready as far as his stature is concerned. His work ethic on and off the ice is unparalleled to his peers."
But he also missed almost the entirety of the season with an MCL injury. Like Yakupov, who has dealt with a concussion, it does raise a little question for teams that might draft him.
"There's always a concern but teams will do their homework on him. He showed a lot of character and moxie to come back and compete," Burstyn said. "And he wasn't bad in the opening round of the [CHL] playoffs, so I think given his natural ability as well he would be a very hard guy to overlook."
To complete the Russian trifecta you have Mikhail Grigorenko, who plays in the Quebec Major Junior Hockey League.
"Grigorenko is one of those enigmatic players who has all the potential in the world but sometimes NHL teams will be really concerned about his work ethic and overall intensity," Burstyn said. "I think NHL teams will have to be a little bit weary due to his work ethic as far as the type of player they are getting. In saying that his best game is arguably one of the best in the draft and that's why he's rated so high."
In fact, when pressed, Burstyn selected Grigorenko to be the player most likely to have an immediate impact in the NHL next season among this draft class.
"He's got the size, he's got the ability. Playing devil's advocate if he goes to a place like Montreal he could get on a line with [Max] Pacioretty who is a natural finisher or Tomas Plekanec who can help get him the puck," Burstyn said. "If I had to say, I think Grigorenko shows the most ability to step in and be at least a player who can make some contributions."
But despair not if you aren't in line to get one of those Russian forwards. If defense is what you need, this draft has you covered.
From Ryan Murray to Mathew Dumba and top American prospect Jacob Trouba, this year's class can play in its own end.
"It is deep and rich with defensemen," Burstyn explained. "You've got a great first tier of defensemen, you have a great second tier and you even have a great third tier. So any teams looking for defensemen are going to get a very good player."
Of course the draft is still months away. We have a full two months of playoff hockey to go through first. But when you're watching the lottery tonight (8:30 ET on NBC Sports Network, TSN in Canada), keep these names in the back of your mind. And check back with McKeen's Hockey between now and the draft for all of the latest information on the prospects.
More from Eye on Hockey
Blue Jackets enter lottery with best odds
For more hockey news, rumors and analysis, follow @EyeOnHockey and @BrianStubitsNHL on Twitter and like us on Facebook.
Washington, Nashville and Tampa Bay are still rolling with winning streaks atop the NHL

Saturday's showdown will serve as a rematch of one of the NHL's first-ever regular season...

Stacia Robitaille says Donald Trump told her in an elevator that she was coming home with...
Vladislav Yeryomenko was the Teddy Bear Toss goal scorer for the Calgary Hitmen

The Golden Knights are finally getting their No. 1 goalie back after a 25-game absence

Washington has won four straight, and the Kings are also on a tear right behind the Lightn...