Ducks GM talks about losing Justin Schultz: 'I'm more confused than ever now'
The Anaheim Ducks lost out on defenseman Justin Schultz, who they drafted, and GM Bob Murray spoke about it on Sunday. He wasn't pleased.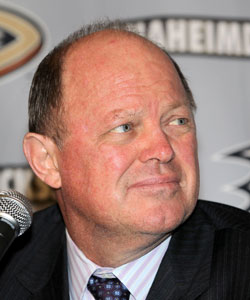 Murray wasn't fond of Schultz getting away. (Getty Images)
Anaheim Ducks GM Bob Murray did what most GMs do late on July 1. He addressed the media to talk about the moves his team made. In his case it was signing defensemen Sheldon Sourray and Bryan Allen to three-year contracts.
Part of the reason -- albeit a very small part -- that he needed to get defensive help was because the player he drafted in the second round a few years ago, Justin Schultz, never became a member of the Ducks. Instead he went to the University of Wisconsin and then became a free agent before inking with the Oilers.
So while Murray was talking about his new additions and bragging on their great attributes, what they will bring to the Ducks, etc., etc. But among the questions that popped up was one about Schultz since Murray hadn't really addressed the situation publicly.
Well he did on Sunday and it's pretty easy to say he wasn't pleased with how things turned out for his franchise. At all. Quotes courtesy of Eric Stephens of the O.C. Register and Lisa Dillman of the L.A. Times.
"I'm more confused than ever now," Murray began. "I've moved on.
"If he had it in his mind that he wanted to play in Canada ... OK. I get that. I'm a Canadian too. But Eric Lindros, when he didn't want to play in Quebec, he went to his team that drafted him and said 'no I'm not going to play there.' He allowed that team to make the move to get something for him.
"He told us numerous times he wanted to play for us."
Let's just say he's unhappy with the whole situation. He might say he moved on and he probably has, this might have just been the last cathartic expression of frustration to be able to get over it.
However he hopes that the NHL fixes this problem where players are able to skip out on signing with the team that drafted them and going to free agency. He was asked if the loophole that allowed Schultz to get away should be closed.
"It sure better [be]," Murray said. "This is very unfair. Not only to the organization. But it's unfair to Anaheim Duck fans. It's just wrong. I sure hope the NHL realizes they dropped the ball big-time."
Just of note here, the Oilers are scheduled to visit Anaheim very early in the season, on Friday Oct. 19. I wonder what kind of ovation Schultz will get?
Schultz picks Oilers
Ducks sign Souray, Allen
For more hockey news, rumors and analysis, follow @EyeOnHockey and @BrianStubitsNHL on Twitter and like us on Facebook.
Stacia Robitaille says Donald Trump told her in an elevator that she was coming home with...

Vladislav Yeryomenko was the Teddy Bear Toss goal scorer for the Calgary Hitmen

The Golden Knights are finally getting their No. 1 goalie back after a 25-game absence
Washington has won four straight, and the Kings are also on a tear right behind the Lightn...

The NHL says it's only interested in expanding to Seattle, but here's a look at all the moving...

The NHL says it is only looking toward Seattle for the next expansion team