Islanders to get black and white jersey in Brooklyn ... as an alternate
The Islanders will indeed be going to a black and white jersey when they move to Brooklyn ... as an alternate jersey. The primary colors will stay the same.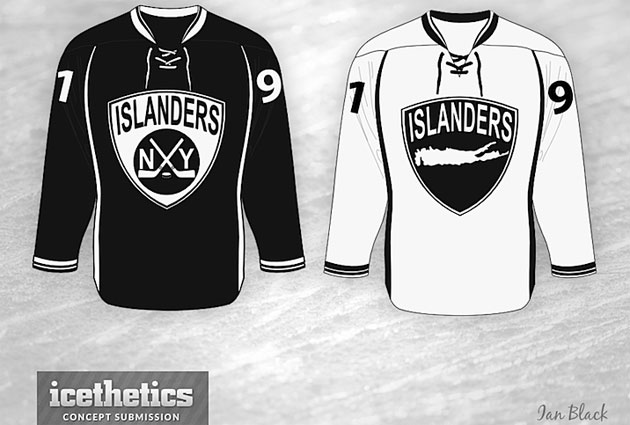 NHL previews: Atlantic Division | Metropolitan Division | Central Division | Pacific Division
When the Islanders move to Brooklyn, they won't be changing colors. Despite the franchise stating this a few times, there were numerous concerns they would adopt the Brooklyn color scheme and go with just black and white like the Nets in the NBA, so you can forget that.
Though they won't be changing the logo or the color scheme, they will still get a black and white jersey. It will be an alternate.
Brett Yormark: reaction of #Isles fans on Twitter changed his thinking on drastically changing primary jersey. #sbjsms

— Chris Botta (@ChrisBottaNHL) October 2, 2013
Brett Yormark: #Isles new 3rd jersey in Brooklyn will be black and white. #sbjsms

— Chris Botta (@ChrisBottaNHL) October 2, 2013
Phew, that was close. As you see, Yormark admits that he was giving serious consideration toward the new color scheme, which would have been a big mistake in this writer's opinion.
Good on Islanders fans for expressing their feelings on staying with the classic Isles colors and convincing the decision makers to stay with tradition. After all, the Islanders just went back to their original colors not long ago.
While you might not like the idea of a black and white uniform for the Islanders, keep this in mind: A new alternate jersey means that the current alternate -- this hideous black, blue and orange monstrosity -- will be out. Anything that takes that uniform out of circulation can't be a bad thing, can it?
As far as the concepts go, you can see one potential at the top from Icethetics. There are numerous other concepts that you can see here.
The NHL says it's only interested in expanding to Seattle, but here's a look at all the moving...

The NHL says it is only looking toward Seattle for the next expansion team

The 33-year-old defenseman hopes to help find a cure for serious head injuries in athletes
Chicago becomes the latest NHL club to earn an evaluation of $1 billion or more

The city council has approved a $600 million redevelopment project for KeyArena

Arvidsson took off his glove to reveal an engagement ring for one lucky fan