Ottawa Senators trade rumors, trade deadline outlook
With the April 3 trade deadline looming, are the Ottawa Senators buyers, sellers or standing pat? And what do they need?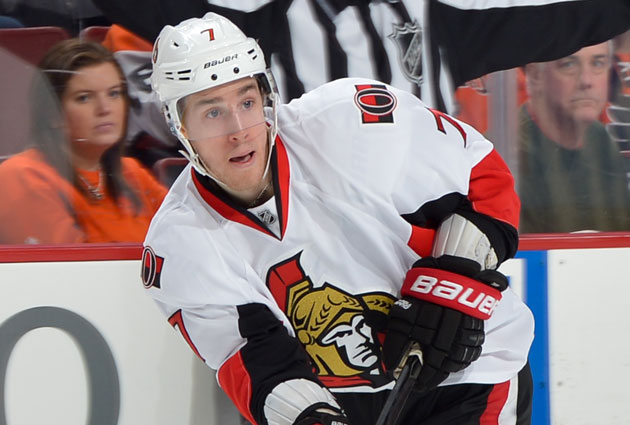 More NHL: Scores | Standings | Odds | Fight-O-Meter | League Leaders | Rumors
With the 2013 NHL Trade Deadline on April 3 at 3 p.m. ET, Eye on Hockey will examine

whether each team is a buyer or seller at the deadline, and who each team should look to sell or receive by the deadline. 
Buyers or sellers?
The Ottawa Senators are very clearly in the position of being buyers if they are anything at all. They are a sure-fire playoff team, and they want to keep it that way.
Again, if they could keep their roster the way it was built without interference of the nasty injury bug, they would be stand-patters (if that's a word). So the Sens come to this deadline as prospective buyers, hesitant. They are the guy/gal who goes to the mall to go window shopping, hoping not to spend that wad of cash in their pocket but knowing they just might have to.
If the Senators are buyers, they will be responsible, not impulsive. General manager Bryan Murray has stated over and over again that he's not looking for stop gaps to fill the injury holes this season. In other words, they're reluctant buyers.
They could be sellers in one sense, however: They have a glut of goaltenders with Robin Lehner, Ben Bishop and Craig Anderson. They've needed both Lehner and Bishop here for a few weeks. But Anderson will get healthy, and the Sens then will have a decision to make. Perhaps one of them could be a trading chip. And, no, they won't be "selling" Daniel Alfredsson.
Rumors
If the Senators had their way, they'd be a team that would stand pat and continue on the course that they have been on, which has proved to be rather fruitful over the past season and a half. However, fate in the form of injuries has put Murray in the position of at least considering his trade options. It could force him to do a little more.
As of yet, Murray doesn't appear to have any specific targets in mind. But with Milan Michalek looking like he could be done for the regular season, he has a player type in mind: a top-six forward.
"I don't know how you ever get a scorer in the NHL anymore. But if you can get a top-six forward, it's always the objective," Murray told the Ottawa Sun. "I haven't identified anybody who is going to be moved.
"I'm certainly not going to give up a top young player at this point," he said. "But if there's an ability to acquire someone who can help us as we go forward, absolutely."
Top targets
Unless the Sens are presented with an opportunity to get a player like Chris Stewart, they will hold onto their prospects and take their chances. Paul MacLean's team is doing pretty well getting through the injuries as is.
But why do I bring up Stewart? Because he would represent a "hockey move." He is a restricted free agent after this season, so it most likely would not be a rental situation. He fits the bill as a top-six forward and could fit that bill in Ottawa for years to come. It would be similar to the deal that brought the Senators Kyle Turris.
The Sens addressed one perceived need already by adding some toughness to join Chris Neil. That's why Matt Kassian was acquired from Minnesota, so you can scratch any similar targets off the list.
Some thought they could be looking for defensive help after Erik Karlsson went down, but the Sens have handled that pretty well as well. You can't replace Karlsson, so why try?
For more hockey news, rumors and analysis, follow @EyeOnHockey and @chrismpeters on Twitter and like us on Facebook. Also, subscribe to our YouTube Channel.
The city has already received approval from the NHL to file for an expansion team

Bovada says the two nicknames are favored to be used, with Rainiers coming in third place

Here's everything you need to know to watch the NHL's marquee midseason event
The expansion Golden Knights officially moved into first place in the NHL on Sunday

The former Boston Bruin was the first black player to play in the NHL

Inclement weather led to the Charlotte Checkers and Bridgeport Sound Tigers playing in front...