Panthers' goaltending as much to blame for slow start as anything
The Panthers were the cure for the ails of the Capitals offense on Saturday, falling 5-0 in Washington. It was another rough night for the subpar goaltending to start the season.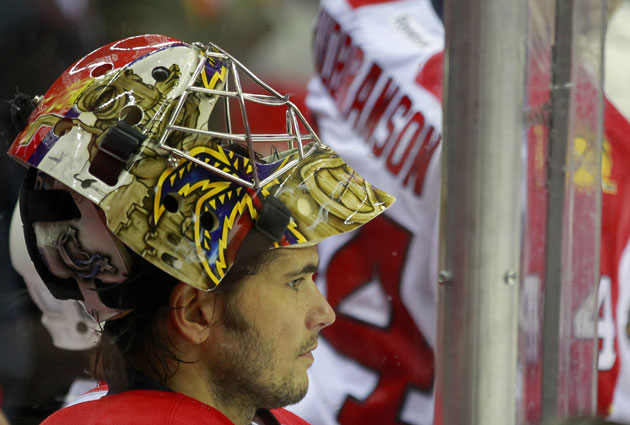 Jose Theodore watches the end of Saturday night's game from the bench after being pulled. (US Presswire)
More NHL: Scores | Standings | Odds | Fight-O-Meter | League Leaders | Rumors
WASHINGTON -- If you didn't have a keen ear, you might have thought it was Jose Theodore who turned in the shutout on Saturday night in Washington. But the Capitals fans weren't chanting "Theodore" at the Florida Panthers netminder; they were instead shouting "Three or more," their old nickname for the goalie who is hardly remembered fondly in DC.
Theodore, the starting netminder for the Panthers, struggled once again in the Panthers' 5-0 loss to Washington , giving up five goals on 21 shots to the Caps before being pulled midway through the third period. After a bit of a fluky bounce on the first goal that went off Troy Brouwer's bottom, the Capitals scored three consecutive goals on shots that seemed like Theodore could have stopped. He simply wasn't sharp.
More on Panthers-Capitals
Related links
"You could see that tonight, we were flat from when the puck dropped until the end," Theodore said. "There's no excuse, everybody has to be better. Me included."
Last season's Southeast Division champs had some of their success because of the goaltending. While Theodore and backup Scott Clemmensen were hardly Vezina Trophy candidates, there were both solid and as a duo were a large reason why the Panthers, who gave up a lot of shots, broke the longest playoff drought in the NHL. Put together, the Panthers' stable of goalies had a .916 save percentage.
Not this season. Not in the early going. Now both goalies are carrying save percentages below .900. Combined, the Panthers have an .882 save percentage. There are a lot of words for that. Here's one: Oof.
For Theodore, it's a matter of being more consistent.
"As a team, we have to get some rhythm going so that we have the same effort every night," Theodore said. "Same thing for me. Last year I was very consistent, this year I've been up and down. I need to get that consistency level up."
The Panthers came to Washington playing better than they had at the start of the season, taking five of six points through their first three games of the road trip. That did pull Theodore's save percentage just above .900 on the season (it was .902 coming into Saturday night) before it sank back down like a lead balloon. Clemmensen hasn't been any better behind him. In fact, he's been downright awful with a 4.01 goals-against average and .845 save percentage in his three games before getting action late vs. the Caps.
Simply put -- and this is probably an understatement -- the goaltending hasn't been good enough. It's just one reason why the Panthers as a whole haven't been good enough and weren't even close to good enough on Saturday.
"It's a package," coach Kevin Dineen said. "Our forwards, our goaltending, our D, our coaching ... we're not pointing at one thing. We didn't have enough to give tonight to be successful."
Of course when a goaltender struggles, it's as often about the defensemen in front of him. The Panthers' blue line corps hasn't been outstanding but it did limit the Caps to 25 shots on goal, not an unreasonable number.
Still, Brian Campbell knows they need to be better in front of the goalies as well.
"When there are goals scored there's normally breakdowns and sloppiness and things like that -- mistakes," Campbell said. "I think there were multiple mistakes that compound and it ends up in your net."
Yes, focusing on the goaltending woes fails to mention that the Panthers weren't going to win on Saturday night regardless, considering they didn't score. And yes it fails to mention that the Panthers are one of the worst possession teams in the NHL.
Perhaps most of all, it fails to mention Washington has been a house of horrors for Florida lately. This was the third time in four games in Washington that the Panthers had been shut out. In those four games they have been outscored by the Capitals 16-2.
"Sometimes buildings are good to you, sometimes they're not," said Kris Versteeg. This building has definitely not been good to Florida. Saturday was just another case in point.
Before Saturday night the Capitals hadn't even scored four goals in a game, let alone five.
It's not like the Caps of a few years ago were on the ice, either. They weren't bombarding the Panthers with shots. Florida actually had more on the night (27-25). The goaltending just wasn't up to the task.
Coming into the season it didn't seem like the Panthers actually needed help from a certain former goaltender looking for a return to Florida. The key there being before the season.
Maybe GM Dale Tallon will want to rethink that asking price in Vancouver for Roberto Luongo.
For more hockey news, rumors and analysis, follow @EyeOnHockey and @StubitsCBS on Twitter, subscribe to our YouTube account and like us on Facebook.
The puck didn't go in the net but the skater did!

Another sign that Houston is a potential destination for an NHL relocation
The two teams combined for 111 penalty minutes and five ejections

The veteran Minnesota goaltender has recorded three consecutive shutouts

The historic start for the NHL's newest team has come largely from unprecedented balance in...