Patrick Kane becoming homebody in Switzerland with mom as roommate
Patrick Kane is playing in Switzerland during the lockout and has been quiet in terms of bad news, which is good news. He can thank his roommate -- his mom.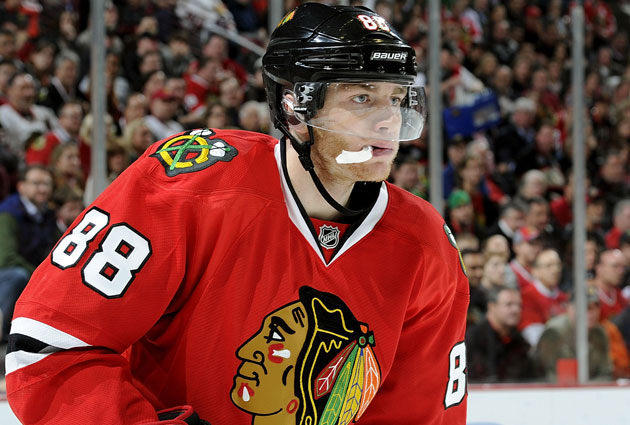 Patrick Kane has 15 points in 14 games in Switzerland. (Getty Images)
Patrick Kane has had some pretty noteworthy moments in his young hockey career, like scoring a Stanley Cup-winning goal fo the Blackhawks. He has also had some notorious moments, like the time he punched out a cabbie in Buffalo or had a much-publicized party weekend in Madison, Wis.
The latter was apparently the icing on the cake in terms of a spur for Kane to change his ways and straighten up. He released a statement apologizing for his actions and said he would take steps to correct them, saying he doesn't want to put himself in those situations again.
So when he agreed to a contract to play in Switzerland with EHC Biel during the lockout, where he would be joining fellow young bachelor Tyler Seguin, you could understand if some had pause and expected it would only be a matter of time before we heard about more follies from Kane.
But those tales haven't come. Why is that? Certainly credit goes to Kane for realizing he needs to tone it down some, but as much credit if not more needs to go to Kane's mother, who has been with Kane the entire time.
Here's Joshua Robinson from The Wall Street Journal with the story:
In Biel with his mother, he has been a homebody. Most evenings after practice, they stay in and watch movies or American television shows on a laptop. Even on days off, he barely leaves the place, and that is mainly to work out at the arena. Donna finds it challenging to stave off boredom -- she hardly knows anyone here and her husband and three daughters are back home in Buffalo. But for now she sees it as part of her job as a hockey mom.

It's a small price to pay for someone used to seeing her son play in person more than 40 times a year. For home games, she drives him to the rink before going into the stands across from Biel's bench. She watches from the edge of her seat, texting updates home to Buffalo with every goal.

"We're not here on a vacation," she added. "We're here for him to play hockey."
What a mom; that's some real dedication. And no, that's in no way sarcasm. She's doing what she can to take care of her son and keep him on the straight and narrow.
It sounds like it's pretty boring over in Biel for the Kanes, but at least he's playing hockey, which is more than he could say if he were spending the lockout in either Chicago or Buffalo, now isn't it? Sometimes boring is for the best.
Although it has to be a bit weird to be living with your mom again if you're Kane. After a few years living the bachelor's life with a massive bank account and a well-known name in a city like Chicago, it must be quite a change, but being overseas makes a difference; comfort is good.
Still, this is about all I can envision thinking about when Seguin comes over:
H/t to Puck Daddy
For more hockey news, rumors and analysis, follow @EyeOnHockey and @StubitsCBS on Twitter and like us on Facebook.
Vladislav Yeryomenko was the Teddy Bear Toss goal scorer for the Calgary Hitmen

The Golden Knights are finally getting their No. 1 goalie back after a 25-game absence

Washington has won four straight, and the Kings are also on a tear right behind the Lightn...
The NHL says it's only interested in expanding to Seattle, but here's a look at all the moving...

The NHL says it is only looking toward Seattle for the next expansion team

The 33-year-old defenseman hopes to help find a cure for serious head injuries in athletes