The Lineup: Orioles' Chris Davis crushes 3 HR, Mariners fall in agonizing fashion
Baltimore DH Chris Davis hit home runs in each of his first three at-bats on Friday. Meanwhile, Padres pitcher Eric Stults allowed just three hits and drove in three runs himself.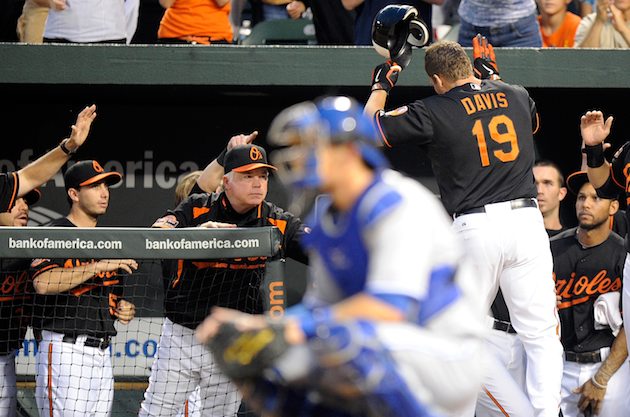 On Wednesday the Orioles witnessed an opponent hitting three homers in a game, Friday it was Baltimore's turn. (Getty Images)

If you missed it while talking about the deal that hasn't yet happened, there was some actual baseball played (just not by Adrian Gonzalez or James Loney )…
Full Friday scoreboard with recaps and box scores for every game






3 UP
Chris Davis , Baltimore Orioles : After watching Adrian Beltre hit three homers against his team on Wednesday, the Orioles DH went out and did it himself. Beltre hit home runs in each of his first three at-bats against the Blue Jays. His first two home runs were off Toronto Blue Jays starter Carlos Villanueva and his third was against reliever Steve Delabar . In all, he was 3 for 4 with four RBI. He struck out in his fourth at-bat of the game.
Zack Greinke , Los Angeles Angels : The guy the Angels traded for finally showed up on Friday. In his first five starts for the Angels, Greinke was 1-2 with a 6.19 ERA. But against the Detroit Tigers on Friday, he allowed just five hits and a run, while striking out five. He took a shutout into the eighth before giving up a two-out home run to Miguel Cabrera . He struck out five and walked one.
Eric Stults , San Diego Padres : Not only did the Padres lefty hold the Arizona Diamondbacks scoreless for seven innings while giving up just three hits, he also drove in three runs himself in the 5-0 victory. He hit a two-run single in the second and then doubled home a run in the fourth. Stults improved to 4-2 with a 2.69 ERA and a .375 batting average.
3 DOWN
Michael Saunders , Mariners: Seattle Mariners 's center fielder ran into right fielder Eric Thames , causing Thames to drop Paul Konerko 's one-out fly and letting Dewayne Wise score the winning run from second. Watch it here. The loss ended an eight-game winning streak by the Mariners.
Mat Latos , Reds: Latos failed to cover first base in time on Carlos Beltran 's leadoff grounder to first in the sixth inning. He then gave up a single to Matt Holliday and back-to-back homers to Allen Craig and Yadier Molina to turn a 5-2 Reds lead into a 6-5 deficit. The Cardinals would go on to score six in the inning for an 8-5 victory and pick up a game on Cincinnati in the NL Central race.
Greg Dobbs , Giancarlo Stanton , Miami Marlins : The two combined for two errors that allowed three runs to score -- on one play. The Marlins lost 11-4 to the Los Angeles Dodgers .
Nice start: The Cardinals took the first game of their three-game series in Cincinnati Reds , which has to make Mike Matheny very happy. With Adam Wainwright pitching Sunday's game and a win in the first game, the Cardinals have to feel good about the possibility of a series win. If Jaime Garcia can top Mike Leake , St. Louis Cardinals has a real shot at a sweep before heading off to Pittsburgh Pirates . 4:05 p.m. ET
The big game: I'm not sure we've ever put a non-MLB game in here, but I'm sure we haven't put in an independent league game -- but there will certainly be those interested in Saturday's Sugar Land Skeeters game against Bridgeport Bluefish in Texas Rangers . With Roger Clemens starting, the game will be televised on ESPN Classic and ESPN3. 7:05 p.m. ET
The hottest pitcher in the game: This isn't a joke, but Royals right-hander Jeremy Guthrie is on a roll. In his last three start, Guthrie has gone at least seven innings and hasn't allowed an earned run. Only three pitchers have done that this season, R.A. Dickey , Ryan Dempster and Guthrie. The Rockies and Royals traded troubled starters at the non-waiver trade deadline, with Kansas City Royals sending Jonathan Sanchez to Colorado Rockies in exchange for Guthrie. Guthrie struggled in his first two starts with the Royals, but in his last four he's 2-1 with a 0.94 ERA. Oh, and there may be some attention on just who happens to be in the lineup he faces at Fenway Park. Josh Beckett is the scheduled starter, but he may not be a Boston Red Sox by 7:10 p.m. ET
• 25 things you didn't know: Yahoo's Jeff Passan digs through odd stats so you don't have to -- like which pitcher is the toughest to make contact against, why Brad Ziegler is having an amazing season and the fact that 98 players have hit more popups to the infield this year than Joey Votto has in his entire career.
• MVP? Can Derek Jeter win his first AL MVP? [New York Daily News]
• Unlearning how to hit: Does time in the minor leagues hurt pitchers' ability to hit? [Baseball Prospectus]
• Crystal ball: What's the best way to determine a team's performance over the last month of the season -- winning percentage or run differential? [FanGraphs.com]
• Capitalism at its best: The Mariners are selling off a bunch of stuff from Felix Hernandez 's perfect game, including a ball, the official signed scorecard, a base and even jerseys from some of the Mariners players. [MLB.com]
For more baseball news, rumors and analysis, follow @EyeOnBaseball on Twitter, subscribe to the RSS feed and "like" us on Facebook.
Show Comments
Hide Comments