Aaron Gordon returns from injury to dominate Peach Jam
Aaron Gordon had not played on the AAU scene since April and was only 85 percent heading into the Peach Jam. He shook off the rust, however, to lead his Oakland Soldiers to a championship.
• 2 min read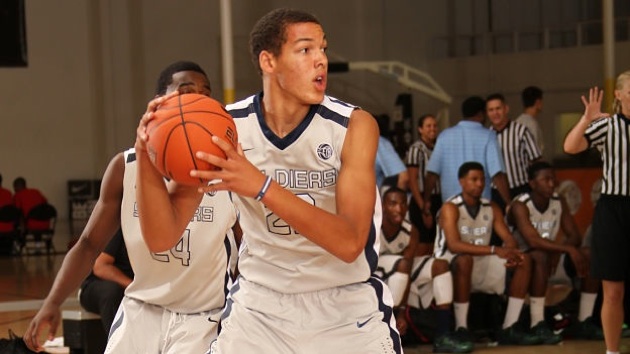 Aaron Gordon is leaning toward Washington and Arizona, but Kentucky is making a strong impression. (Five-Star Basketball)
NORTH AUGUSTA, S.C. – Heading into the Peach Jam, it had been awhile since Aaron Gordon had appeared on the AAU circuit. He suffered a fracture on the inside of his left big toe back in April, and has sat out the past three months.
With most high school players basically playing a year-round schedule these days, Gordon embraced the extended break.
"I got to spend time with my friends and my family," he said. "I got to be a normal teenager for once. It was just fun."
Gordon came into the EYBL Finals at about 85 percent, with the toe still fractured. He had not played five-on-five in several weeks, and was therefore rusty.
Or at least that's what he wanted everyone to think.
Gordon demonstrated why he is a top-10 prospect throughout the weekend, outrunning and outjumping every opponent en route to leading the Oakland Soldiers to a Peach Jam championship. He averaged 13.5 points and 9.4 rebounds, while also contributing 1.6 blocks and 1.4 steals each outing.
Despite his high-level performance, Gordon talked earlier in the week about potentially sitting out the remainder of the July live period depending how he felt after the Peach Jam.
"I might shut it down for three or four weeks," Gordon said. "It depends."
Gordon, a 6-foot-8 forward from Archbishop Mitty (Calif.), is currently ranked No. 7 in the country. His injury and time on the sideline did not slow down his recruitment whatsoever.
Arizona and Washington entered the week as his two favorites, but Kentucky emerged as a major player after John Calipari and his assistants made their presence felt at many of the Oakland Soldiers' games.
"There's no reason for [Calipari] to BS you," Gordon said. "Kentucky is always legitimately in it."
Arizona has had recent success with the Soldiers' program, picking up five-star forward Brandon Ashley in the class of 2012. The way coach Sean Miller allows his forwards to do a little bit of everything is also attractive to Gordon.
"They have the Phoenix forwards, which I like, where they get the rebounds and just push it," he said.
Washington has been involved with Gordon as long as any school, and coach Lorenzo Romar has consistently made a major impression on him.
"Romar is one of those coaches that talks with me," Gordon said. "He's a floor general. When he was a player, he was a point guard, so he saw two or three plays ahead. I love that in a coach. He has a high basketball IQ. He will adjust his system to his players."
Oregon, Kansas and Stanford are also pursuing Gordon, the younger brother of recent New Mexico standout Drew Gordon. He likely won't decide until the spring, after he can watch the college basketball season.
"I'm looking for a coach that understands me," Gordon said. "Not someone that talks at me, but talks with me. An up-tempo, unselfish, principled system."
The Wildcats, No. 6 in Friday's updated Top 25 (and one), play their first tough team in a...

Thomas will be just the third player to have his number retired at the University of Washi...

The 47,000 square foot facility on Nike's world headquarters looks awesome
Gary Parrish and Matt Norlander discuss the latest in college basketball

The university also maintains that Pitino was appropriately fired

Price only made it nine games into his third season