When ranking the class of 2015, there was one player everyone seemed to be keeping in the back of their heads: Ben Simmons.
The native of Australia had blown up at the Pangos All-American Camp last June and turned heads in a couple of Adidas events. With that said, he wasn't at a United States high school, so many people didn't rank him.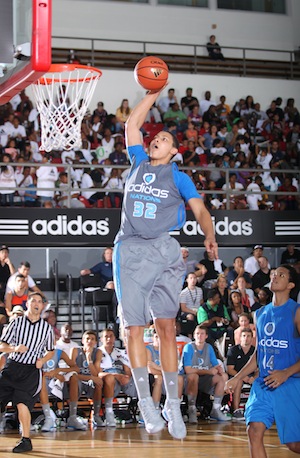 Ben Simmons turned heads in America during stints at the Pangos Camp and a couple of Adidas events. (Adidas)
That is, not until late Tuesday night -- when Simmons announced via Twitter that he was headed to Montverde Academy (Fla.) to play high school ball.
He was a relative unknown heading into the Pangos camp in Long Beach, Calif., but he immediately stole the show with his athleticism and skill set. He runs the floor extremely well and knows how to finish at the rim. He was an absolute matchup problem for seemingly every opponent.
Although Simmons was getting used to the American basketball scene at the time, it's not as though he had no knowledge of what life was like in the States. His father, Dave Simmons, attended Oklahoma City University before playing professional basketball in Melbourne.
"It's a different style of play," Dave Simmons told CBSSports.com over the summer. "In Australia, it's very structured. Here, you're fending for yourself. He's getting better, learning how to get open."
With the move to Montverde, Simmons will be playing alongside fellow five-star prospects Dakari Johnson, Kasey Hill and D'Angelo Russell. He won't be thrust into the spotlight right off the bat and can get comfortable with such big-time prospects above him on the totem pole.
Of course, the subtext to the move is the question of where Simmons falls in the class of 2015 rankings. Former No. 1 prospect Karl Towns reclassified to 2014 back in December when he committed to Kentucky, opening the door for someone else to take over the top spot. Big men Diamond Stone and Ivan Rabb are candidates, as is scoring guard Malik Newman.
But what about Simmons? I spoke briefly with Jerry Meyer of 247Sports about where Simmons slides into the 2015 rankings.
"He's a candidate for No. 1 in a class looking for star power," Meyer said.
Recruiting will undoubtedly heat up for Simmons now that he's going to be on American soil. Right now, LSU is in the mix because Simmons is the godson of Tigers' assistant David Patrick. He's also mentioned Washington in the past.
For now, Simmons' move makes Montverde even more explosive -- and it also means recruitniks can rank him without hesitation.  
For more college basketball news, rumors and analysis, follow @EyeOnCBB on Twitter, subscribe to our RSS Feed and subscribe to our College Basketball Newsletter. You can follow Jeff Borzello on Twitter here: @jeffborzello