Conference Reset: Arizona, Oregon highlight Pac-12's improvement
Arizona and Oregon are both unbeaten entering Pac-12 play, while the league has improved drastically from top to bottom.
• 10 min read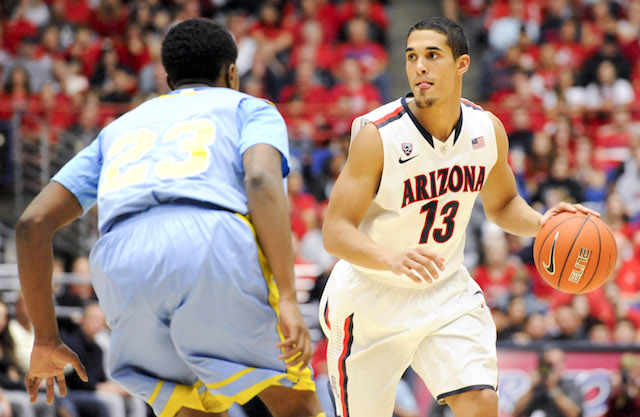 We once again are doing our midseason catchup on the 11 biggest leagues in college basketball. We're going to run these on the day leagues start conference play – or at least as close to them as possible. The Pac-12 is much improved this season, and could make a case for best league in the country.
Here's the Pac-12 reset:
Teams on track to make the Field of 68: Arizona, Oregon, Colorado, UCLA
Teams with work to do: Arizona State, Stanford, California, Utah
Teams already out, barring a miracle: USC, Washington, Oregon State, Washington State
Most memorable moment to date: Askia Booker's buzzer-beating 3 to beat Kansas. The Colorado guard had one of the best shots of the season, Eurostepping past a defender to hit a 25-footer – giving Colorado a 75-72 win over Kansas. It was a huge home victory for the Buffaloes, and is one they will point to on their resume come Selection Sunday.
Storyline you were too busy to notice: Utah is off to an 11-1 start. Sure, it's not the heftiest group of 11 wins I've ever seen, but there's a victory over BYU – and the lone loss is by two points at Boise State. The Utes might not finish in the top half of the league or make the NCAA tournament, but they continue to improve under Larry Krystkowiak, going from six wins in 2012 to 15 wins last season. Jordan Loveridge and Delon Wright are underrated nationally.
Coach feeling the heat: With Arizona State looking like a potential NCAA tournament team, Herb Sendek should be fine for another year. However, there are a few coaches that could be coaching for their jobs the next two months. The primary candidate is Washington State's Ken Bone, as the Cougars have steadily trended downward under his watch. And they are only 7-5 this season, poised to finish in the cellar of the league. Craig Robinson at Oregon State is another coach on the hot seat, although having potential Pac-12 Player of the Year Roberto Nelson has helped. The Beavers need wins, though. Stanford has a terrific recruiting class coming in next season, which could save Johnny Dawkins.
Player who needs to step up: If Oregon is going to be a legitimate Pac-12 title contender – and potential Final Four threat – Dominic Artis needs to be the player he was last season. Johnathan Loyd was terrific during Artis' nine-game suspension, but Artis could be the key going forward. He's been up and down since returning from suspension, totaling 12 points, 15 rebounds, and nine assists in three games. If Artis can be the facilitator and playmaker he was last season, though, Oregon could have the pieces.
Team better than its record: California came into the season with hopes of getting back to the NCAA tournament, and while the Golden Bears can still get there, the 9-4 non-conference record is worrisome. However, they haven't been healthy this season, and Jabari Bird and Ricky Kreklow are still out. At full strength, Cal can play with anyone in the country, as Mike Montgomery has a terrific perimeter group in Justin Cobbs, Bird and Tyrone Wallace – as well as solid interior play with David Kravish and Richard Solomon.
Team not as good as its record: USC has an identical 9-4 record to California, yet I expect the Trojans to trend the other direction in league play. The wins over Xavier and Dayton look nice, but they open the Pac-12 with games against UCLA, Arizona State, Arizona, Utah and Colorado. That could be 1-4 or 0-5 heading – which would be a morale-killer for what has been a decent season so far. Andy Enfield has some talent to work with, though.
Three must-see games:
Arizona at UCLA (Jan. 9)
Oregon at Colorado (Jan. 5)
Oregon at Arizona (Feb. 6)
Player of the Year favorite: Jahii Carson, Arizona State. There are plenty of good candidates for this one, with Joseph Young and Nick Johnson (or any Arizona starter) sitting undefeated. However, Carson is the most dynamic player in the league and is one of the most difficult players to guard in the country. He's averaging 19.3 points, 3.9 rebounds and 5.4 assists, including a 40-point performance at UNLV earlier this season. If the Sun Devils make the NCAA tournament, it will be on Carson's back.
Freshman of the Year favorite: Aaron Gordon, Arizona. Washington's Nigel Williams-Goss makes a good case, but Gordon is more likely to break out during the Pac-12 season – and Arizona is a much better team than Washington. Gordon's numbers aren't eye-popping (12.5 ppg, 7.6 rpg, 50.0 FG%), but he contributes in all facets of the game and has shown flashes of becoming more of a scorer. The Wildcats are so balanced that he won't become a true "star," but he is certainly good enough to win Freshman of the Year honors.
Probable all-league team:
Jahii Carson (Arizona State); Nick Johnson (Arizona); Joseph Young (Oregon); Roberto Nelson (Oregon State); Kyle Anderson (UCLA)
Ranking the teams from first to worst:
1. Arizona: The Wildcats aren't a perfect team on paper -- they don't have enough shooters, they don't have a true go-to-guy -- but that doesn't matter. What they do have is enough balance and versatility to play with anyone in the country. They are loaded up front, with Kaleb Tarczewski, Brandon Ashley and Aaron Gordon, and Nick Johnson and T.J. McConnell form a terrific backcourt. Plus, Rondae Hollis-Jefferson can play nearly every position on the court, bringing length and defense off the bench. This team is going to win games with its defense; but they are plenty capable on the offensive end, too.
2. Oregon: The Ducks more than survived nine-game suspensions to Dominic Artis and Ben Carter -- they went 12-0 with Johnathan Loyd running the show. They have one of the nation's deepest perimeter groups, with Artis and Loyd teaming up with scorers Joseph Young, Damyean Dotson and Jason Calliste. Dana Altman's team has had some rebounding issues, as their most dangerous lineup might come with Mike Moser at the five spot. If that gets shored up -- and the Ducks get Artis back to the way he played last season -- the Ducks' backcourt is capable of carrying this team to multiple wins come March.
3. Colorado: A season-opening loss to Baylor caused some early pessimism in Boulder, but the Buffaloes have rolled off wins in 11 of their last 12 games, including victories over Kansas and Harvard. The only other loss came to Oklahoma State, by five on a neutral court. Spencer Dinwiddie has been a bit up and down, but he and Askia Booker are a great backcourt duo. Up front, Josh Scott has been one of the most improved players in the country, nearly averaging a double-double. The key going forward could be Xavier Johnson, with his versatility and ability to matchup. Home games in four of the first six couple mean a nice start in the Pac-12. 
4. UCLA: The Bruins are another perimeter-laden team that will be a tough out come March. It starts with the sophomore duo of Kyle Anderson and Jordan Adams, as Anderson is one of the best all-around players in the nation. The emergence of freshman Zach LaVine has provided a big boost, but Steve Alford will need some consistency inside from the Wear twins and Tony Parker. UCLA is pushing the ball and looking to get out in transition at every opportunity, but they haven't been wearing teams down; instead, the Bruins were outscored by 17 in each of their two losses.
5. Arizona State: The Sun Devils are an interesting case heading into Pac-12 play. They beat Marquette and UNLV, although neither win looks all that impressive right now. They've been blown out by Creighton, and also lost to Miami on a neutral court. So what to expect of Arizona State in league play? First, Jahii Carson is clearly capable of carrying them to several wins, although Shaquielle McKissic's play lately has been impressive up front. Jermaine Marshall and shot-blocker Jordan Bchynski give this team a quality core. With so many teams fighting for this fifth spot, Carson could be the difference-maker.
6. California: We discussed them earlier, but when will the Golden Bears be healthy? That's the biggest question for Mike Montgomery's team as the calendar turns to 2014. Richard Solomon has missed games, while Jabari Bird and Ricky Kreklow are both still injured. Four losses looks ugly right now, although three of them came with players sidelined. Will that matter on Selection Sunday? Depends how Cal does in conference play. Three straight road games to start will be difficult, but getting seven of its final 11 games at home could provide momentum heading into the conference tournament.
7. Stanford: Johnny Dawkins came into the season needed a good year to get off the hot seat. It remains to be seen whether that will happen, although a top-notch recruiting class is something nice to keep in his back pocket. The Cardinal have beaten Connecticut on the road, and the losses were to BYU, Pittsburgh and Michigan. Stanford has two all-league caliber players in Chasson Randle and Dwight Powell, but only five players are averaging more than 10.3 minutes per game after Aaron Bright's injury. Can Dawkins' troops match up with the guard-heavy teams of the Pac-12?
8. Utah: The Utes have been a surprise in non-conference play, sitting at 11-1 heading into the Pac-12. Jordan Loveridge and Delon Wright form one of the more underrated duos in the country, with Loveridge a 20-10 threat every night and Wright capable of pushing for a triple-double on a regular basis. Both players are matchup problems, and will be an issue for most teams in the league. Utah leads the country in two-point field goal percentage, and as long as Loveridge and Wright stay healthy, Larry Krystkowiak's team will be competitive. A conference-opening test at home against Oregon will be telling.
9. Washington: The non-conference portion of the season wasn't positive for the Huskies, getting blown out by UC-Irvine, Indiana and Boston College in three of the season's first five games. This team has weapons, though. They push the ball and know how to score, with C.J. Wilcox capable of dropping 20 every night. Nigel Williams-Goss is a sturdy point guard, and Andrew Andrews gives them another playmaker. The problems come on the defensive side, where Washington is incapable of guarding the rim and give up far too many open shots. That's a bad recipe given the ability of most teams in this league to go off the dribble.
10. Oregon State: It's been a weird non-conference portion of the season for the President's brother-in-law, as the Beavers started with a loss at home to Coppin State -- only to follow that up two games later with a win at Maryland. There's also been losses to DePaul, Akron and Hawaii. Craig Robinson does have Robert Nelson, though, one of the best scorers in the league, while Devon Collier has developed into a go-to-guy up front. The key could be the return of junior Eric Moreland, who was suspended for first two months but can return Thursday. A difficult opening stretch will have to be navigated, though.
11. USC: Andy Enfield has done a fine job during his first couple of months with the Trojans, shaking off a season-opening loss to bounce back with wins over Xavier, Boston College and Dayton before the end of 2013. They don't shoot the ball well from the perimeter and aren't great on the glass, but they push the ball offensively and have been competitive. Byron Wesley has emerged as the go-to-guy, and Maryland transfer Pe'Shon Howard has provided some experience at the point guard spot. Two bright spots for the future are the freshmen duo of Nikola Jovanovic and Julian Jacobs.
12. Washington State: It's not going to be easy for Ken Bone this season in the Pac-12. They are just 6-5 against Division-I teams, and home losses to UTEP and TCU are on the negative side. Moreover, the Cougars start Pac-12 play with four road games in the first six, with the home games coming against Colorado and Utah. That's not easy. DaVonte Lacy has scored at least 20 points in six games this season, but he's been one of the few bright spots. Bone needs to surprise some people. 
Oklahoma and Arkansas are new additions to Sunday's Top 25 (and one)

Gary Parrish and Matt Norlander discuss a wild Saturday of college basketball

Ball left the program earlier this month and has since signed with a Lithuania professional...
Sooners beat third-ranked Shockers while Florida and FSU lost in upset fashion to unranked...

The Hoosiers grow up before our eyes, and Miller has his first signature victory as Indiana...

Trae Young, a freshman and the nation's top player, has a 21-point first half at Wichita S...