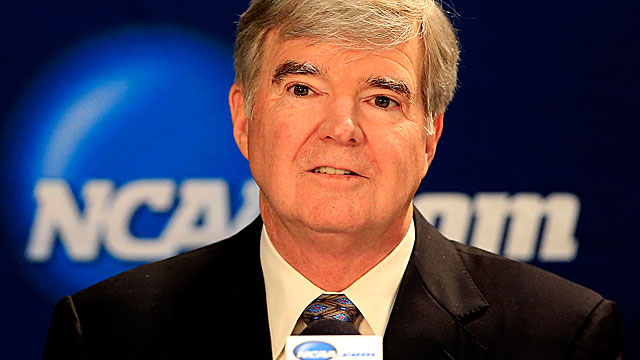 More college football: Dennis Dodd | Jon Solomon | Latest news
CHICAGO — The NCAA has reached a preliminary settlement in a class-action lawsuit over concussions brought by former college athletes. As previously reported by CBSSports.com's Dennis Dodd, the agreement filed Tuesday calls for the NCAA to provide $70 million for concussion testing and diagnosis of current and former NCAA players to settle several claims.
Unlike the NFL's proposed $765 million concussion settlement, the NCAA's proposed agreement covers only diagnostic medical expenses. It preserves college athletes' rights to sue their universities or the NCAA for personal-injury damages, although some opponents of the settlement say the agreement is not a good one.
The NCAA settlement was filed Tuesday morning in federal court in the Northern District of Illinois. It still requires the approval of Judge John Z. Lee, who held a hearing Tuesday afternoon on the matter without yet issuing a ruling.
The settlement establishes a 50-year medical monitoring program for all current and former college athletes in any sport, with $70 million going toward screening for long-term brain damage and $5 million going to research. The NCAA agreed not to oppose attorneys' fees up to $15 million and out-of-pocket expenses up to $750,000 out of the $75 million pot.
Among the changes agreed to in the settlement:
* Baseline testing in the preseason for every athlete in which he or she competes.
* Requiring medical personnel who are trained in concussion diagnosis and treatment to attend all games and practices for all NCAA contact sports. The settlement defines contact sports as football, lacrosse, wrestling, ice hockey, field hockey, soccer and basketball.
* Prohibiting athletes from returning to competition on the same day they are diagnosed with a concussion. 
* Requiring that schools provide NCAA-approved concussion training to athletes, coaches and athletic trainers prior to each season.
* Implementing concussion tracking so schools will report concussions and their resolutions.
"The settlement basically changes the future of college sports forever," said Joe Siprut, a lead attorney in the case. "It accomplishes for the first time in history implementation of return to play guidelines that the NCAA has never really had. That's what this case was about: the absence of those guidelines."
The first concussion lawsuit was filed in September 2011 on behalf of former Eastern Illinois football player Adrian Arrington. He was joined by former Central Arkansas football player Derek Owens, former Ouachita Baptist University soccer player Angela Palacios and former Maine hockey player Kyle Solomon in the initial lawsuit. Copycat lawsuits were filed and they were merged into one case.
The settlement states Arrington, Owens, Palacios and Solomon could each apply for $5,000 from the medical monitoring fund due to their time and service. Eight other named plaintiffs could apply for $2,500.
'Fundamentally different than NFL settlement'
Steve Berman, who on Tuesday was named co-lead counsel for the plaintiffs, said the NCAA case is fundamentally different than the proposed NFL settlement.
If there was billions of dollars available in an NCAA settlement, "why wouldn't I have gone for it?" Berman told Lee during Tuesday's hearing. "I like big-ticket cases. I've done a lot of big-ticket cases. If I could have expanded this into the billion-dollar NFL case, I would have. The NFL has 4,500 personal injury claims so there's a mass of people you could work with. ... The NFL could buy peace for PR purposes. In this case, there are very few individual cases out there. There's not a groundswell suggesting even a need for a class action like in the NFL."
Siprut said the settlement is a creation of a medical monitoring program that will help identify injuries on an individual basis.
"If you think about the amount of money that will be necessary to pay for personal injuries of every single college athlete, it would be billions and billions of dollars," Siprut said. "That's not what we're doing with this settlement."
If the medical monitoring fund is depleted before 50 years, the settlement says class members may pursue "on an individual, non-class basis claims seeking medical monitoring." If it appears the $70 million fund is going to be depleted before the expiration of the medical monitoring period, the plaintiffs' lawyers may serve the NCAA notice requiring that they meet within 30 days to consider additional funding.
"In such event, the NCAA and/or its insurers may elect to deposit or cause to be deposited additional funds into the Settlement Account for the Medical Monitoring Fund but shall not be required to do so," the settlement states.
Within 45 days of the preliminary approval date of the settlement, a request for proposals will be issued to medical institutions in at least 10 regionally geographic locations to provide the evaluations to class members. The medical monitoring program would start within 90 days from the effective date.
Class members who want to participate must first complete a screening questionnaire to determine whether they qualify for a medical evaluation. The screening program will assess "self-reported symptoms and cognitive, mood, behavioral, and motor problems that may be associated with persistent post-concussion syndrome and/or mid- to late-life onset problems, such as Chronic Traumatic Encephalopathy (CTE) and related disorders," according to the settlement.
A medical science committee would oversee the screening process and other aspects of the medical monitoring fund. The proposed members of the committee are NCAA chief medical officer Dr. Brian Hainline, Dr. Robert Cantu, Dr. Ruben Echemendia, and another expert still to be named.
The committee would annually review the screening questionnaire and the scope of the medical evaluations. Retired federal judge Wayne Andersen would chair the committee as a tie-breaking vote.
An algorithm would be designed by the committee to score responses from the questionnaire, which determines if athletes get a medical evaluation. Evidence during the questionnaire that an athlete may commit suicide may warrant immediate evaluation and possible intervention prior to a medical evaluation, the settlement states.
Some of the terms of how athletes would be monitored under the program:
* Athletes could complete the screening questionnaire no more than once every five years until they turn 50, and no more than once every two years after they turn 50 and before the medical monitoring period expires.
* Athletes could have up to five total screening questionnaires during the 50-year period. Additional screenings could be provided on a case-by-case basis.
* Athletes could qualify up to two times for a medical evaluation during the 50-year period. If an athlete seeks a third medical evaluation "and can demonstrate a showing of significant symptoms or loss of function in the areas of cognition, behavior, mood or movement," the medical science committee could determine if further evaluation is appropriate.
* If an athlete does three screening questionnaires without qualifying for an examination, any further questionnaires would be sent to the medical science committee to review.
The NCAA admits no wrongdoing in the settlement, which states, "The information generated through the Medical Monitoring Program, including but not limited to the evaluation of completed Screening Questionnaires, the results of Medical Evaluations, and written reports documenting the evaluation of Medical Evaluations, does not and shall not constitute an admission by the NCAA or any other Released Person."
Can the settlement get approved?
Now the question is whether the NCAA and the concussion plaintiffs can get the settlement approved. The NFL has met resistance from potential class members and, at one point, the judge to get its concussion settlement finalized with more than 4,500 former players. The NCAA settlement already faces opposition.
Attorney Jay Edelson, who represents former San Diego State football player Anthony Nichols and former Pittsburgh football player Frank Moore, said there is a "large camp" of attorneys and clients who are very concerned about the settlement and plan to oppose it.
"What the case was originally about was people who suffered real injuries from concussions," Edelson said. "If you look at the NFL settlement, and I'm not taking a position whether it's good or bad, there's going to be people who gets hundreds of thousands of dollars of cash. Here nobody is getting anything. I think we lost focus of what the purpose of the case was: get cash in people's hands."
Edelson said the idea that players with concussion-related symptoms can fill out a questionnaire and possibly get another medical evaluation "doesn't do them any good. Having another doctor say they have medical issues? So what?"
The settlement contends that it would be "unsupportable" to get a personal-injury class certified.
"Lead Plaintiffs made the strategic decision to support a $70 million Medical Monitoring Program with meaningful changes to the NCAA's return to play practices in return for waiving a virtually non-existent right to class personal injury claims," the settlement states. "In sum, Plaintiffs likely could not have achieved the same victory -- a comprehensive Medical Monitoring Program for all living NCAA athletes under 50 states' laws and significant changes to the NCAA's concussion-management and return-to-play guidelines -- on a contested basis."
Berman, the plaintffs' lead attorney, said the medical treatment for players isn't being paid for because the NCAA wouldn't assume liability on a class-wide basis since injuries vary based on individual cases, and because most athletes will be covered by their insurance.
"We studied that, and they're probably not paying out of pocket" for treatment after NCAA-funded medical evaluations, Berman said.   
At Tuesday's hearing, Berman told Judge John Z. Lee this was a tradeoff that was in the best interests of the class. NCAA attorney Mark Mester said the NCAA disagrees with some of the characterizations of what the association did or didn't do, but "we know if we don't dismiss the (class action) claims, there will be incentive for other lawyers to file class action."
Berman said he intentionally spelled out in documents the "playbook" for how to sue the NCAA or schools over individual claims.
"I've got some clients and I'm pursuing some clients who are going to have personal injury claims," Berman said. "I think there will be more personal injury claims when this news comes out."
Lee questioned how the $70 million number was established for the fund. Berman said it came from medical experts and economists analyzing concussion rates in football and other sports and multiplying them over time given estimated medical injury and CTE cases.
"We have some real hard numbers," Berman said. "A lot of homework went into this."
Berman said there are roughly 4.2 million class members, with 700,000 who played football and 1.1 million who played other contact sports.
Lee emphasized he needs to determine even in a settlement whether there's an appropriate class to certify given that athletes are waiving their rights to proceed seeking personal-injury damages as a class. Lawyers for the NCAA and the plaintiffs argued past cases allow for a "hybrid settlement."
Lee set the next hearing for Sept. 19. The plaintiffs will file a memo by Aug. 8. Edelson has until Aug. 28 to file an objection to the settlement.
Union activist criticizes settlement
Ramogi Huma, executive director of the National College Players Association, said the settlement has "red flags written all over it." Huma said the NCAA's "shameful handling of concussions" is the primary reason he is trying to unionize college sports.
Huma said protections mentioned in the settlement for athletes moving forward would be suggested guidelines that are unenforceable.
Under terms of the settlement, the NCAA executive committee would recommend that the governing bodies of Division I, II and III pass legislation requiring member schools to certify they have a concussion management plan that meets the settlement's requirements.
"There's a reporting mechanism that the schools have to report to the NCAA that they're in compliance, and they have to give a yearly report on the number of concussions they treated," Berman said. "So there's real teeth in this."
NCAA spokeswoman Stacey Osburn said the association is working through details on funding sources for the settlement, but they are expected to include payments from NCAA insurance carriers. Big Ten commissioner Jim Delany said his understanding is that more than 90 percent of the money would come from insurance carriers, with some small amount of NCAA reserve money going toward research.
Delany said the proposed settlement is a good outcome by mitigating the damages claims.
"Individuals can certainly pursue their own cause of action if there's a cause of action," Delany said. "I think it's a good outcome where you can settle and you can provide something that's not there now for future athletes. It makes people more aware. I think somebody noted, well, maybe Ohio State and Southern Cal are doing these things. But there's thousands and thousands of athletes at a thousand schools so this probably ups the standards for everybody."
Delany said college sports leaders and health officials are attempting to do the best they can with incomplete information about concussions. "Right now we're acting a little bit in the dark because there are 38 different definitions of what concussion is," Delany said.
In the short term, the NCAA and the plaintiffs' lawyers will try to sell a settlement that's already been met with some opposition. Finalizing the settlement could take several months and may not be easy.