Observations: Keep an eye on Syracuse, Pitt, Maryland in ACC
Syracuse's Jerami Grant has started off great, as has Pittsburgh's Lamar Patterson. And figure on Maryland coming on strong in February.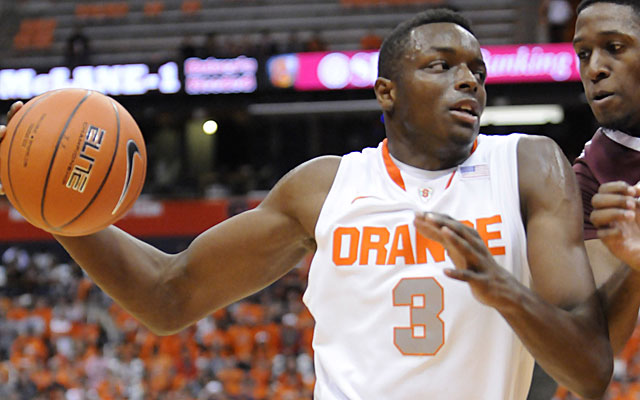 Five observations from the week ...
1. Syracuse's Jerami Grant is having the type of season many expected him to have.
Another year, another dynamite sixth man for Jim Boeheim. Two years ago it was Dion Waiters, last season it was James Southerland, and now it's Grant. The 6-8 sophomore was primed for a breakout season and he hasn't disappointed early. Grant is averaging 14.2 points and 6.7 rebounds in the Orange's first six games and it looks like he's going to get better and better as the year progresses. The one thing Grant isn't doing yet? Making threes. The most noticeable difference in the forward's game in fall practice was his ability to be a threat from the perimeter and even though he's yet to make a three-point shot, Grant will develop into a guy that can regularly hit from the outside.
2. The Atlantic 10 has already made several statements nationally.
Who said this league was going to take a step back? Dayton was exceptionally impressive at the Maui Invitational and looks like a team that will win 20-plus games and challenge for an NCAA bid. The Flyers' success combined with UMass' fast start and VCU's win at Virginia has given this conference some palpable momentum early. It will be interesting to see if some other teams in the league such as Saint Louis Billikens , George Washington, Saint Joseph's, and La Salle can earn some quality non-conference victories in the next month and continue to boost the overall standing of the Atlantic 10.
3. Pitt's Lamar Patterson looks like one of the country's most improved players.
The redshirt senior has taken a massive step forward offensively for the 6-0 Panthers, who play Duquesne Saturday at 1 p.m. ET on CBS Sports Network. Through six games, the 6-5 Patterson is averaging 17.0 points, 4.3 rebounds, and 5.3 assists per game while shooting an impressive 46.7 percent from three-point range. Patterson averaged 10.0 PPG last season and only shot 33.6 percent from deep. Another underrated thing about Patterson? He's an exceptionally effective passer, and was a critical piece in the Panthers' zone offense in their 88-67 win over Stanford on Monday night at the Barclays Center.
4. Maryland Terrapins will be dangerous by Feb. 1.
By that time, Seth Allen will have had about a month of game action under his belt and his presence at point guard should be enough to get the Terps into the discussion for an NCAA bid. When I watched Maryland practice in the preseason in College Park, the biggest thing that stood out from this team was their chemistry and a big reason for that was Allen. Confident and savvy, his return from an early season foot injury will only augment the games of Dez Wells , Jake Layman , and Evan Smotrycz . The big key for Mark Turgeon's team from now until Allen returns? Navigating the rest of their non-conference schedule without a true point guard. Maryland plays at Ohio State next week in the ACC/Big Ten Challenge then returns home to play an improved George Washington team in the BB & T Classic, and still has to travel to Boston College on Dec. 12.
5. I still don't know how good St. John's Red Storm is but ...
I'll know more after this weekend. The Red Storm will play Penn State Friday night in the Barclays Classic as part of a two-day, four-team tournament along with Ole Miss and Georgia Tech and that should provide Steve Lavin's squad with a good barometer of where they stand heading into December. St. John's still clearly has the best roster in the Big East but that doesn't mean they're going to be a factor in the conference. The Red Storm have struggled at home recently against Bucknell and Monmouth.
Five games I'll be watching this weekend
Arizona Wildcats vs. Duke Blue Devils (Preseason NIT)
Madison Square Garden will have a "regional final" type feel when these two proud programs tip off on Friday night at 6 p.m. ET. The Blue Devils have an unconventional team this season that lends itself to playing smaller, and it will be interesting to see how that works against Arizona's size and athleticism. The Wildcats are vastly bigger than the Blue Devils but Duke has the potential to spread them out and create mismatches if they regularly use Rodney Hood and Jabari Parker together up front. There will plenty of well calculated strategic moves in this one between Sean Miller and Mike Krzyzewski. Personally, I can't think of a better way to spend Black Friday.
Kansas vs. Villanova Wildcats (Battle 4 Atlantis)
Are the Wildcats back to being a national force? We'll know after this game. Jay Wright doesn't have a vintage "Villanova" guard on this team but he does have a tough, hard nosed veteran group that played in the NCAA Tournament last season. The Wildcats also got a boost on Thursday when Rice transfer Dylan Ennis made his season debut after missing the beginning of the year with a hand injury. Ennis had 14 points in Villanova's win over USC and adds a strong perimeter defender off the bench that can create havoc against the opponent's point guard. Kansas obviously has elite talent but they haven't been punched yet. That will be sure to happen on Friday against the Wildcats. How will the Jayhawks respond? That's why we watch.
Wichita State Shockers at Saint Louis
One thing I've learned through the first few weeks of the season? The Shockers back court is being underrated nationally. Wichita State has a steady point guard in Fred VanVleet , a capable scoring wing in Ron Baker , and a "Glue Guy" in Tekele Cotton , but they aren't mentioned among some of the better perimeters in college basketball. Gregg Marshall's team grinded their way back against BYU earlier this week and they'll need a similar effort on the road against the Billikens. The guy to keep an eye on for Saint Louis? Central Michigan transfer Austin McBroom . The Billikens' offense seems like it has better continuity when he's on the floor alongside veterans Mike McCall Jr. and Jordair Jett .
North Carolina Tar Heels at UAB
This is a dangerous game for the Tar Heels. After watching UAB multiple times in the Charleston Classic last week, I'm convinced they have more enough to push North Carolina for 40 minutes. Roy Williams' team was terrific last Sunday when they upset Louisville at Mohegan Sun but this game against the Blazers will be different because it's a true road test. Jerrod Haase has a gem in point guard Chad Frazier , a JUCO transfer who's putting up big numbers --- 18.4 PPG, 3.1 RPG, 5.3 APG --- through the team's first seven games. Another thing that helps UAB in this game? They have the size to match up with North Carolina up front. The Blazers have are beyond solid on the baseline with C.J. Washington (16.7 PPG, 7.7 RPG) , Rod Rucker (12.4 PPG, 9.9 RPG), and Fahro Alihodzic (9.7 PPG, 7.4 RPG). This game should be competitive for 40 minutes.
Providence Friars vs. Kentucky (Barclays Center)
Talent will once again face experience when John Calipari takes the Wildcats to Brooklyn for their annual pilgrimage to New York City. Kentucky hasn't played a game away from Rupp Arena since they lost to Michigan State in the Champions Classic on Nov. 12, and it will be interesting to see how they respond against an older Providence team. The Friars have three proud veterans in Bryce Cotton , LaDontae Henton , and Kadeem Batts and all of them will be readily aware of the forum they have on Sunday night against Kentucky. The Wildcats will need to get more offensively out of James Young , who has struggled recently. In Kentucky's past two games, Young has made just for 4-of-19 shots of the floor and 1-of-10 attempts from three-point range.
Quickley played for John Calipari this summer with USA Basketball

A revamped Erwin Center is part of a $4.25 million upgrade to the Longhorns' hoops facilit...

Nov. 10 will be here before you know it so here's what you need to know
The league would be wise to treat that series like the ACC treats Duke-North Carolina

Pacific is penalized after the NCAA found academic rules were broken

Arizona, for no good reason, doesn't have to play at USC or UCLA this season