UNLV: Jekyll or Hyde? No one knows
UNLV has been an enigma, but many forget that coach Dave Rice has dealt with midseason additions, multiple injuries and doesn't have a true point guard. However, the Runnin' Rebels have the talent.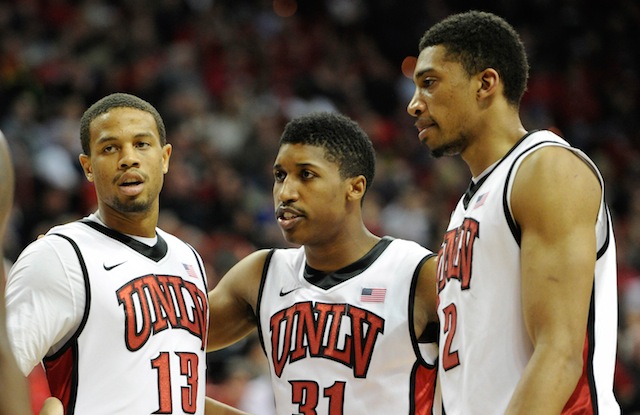 LAS VEGAS - There are times when UNLV looks spectacular, when Dave Rice's team is clicking on all cylinders and Anthony Bennett is dominating on the offensive end, Mike Moser is cleaning up on the glass and the team is locked in on the defensive end. There are others when the Runnin' Rebels are downright awful, when Anthony Marshall is unable to run the team, when Bennett plays without intensity and Moser appears a shell of himself. 
UNLV smacked Air Force in the Mountain West quarterfinals. The Falcons were without star Michael Lyons for nearly the entire game after he suffered a knee injury in the opening minutes. Bennett finished with 23 points and seven rebounds, Moser added nine points and 10 rebounds, Bryce Dejean-Jones finished with 12 and Anthony Marshall added 11. 
Dave Rice said it was the best his team has looked since, well, he couldn't even remember back quite that long ago. But this is the same team that lost to Fresno State on Senior Night in the regular-season opener. In fact, UNLV was swept by the Bulldogs this season and lost a half-dozen games in the league.
This team is impossible to figure. 
"To be honest, I don't even know," Bennett said after the 72-56 win over Colorado State on Wednesday afternoon. "I expect us to show up every game, but it hasn't been like that." 
No one knows if Bennett, a likely Top 10 pick in June's Draft, will pull a disappearing act. Sure, he's dealt with a shoulder injury over the last few weeks, but he's still been a defensive liability for nearly the entire year. Moser just hasn't been the same this season after dealing with a myriad of injuries. Freshman Katin Reinhardt is talented, but erratic. This is a dangerous group that has underachieved this season. There aren't five more talented teams in the nation than the Runnin' Rebs. However, there have been just too many issues. 
Moser hasn't been effective due to the injuries and also having to play out of position. Birch didn't become eligible until mid-December and Rice doesn't possess a true floor leader who can run the team and consistently make life easier for everyone else. Moser and Bennett are both best-suited to play the power forward spot. The plan was to move Moser to small forward, so Rice could get his most talented players on the court at the same time. That meant Moser, Bennett and long, athletic shot-blocker Khem Birch in the middle. 
That hasn't worked. 
Rice started Bennett in the middle against Air Force, put Moser at power forward and brought Birch off the bench. It was the first time that he had this lineup since back in December, when Moser's injuries issues surfaced -- and UNLV had the look and feel of a team that could make a run to Atlanta. 
"We're a different team with Moser at the four," Rice said. "I want to be the Runnin' Rebels and a transition team. He changes us in that sense." 
Now the question becomes whether it's too late for UNLV. Sure, the Runnin' Rebels shared the ball, defended and played with a sense of urgency on Wednesday. But it was against an Air Force team without its best player. Rice is hopeful the team can hit its stride when it matters most, but you can tell that even he's not certain about what to expect from this group. 
"Sometimes new teams have to learn through adversity," he said. "Losing on our home floor on senior day is a hard lesson." 
I'm as confused as anyone whether this team can make noise come next week in the NCAA tourney. You'll be hard-pressed to find a pair of bookend forwards more talented than Bennett and Moser. Birch is one of the top shot-blockers in the entire country, Marshall is a stud on the defensive end and both Dejean-Jones and Reinhardt are explosive scorers from the wing spot. The Runnin' Rebels may have questions, what's not up for debate is the talent that litters the roster. 
Rice finally has a full complement of players - and both Moser and Bennett are finally healthy and playing alongside one another. 
The question becomes for how much longer. 
Arizona, for no good reason, doesn't have to play at USC or UCLA this season

We look at the 'Major 7' leagues and give you the best of what's to come in conference play...

Louisville's coach predicts a change is coming to the NBA's one-and-done rule by 2019
Multiple former players of Lonergan's alleged verbal abuse and inappropriate remarks

When Miller left for Indiana, there was cause for concern in Flyerland; a top-100 signee says...

The Hoyas will spend their non-league schedule playing mostly nobodies -- as will most big...