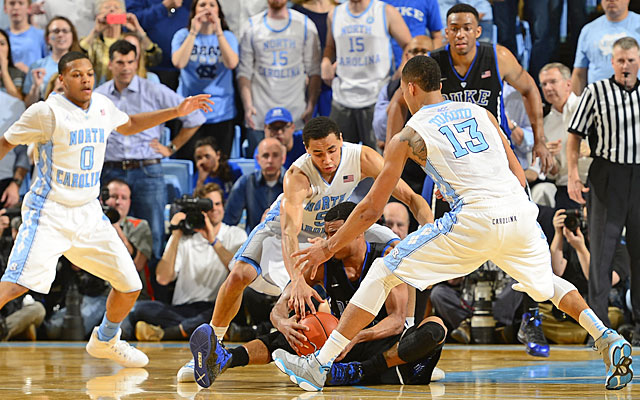 Latest in hoops: Top 25 (and one) | Bracketology | Bubble Watch
You're probably noticing something different about the Weekend Viewer's Guide. There's an easy explanation. Because everyone loves delicious hoagies, the Friday version of our Viewer's Guide will now mirror the "Hoagie Scale" used for Jason La Canfora's NFL Game Rankings. Nothing much will change with the content; only the categories separating the games. Now I'm hungry.
It's the final weekend of the regular season -- as well as the first weekend of automatic bids. There are several marquee games at the top of the schedule, with five games between Top 25 teams. But there are also tons of bubble games, with a couple of bubble battles and a handful of teams looking to lock up a bid by getting a marquee win. And we will also get our first NCAA Tournament teams, with five automatic bids getting handed out this weekend.

No. 14 North Carolina at No. 4 Duke (Saturday, 9 p.m., ESPN)
Aside from being another edition of one of the best rivalries in sports, Saturday night's game takes on added importance. With a loss, Duke would drop to 12-6 in the ACC, finishing in fourth place in the standings. Would the Blue Devils even be a top-four seed in the NCAA Tournament with a loss? Meanwhile, North Carolina continues to boost its Selection Sunday seeding higher and higher, rolling off 12 wins in a row to sit at 13-4 in the ACC. The Tar Heels would finish in second place in the league with a win and a Syracuse loss. With their collection of quality wins, their seed in the NCAA Tournament is only improving. In the first meeting, North Carolina crashed the offensive glass, taking advantage of Duke's deficiencies inside. Moreover, the Blue Devils shot just 5 for 22 from the 3-point line and couldn't get into a rhythm down the stretch. Can UNC stifle the Dukies again?  
No. 21 New Mexico at No. 10 San Diego State (Saturday, 10 p.m., CBS Sports Network)
The game of the year in the Mountain West. Both teams are tied for first place at 15-2, and the winner will get the No. 1 seed in the conference tournament. New Mexico dominated the first meeting, getting 26 points and nine rebounds from Cameron Bairstow in the 58-44 victory. Xavier Thames really struggled in that game, shooting just 3 for 15 from the field and finishing with seven points. As he goes, so goes San Diego State. If Thames has another bad night against the Lobos' defense, the Aztecs could go through long offensive droughts again. Will San Diego State be able to manufacture points around the rim against New Mexico's size inside? Can the Lobos get to the free-throw line as much as usual against San Diego State's disciplined half-court defense?
No. 19 Connecticut at No. 11 Louisville (Saturday, 2 p.m., CBS)
Sean Kilpatrick made his statement for AAC Player of the Year on Thursday night, scoring 34 points in a win over Memphis. How will Russ Smith and Shabazz Napier respond Saturday? Both players have legitimate hopes for All-American honors. Smith was terrific in Louisville's victory over SMU on Wednesday, scoring 26 points and going 6 for 6 from 3-point range. Napier wouldn't be outdone, also scoring 26 points and going 7 for 11 from 3-point range vs. Rutgers. Louisville won the first meeting between the two teams, in Storrs -- Napier got absolutely no help from his teammates and Louisville dominated the offensive glass. With the way Montrezl Harrell is playing lately (21.5 ppg, 9.0 rpg in his past four games), that could happen again.

No. 25 Kentucky at No. 1 Florida (Saturday, 12 p.m., CBS)
Despite Kentucky's struggles, this is still a must-watch game. The Wildcats are looking to get their momentum back before the postseason, struggling with Alabama in a win after losing two in a row to Arkansas and South Carolina. On the other side, Florida is hoping to become the first 18-0 team in SEC history. The Gators are in the mix for the overall No. 1 seed, and a win this weekend could get them closer to that nod. The first meeting between these two was a terrific game, but Kentucky will have to take better care of the ball and win the rebounding battle. Both teams crash the offensive glass; second-chance opportunities will be there.
No. 18 SMU at No. 20 Memphis (Saturday, 12 p.m., ESPN2)
This could be another trouble spot for Memphis despite being at home. Like Cincinnati, SMU defends the paint extremely well, not allowing teams to get dribble penetration and finish at the rim. The Mustangs force teams to shoot outside jumpers -- where Memphis doesn't excel. The Tigers shot 11 for 44 from 3-point range in two games against Cincinnati and 6 for 24 in the first meeting against SMU. Joe Jackson, Mike Dixon and the rest of the Memphis guards need to get SMU in ball-screen situations, and then get going to the basket. Forcing turnovers and getting in transition will also be a key.
No. 22 Michigan State at Ohio State (Sunday, 4:30 p.m., CBS)
Heading into conference play, this was looked at as one of the most important games to watch down the stretch. Instead, it's a game between one team looking to keep momentum going (Michigan State) and one team looking to stay above .500 in Big Ten play (Ohio State). Both teams have had their ups and downs over the past two months, but both still have some hope in March. Ohio State plays defense as well as anyone in the country, while Michigan State looked as healthy and effective on Thursday as it has in a long time.

No. 3 Arizona at Oregon (Saturday, 4 p.m., CBS)
This is Oregon's big opportunity to punch its ticket to the NCAA Tournament. The Ducks have won six in a row, but could really solidify things with a victory over Arizona. The Wildcats have really stabilized since the first few games after losing Brandon Ashley, and are among the favorites to cut down the nets. Oregon lost the first meeting in Tucson by two.
Oklahoma State at No. 16 Iowa State (Saturday, 2 p.m., ESPN)
Oklahoma State has really responded well since the return of Marcus Smart, winning four in a row -- including back-to-back wins over Kansas and Kansas State. With the bubble carnage around them, the Cowboys are in good shape heading down the stretch. Iowa State has lost two in a row, both on the road, and needs momentum before the Big 12 tournament. The first one between these two was a three-overtime classic.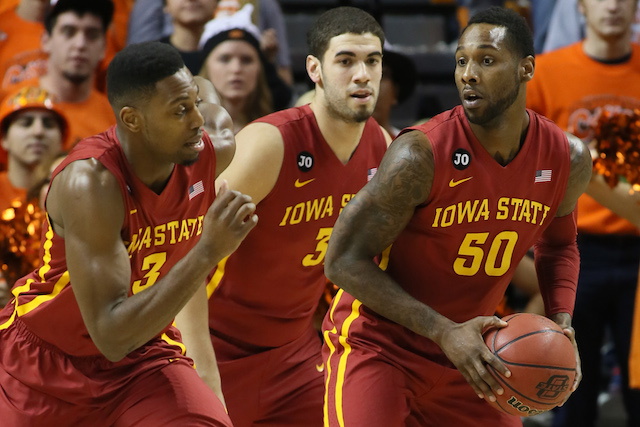 No. 17 Saint Louis at Massachusetts (Sunday, 2 p.m., CBS Sports Network)
Saint Louis could have wrapped up the Atlantic 10 regular-season title a couple of weeks ago, but the Billikens have lost three in a row and are now up just one game in the standings. They need to regain their momentum. UMass might have the best at-large résumé in the league, but the Minutemen need a win to finish in the top four of the standings. Will be a contrast of styles.

Baylor at Kansas State (Saturday, 1:30 p.m., ESPN3)
Baylor likely punched its ticket to the dance by beating Iowa State on Tuesday, but a win at Kansas State would get the Bears to .500 in the Big 12. Kansas State, though, hasn't lost at home since the season opener.
Georgetown at No. 6 Villanova (Saturday, 2 p.m., Fox Sports 1)
When compared to most bubble teams, Georgetown's quality wins put the Hoyas in good shape. But the three bad losses and sub-.500 Big East record turn people off -- beating Villanova on the road would solve all problems.
Utah at Stanford (Saturday, 2:30 p.m., Pac-12 Network)
This one is interesting. Utah has won three straight games vs. potential NCAA Tournament teams, but the Utes' computer numbers are too poor for an at-large right now. Stanford needs to win to get back on the right track.
Missouri at Tennessee (Saturday, 4 p.m., ESPN)
Will either of these teams be in the NCAA Tournament? Missouri escaped against Texas A&M, while Tennessee has won three in a row against mediocre competition. The loser of this will face an uphill battle in the SEC tournament.
Colorado at California (Saturday, 6:30 p.m., Pac-12 Network)
Two teams squarely on the bubble. Colorado took a step forward with a huge road win at Stanford on Wednesday, while California lost to Utah. As a result, the Golden Bears need to get this win.
Providence at No. 13 Creighton (Saturday, 8 p.m., CBS Sports Network)
Providence kept its hopes alive with a double-overtime win against Marquette on Tuesday, but the Friars haven't done enough just yet. Beating Creighton on Doug McDermott's Senior Day won't be easy.
No. 7 Syracuse at Florida State (Sunday, 2 p.m., ESPN3)
Florida State has played itself back into the discussion with three straight wins, but the Seminoles need another marquee win to add to the résumé. Syracuse, despite its struggles, would suffice.
No. 9 Wisconsin at Nebraska (Sunday, 7:30 p.m., Big Ten Network)
Nebraska bounced back from its loss to Illinois with wins over Northwestern and Indiana to stay in the at-large hunt. But the Cornhuskers likely need to take down Wisconsin, which has won eight in a row.
Ohio Valley Championship (Saturday, 7 p.m., ESPN2)
Here's hoping for a 1 vs. 2 showdown with Belmont and Murray State. Belmont won the only meeting between the two teams, by three points back in early February. A rematch would be must-watch hoops.
Big South Championship (Sunday, 12 p.m., ESPN2)
Still a fairly wide-open tournament, as they are only in the quarterfinals right now. With that said, because the tournament is on Coastal Carolina's home court, I'll go with the Chanticleers to get the automatic bid.
Missouri Valley Championship (Sunday, 2 p.m., CBS) 
This will likely be Wichita State's last chance to lose before the NCAA Tournament, but I don't see it happening. The Shockers will likely face either Indiana State or Northern Iowa.
Atlantic Sun Championship (Sunday, 2 p.m., ESPN2)
No. 1 Florida Gulf Coast vs. No. 2 Mercer. The two best teams in the league will battle in what should be one of the better title games. Langston Hall against Brett Comer will be fun.
Other games to watch:
FRIDAY
Evansville at No. 2 Wichita State (1:05 p.m., ESPN3)
Harvard at Yale (7:30 p.m.)
Ohio Valley tournament -- semifinals
Big South tournament -- quarterfinals
Missouri Valley tournament -- quarterfinals
Horizon League tournament -- second round
CAA tournament -- first round
Southern Conference tournament -- first Round
SATURDAY
St. John's at Marquette (12 p.m., Fox Sports 1)
No. 8 Kansas at West Virginia (12 p.m., ESPN)
No. 15 Cincinnati at Rutgers (12 p.m., ESPNEWS)
No. 23 Oklahoma at TCU (4 p.m., ESPN3)
Texas at Texas Tech (4 p.m., ESPNEWS)
Pittsburgh at Clemson (4 p.m., ESPN3)
Arkansas at Alabama (4 p.m., ESPN3)
Arizona State at Oregon State (4:30 p.m., Pac-12 Network)
George Washington at Fordham (4:30 p.m.)
Georgia at LSU (5 p.m., ESPN3)
Loyola Marymount vs. BYU (5 p.m.)
Weber State at Eastern Washington (5:05 p.m.)
Indiana at No. 12 Michigan (6 p.m., ESPN)
Central Arkansas at Stephen F. Austin (7 p.m.)
Richmond at Dayton (7 p.m.)
St. Bonaventure at VCU (7 p.m.)
UC Davis at UC Irvine (7:30 p.m.)
Illinois at No. 24 Iowa (8:30 p.m., Big Ten Network)
Santa Clara at Gonzaga (9 p.m., ESPN2)
UCLA at Washington State (11 p.m., Fox Sports 1)
Missouri Valley tournament -- semifinals
Horizon League tournament -- semifinals
Northeast Conference tournament -- semifinals
Patriot League tournament -- semifinals
Big South tournament -- semifinals
CAA tournament -- quarterfinals
MAAC tournament -- quarterfinals
America East tournament -- quarterfinals
Summit League tournament -- quarterfinals
Southern Conference tournament -- quarterfinals
West Coast tournament -- quarterfinals 
SUNDAY
No. 5 Virginia at Maryland (12 p.m., CBS)
La Salle at Saint Joseph's (4 p.m., CBS Sports Network)
Penn State at Minnesota (5:15 p.m., Big Ten Network)
CAA tournament -- semifinals
MAAC tournament -- semifinals
Southern tournament -- semifinals
America East tournament -- semifinals
Summit League tournament -- quarterfinals