Do nine Pac-12 games best eight in SEC? Shaw's math is fuzzy
Is a nine-game Pac-12 conference schedule superior to an eight-game SEC slate? Stanford's David Shaw thinks so, but when it comes to playoff poll position, nobody knows.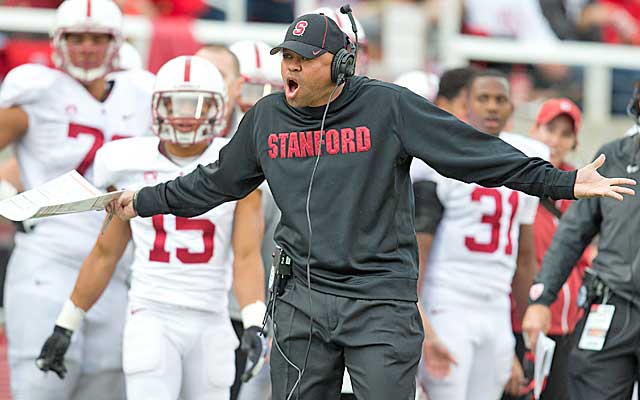 The Bernard M. Freeman Director of Football at Stanford University is involved in a full-on schedule-strength skirmish with the SEC.
That's both priceless and compelling. The head coach -- that's what they call him everywhere else -- at Stanford is lobbying for playoff poll position in a month usually reserved for exams.
Might the tail of the pure-bred Afghan be wagging the Westminster Best In Show at The Farm?
At the least, Stanford's David Shaw is on a slow boil regarding his Cardinal. The 41-year-old coach basically questioned the SEC's manhood last week. The difference in the college football universe -- he suggested -- is that the Pac-12 plays nine conference games and the SEC plays eight.
"There's no taking away anything that LSU and Alabama and Auburn recently have accomplished," Shaw said on a conference call. "They've been phenomenal. My take is to say, 'OK, the rest of us are playing our conference. We're playing nine out of 12 teams in our conference. Why can't you do the same thing?'
"You can't color it. You can't try to explain it away. You're not doing what the rest of us are doing it. We're doing it. The Big Ten is doing it. The Big 12 is doing it. Everybody is pushing toward a nine-game conference schedule."
Everybody? Not exactly. More about that below. This is largely about a situation the average fan doesn't understand and/or care about. In this playoff era, the net difference in conference games between leagues -- one -- is suddenly a big deal. The Pac-12 and Big 12 play nine conference games. The ACC, SEC and Big Ten (for now) play eight. The Big Ten is going to nine in 2016.
The idea has taken hold -- at places like the position endowed by Bernard M. Freeman -- that the football world should be a Coke commercial. World unity and all that.
That's great if you're hawking caramel-colored, caffeine-laced corn syrup. It's another if you're a stand-alone media/athletic conglomerate -- which of course those Big Five conferences are.
Another reminder, then, that all politics are local. Read his comments again. Shaw must think his team is pretty good. It is. Stanford has developed into a top 10 program.
We're just not used to it being stated that way at Stanford. Maybe we should be. The lasting impression from the Cardinal's 2013 season is Michigan State linebacker Kyler Ellsworth stopping Stanford fullback Ryan Hewitt on fourth-and-1 to decide the Rose Bowl.
Mano a mano. Do or die. The Cardinal will live another day. These are arguably the greatest days in Stanford football history -- two straight Pac-12 titles, two straight Rose Bowls.
Shaw also must think the Pac-12 is pretty good. Looking at the returning talent, the league will push the SEC for best-conference status in 2014.
Yeah, there's no taking away "anything" LSU, Alabama and Auburn have done. Those six combined national championships since 2006 supposedly still count.
Still, Shaw's enduring message: Real men play nine.
Except that no one really knows for sure. Someone actually went to the trouble of comparing average BCS opponents. According to this tweet, the Pac-12 will play an average 9.92 BCS-league opponents. The SEC's average is 8.79.
But the reason nothing will move on this issue is the same reason we don't have a college football commissioner. These conferences/commissioners don't want to relinquish power to anyone or anything.
They own the $7.2 billion playoff. They own the Rose Bowl and Sugar Bowl. They're about to take over NCAA governance.
These are individual fiefdoms that can't agree on much. They spend gobs of time trying to outdo each other in outrageous uniform designs. This is the same universe where one school's football budget (Idaho) doesn't equal 60 percent of Nick Saban's salary.
None of these conferences do equality well. Getting them to agree on common scheduling ground is almost impossible. That's because the exercise has become interpretive dance as we enter the playoff era.
There is no road map to success. There are opinions. There are conference calls on which to express those opinions. There are player welfare issues that no one seems to care about: In any given year, the two championship teams could play 15 games.
But the selection committee has yet to ... select. Yet, everyone thinks they know. The Big 12 plays the Big Five's only true round robin, yet doesn't have that juice from a final-weekend conference championship game. Last championship game appearance: 2009. Last championship: 2005.
The SEC's de facto ninth conference game is an annual non-conference game against a team from one of the other four BCS conferences.
The Big Ten is going to nine at the same time its media rights are up for bid. Smart, for schedule strength and Big Ten Network inventory. At the same time the ACC is deciding on whether to start a network, it is undecided on eight or nine conference games. The two decisions may be related.
What we've learned is that the playoff isn't in the business of common ground. But it is in the business of impressing a selection committee that has never done this before.
"We all need to play by the same rules," Shaw added.
Rules? Sure. Schedules? Exclusive property of five fiefdoms.
Schiano would have made $4.4 million in Year 1 with annual raises as part of a six-year de...

Dykes spent this season as an offensive analyst at TCU

The "Wyoming Wild Man" notched six tackles for loss as a junior in 2017
Zaycoven Henderson was charged with aggravated assault with a deadly weapon

Patterson is a former No. 1 recruit in the country

Baker Mayfield and two Sooner teammates made the first team