Former Gators QB Jacoby Brissett the future at NC State
North Carolina State will have a talented quarterback for 2014 in Jacoby Brissett, who lost the starting job at Florida to Jeff Driskel but is determined to be his own man in the Atlantic Coast Conference.
• 6 min read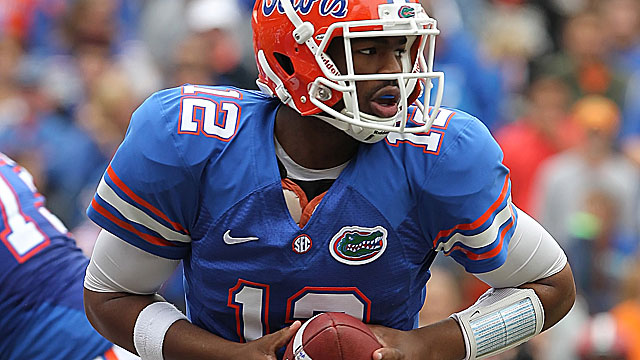 RALEIGH, N.C. -- Quarterback Jacoby Brissett sits in the Murphy Football Complex wearing a black Sugar Bowl sweatshirt, which is interesting because that game in New Orleans was the catalyst for his decision to transfer from Florida to NC State.
Brissett had played behind Jeff Driskel all season, but he still thought, even as a backup, that his arm could help the Gators in a few sluggish offensive games.
Florida won 11 games and pushed for a national title with Driskel. When Florida's offense sputtered against Louisville in the Superdome, including two picks and a fumble by Driskel, Brissett figured that would be his chance. He ended the game the same way that he started it -- with 249 passing yards and a touchdown, mostly in non-conference regular-season play.
A few days later, he was asking for his transfer papers.
"It wasn't right," said Brissett, in between classes, about his perceived lack of opportunities in the 2012 season and subsequent bowl game. "In the saying that God don't like ugly, it came up to us in the Sugar Bowl when we couldn't throw to save our life."
Florida and Brissett both got what they wanted. First-year NC State coach Dave Doeren definitely got what he wanted. He considers Brissett a cornerstone for his first head-coaching job in a power conference.
Brissett will get the ball in Raleigh as a redshirt junior in 2014. He's the Wolfpack's symbolic starter without the ability to play a down this season because of NCAA transfer rules.
Doeren calls this season "life without Jacoby" as young quarterbacks Pete Thomas and Manny Stocker battle for the starting job.
"He's really good," Doeren said with a smirk that says 2014 could be fun. "Not just talented. He's a great leader. That's the thing. Our quarterback has to be the CEO of our program. He will be that way. He will relish that. We look forward to that."
Brissett wanted this for himself at Florida, which is moving on with Driskel, who by most accounts had a successful debut season in 2012 (Driskel had three interceptions before the Louisville game).
Brissett transferred in mid-January, in time for Doeren's first quarterback meeting in Raleigh. Brissett chose NC State over West Virginia in part because of Doeren's experience as Wisconsin's defensive coordinator. The Badgers recruited the highly-rated Brissett out of West Palm Beach (Fla.) Dwyer High School.
Brissett wanted to be his own man, not a Geno Smith follow-up act in Morgantown.
NC State is his landing strip. Without game action in sight for 17 months, Brissett treats practices like games. NC State wrote a letter to the NCAA looking for 2013 eligibility but found no examples of a quarterback who left a school because of playing time and didn't have to sit out a year.
Brissett has experience at waiting.
"I get a longer season than everybody else," Brissett said. "That's how I've kept myself motivated."
Though Driskel was the nation's top-ranked quarterback out of high school, Charlie Weis, Florida coach Will Muschamp's offensive coordinator in 2011, pushed for Brissett, who's known as a pure pocket passer with adequate speed but not a prototypical dual-threat quarterback. Driskel split time with Brissett in 2011 but earned the starting job before the 2012 season and never relinquished it.
Florida didn't take many chances in 2012, partly by design. The Gators won close games with defense, a steady running game and a few timely throws from Driskel. The formula worked, and Muschamp said the offense is expanding while Driskel absorbs a full offseason with second-year coordinator Brent Pease.
Driskel and Brissett split reps 50/50 in the spring practice leading up to last season.
"[I] just feel like Jeff, with his legs, gives us some different variables in our offense that can help us as we move forward," Muschamp told reporters when naming the starter in September. "It'll be Jeff's game to play. I told Jeff, 'I don't want you looking over your shoulder, but you need to play well.'
"I have confidence in both guys. [We] can win with both guys. I just felt like at this time, it's good to move forward with naming one guy and go with it."
A competitive quarterback thinks he's the right man for any job, and Brissett was no different while at Florida.
"Just my competitiveness, I don't think it was matched with that other guy," Brissett said. "The willingness to put in that extra work to win."
Yes, the "other guy" is Driskel. When asked if he and Driskel were friends, Brissett said, "We never got in a fight. No blood, no foul. It's competition." Brissett believes Driskel can be successful because the Florida offense is "pretty much predicated around him," utilizing his running ability. He also believes Driskel has a good arm.
Leaving Florida was difficult because of the friends whom he made and the uncertainty of taking on a new campus. The Florida staff never mistreated Brissett and wanted him to stay, the quarterback said.
But Brissett had a new career to begin. He got his release on a Tuesday in January, and by Friday he was flying from Raleigh to Morgantown. Transfers get five visits; Brissett settled on two.
West Virginia coach Dana Holgorsen's track record with quarterbacks Brandon Weeden, Case Keenum and Smith was impressive to Brissett.
"But I'm not them. I had to do something for myself," he said. "A lot was, 'Oh, you can come in and do what Geno did. You saw what Geno did.' I'm not Geno. So I can't do what Geno did. I don't think like Geno. It was a matter of coming someplace where I can pretty much start all over."
And make mistakes, which is apparently his favorite part of football.
"I love the process leading up to the game, the mess-ups in practice, to being able to go back and look at it like, when you finish doing what you're doing and you know, 'I really came a long way through all this,' " Brissett said. "That's what type of player I am and want to continue to be."
Doeren went 23-4 at Northern Illinois with a read-option offense and will probably tailor his offense around Brissett. NC State will use the same formations for the zone and power running game, but more ground-game production will go through the running backs instead of the quarterback. NIU quarterback Jordan Lynch had 4.5-second speed in the 40, so Doeren took advantage. Brissett has adequate speed but isn't that fast.
Upon their first meeting in Raleigh, Brissett told Doeren he'd do whatever it takes to win.
"You just sensed a guy who wanted to be somewhere and be the guy and be a part of something special and be in a family environment," Doeren said. "I don't think he disliked the coaches or the system. He just didn't get the job. He felt like he should have gotten the job."
He's got a job now.
Freeman will not play in the New Mexico Bowl on Saturday

SportsLine simulated every bowl game 10,000 times for pick'em leagues and confidence pools

Grier will return to West Virginia for the 2018 season instead of entering the NFL Draft
The Chick-fil-A Peach Bowl just got spicy

Anderson had been under investigation for an incident at a bar in Cleveland County, Oklaho...

Between Arizona State and Tennessee, no one would have guessed how this coaching cycle turned...