Ohio State loses grip on greatness in Big Ten title game
Ohio State lost to Michigan State in the Big Ten championship game and couldn't stay perfect for a national title shot.
• 4 min read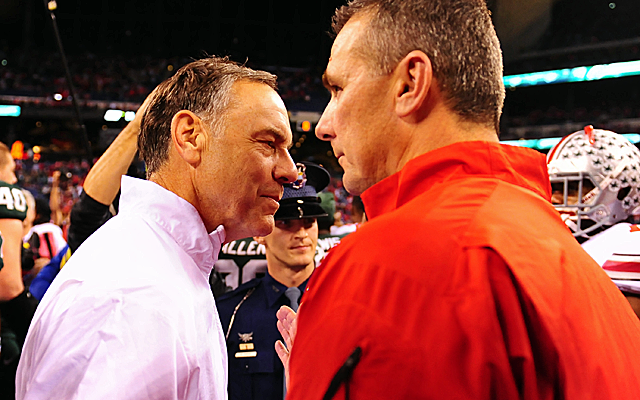 INDIANAPOLIS – The journey wasn't supposed to end like this.
Urban Meyer must have known that as he drowned his sorrows in a slice of midnight pizza outside of the team locker room in Lucas Oil Stadium.
The snapshots that defined the Buckeyes' 34-24 Big Ten title game loss were piercing.
There's Michigan State linebacker Denicos Allen blasting past tight end Jeff Heuerman's block to stop a fourth-and-2 in the fourth quarter.
Or how about running back Jeremy Langford as he knifed through two helpless defensive backs for the score that sealed the game.
Maybe it's quarterback Connor Cook's toss to a wide-open Josiah Price in the back of the end zone.
Ohio State is a really, really good team asked to be great for 13 games. That was the only way to combat the perception that the Buckeyes were aided by an easy schedule.
It was too much to ask. Truly great teams, facing these stakes, on this sort of night, can find a way to overcome those snapshots, these breakdowns.
"It's going to haunt all of us, I guess, for a little while," Meyer said. "We just have to do things a little better."
All the Big Ten stigmas of middling league play, all the SEC-inspired championship confetti, could have been blown up with a win in Indy.
Beat the Spartans, shake the SEC stranglehold.
Ohio State needed to put on a show to stave off Auburn for the BCS title game against Florida State. By the time the Buckeyes grabbed the mic, however, Sparty had booed them off stage with a 17-0 lead while Cook completed 11 of his first 14 passes.
For Ohio State, an opportunity lost.
For Michigan State, a coronation deserved.
For the SEC, a streak perpetuated.
The SEC was hopped up on Mountain Dew all week, flashing its one-loss credentials to anyone who'd listen, questioning the patriotism of anyone keeping the SEC out. Maybe Auburn is doing Ohio State a favor, because it appears the Buckeyes weren't ready for FSU anyway. Auburn might not be either.
The cutting and flashing and pounding of Ohio State's running attack behind an imposing offensive line were supposed to curb the enthusiasm of its detractors.
But when the Buckeyes needed it most, they couldn't get two yards. From Michigan State's 39-yard line with 5:45 left, Braxton Miller rolled to his right on a designed run and found Allen waiting for him on the edge. Meyer said the play was his call. "That was a chance to try and go win the game," Meyer said.
Ohio State finished with 273 rushing yards behind Miller and Carlos Hyde, but 43 of those yards came in the first and fourth quarters, when Michigan State controlled the game.
Hyde saw the ball 18 times, including two rushes for 7 yards in the fourth. That one's easy to second guess, even though Miller was running the ball well.
"We could have run the ball the whole game," said Hyde, who finished with 118 yards. "I felt like I could have gotten any yard we needed."
This night came down to a chess match, and Michigan State is 12-1 because it wins enough of these matches.
Michigan State found some timely blitzes early, so Ohio State eventually dumped the screen passes and went right at the Spartans with the running game.
So Michigan State loaded up in the fourth, knowing its top-shelf cornerbacks could hold up on the back end. Miller, looking for a Heisman-worthy moment, was 0-for-5 in the fourth.
Cook looked like Johnny Football in the first half, in part an indictment on Ohio State's pass defense, then Langford did the rest. Meyer decried Ohio State must get the pass defense fixed, and that was evident on Michigan State's first touchdown -- safety Corey Brown took a bad angle and went for the pick with no one behind him, leading to an uncontested 72-yard touchdown catch for Keith Mumphrey.
Ohio State might have played a relatively soft schedule, but there was nothing easy about Michigan State, which truly belongs in a BCS bowl. Michigan State's only curious play of the night was a squib kick in the second half while up 3.
The Spartans are going Rose Bowling for the first time, no longer overlooked, though they kind of liked it that way.
"It's a rite of passage, really," coach Mark Dantonio said. "We had a pretty good year, too. We weren't ranked in the top 25 until some point in October."
Michigan State prides itself on being the tougher, sometimes less-talented team, center Travis Jackson said.
"We embrace that," Jackson said. "We don't always have the four- or five-star recruits."
Meyer just lost for the first time in 37 months. After a year off, he won his first 24 games at OSU in part because of how he prepares his team and manages games.
Considering the way OSU started in the first half, the Buckeyes had lost a bit of their edge. Either that, or Michigan State was better than everyone expected.
Ohio State is a really good team, one of the country's best, but the magic of Meyer's Tebow-Florida years are not fully realized, at least not yet.
"I really wanted these guys to experience something special, and we are," Meyer said.
Mills was arguably Georgia Tech's most important player coming into the season

Hugh Freeze's phone records reportedly show another troubling pattern for Ole Miss

They aren't necessarily great teams, but they're teams I'm really interested in following this...
The Irish will wear them on Nov. 18 against Navy

The fourth-year coach of the Nittany Lions led the program to the 2016 Big Ten Championshi...

Yes, you read that right: The Bad Boy Mowers Gasparilla Bowl will be held in St. Petersbur...