Paul Johnson happy with Georgia Tech marriage, wants more
Coach Paul Johnson, who's 47-32 in six seasons, talks about expectations for Georgia Tech, whether he's unhappy on the job and his fear of "Internet Legends"
• 4 min read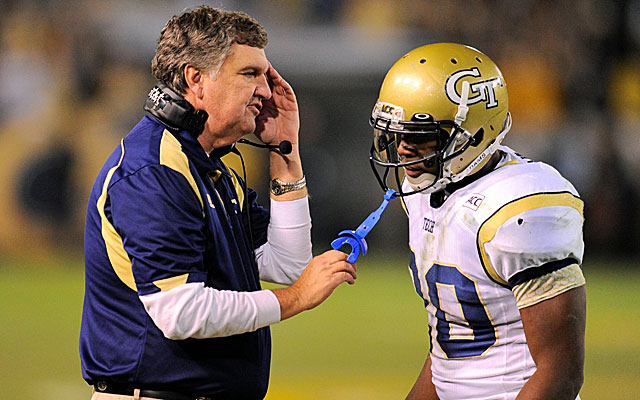 More college football: Dennis Dodd | Jeremy Fowler | Latest news
ATLANTA -- How's the marriage going?
No, not that marriage.
The one overlooking Bobby Dodd Stadium on a gray and windy Tuesday from a spacious office.
Everything seems pleasant in the halls of Georgia Tech football. Paul Johnson is in a good space to discuss his Yellow Jackets.
But there has been talk. Well, more than talk. Colleague Bruce Feldman reported in January that Johnson was unhappy on the job front and wanted out.
As Tech was wrapping up spring ball last week, a question about the health of this Midtown matrimony seemed sensible enough.
Johnson paints a better forecast than the heavy rain that soiled his spring game last week, leaving a crowd of about 2,000 huddled underneath a pavilion.
"I've been here going on seven years. My family lives here," said Johnson, 56. "I've had several opportunities to leave here in the last seven years."
Of course, Johnson isn't saying what those opportunities were. But in an interview with CBSSports.com, Johnson not only defended his marriage to Tech, but his role in that marriage.
Johnson has been solid at Tech. In today's era of impatience, his 28-25 record the last four years won't satiate the entire fanbase.
Johnson called the last two seasons, with seven wins apiece, just "average -- not a terrible year, not a great year."
Though Johnson says he hasn't thought much about his appreciation level at Tech, adding no one has higher expectations than himself, he did point out a few of his program's accomplishments at different times during the interview:
Georgia Tech has finished in the top half of the league every year. (True. From 2008-13, Tech went sixth, first, sixth, first, fourth and third).
Tech's triple option is usually in the top four or five nationally in rushing offense (True. From 2008-13, Tech went fourth, second, first, second, fourth and sixth).
Johnson believes Tech is third or fourth in league wins since he took over (True. Tech is 31-17 in league play since 2008. Only FSU, Virginia Tech and Clemson have more than 31).
Here's a stat Johnson didn't mention that sort of speaks to his broader point -- his winning percentage at Tech is .595 (47-32), nearly identical to the program's overall winning percentage of .593 (701-474-43) in 121 seasons.
That percentage could improve, Johnson says, if the offense runs more efficiently than it did in 2013 and if getting stops wasn't an occasional issue, though defensive coordinator Ted Roof seemed to calm the defense last year. Tech threw 203 times last year, easily the highest number in Johnson's tenure here, yet the Yellow Jackets post a paltry 45.3 completion percentage.
"I just think to me no matter where you are, the expectation level needs to meet the commitment," Johnson said. "Every place you coach, most of them have expectation levels that are going to be very high. Everybody wants to win once a week, that's it. To understand the expectation levels, I think you have to look at past results if you want to be realistic."
One expectation that matters is that of athletic director Mike Bobinski, who took over in early 2013 for the man that hired Johnson, now-Clemson AD Dan Radakovich.
Johnson said he had a year-end meeting with Bobinski after the Georgia game and there was nothing "earth-shattering" about it. It was an update about recruiting and facilities and the coaching staff.
Overall, Johnson paints the working relationship as positive.
"It wasn't a meeting where I was told, 'You need to do this,'" Johnson said. "It's usually just an assessment of how the year went."
Based on impressions from the interview, Johnson doesn't appear the type to appease for the sake of appearances. He's been running the same offense for 30 years. And he's still hesitant to build up players publicly.
He's weary of listing potential young impact players because he's not into "Internet legends," a caustic trend of which he believes former quarterback Vad Lee fell victim.
Lee was a highly recruited quarterback who transferred to James Madison after one season as Tech's full-time starter. He told ESPN the triple option was "never really my thing."
"I think he became an Internet legend before he ever played a game," Johnson said. "It's not fair to him. No matter how good he plays, he can't reach that expectation level people have for you."
That's why he's somewhat protective of young players such as freshman running back Travis Custis, who's labeled as an emerging star but hasn't played a down. Johnson wants people to judge players for themselves first before crowning them.
As for the transfer of Lee -- who rushed for 513 yards, passed for 1,561 along with a 45.6 completion percentage, 11 touchdowns and 10 interceptions -- Johnson believes he's a "good kid" who "had a lot of people in his ear." Sophomore Justin Thomas will enter fall camp as Tech's projected starter.
"When you complete less than 50 percent, you're not going to throw a whole lot," Johnson said of Lee's aversion to the triple option.
Yes, Johnson evaluates honestly, so it's only fitting that next season's results should be an honest portrayal of where the Tech program is headed.
Johnson wants more, but he also knows consistency is better than the alternative. 
"It's been pretty consistent here," Johnson said.
Antonio Callaway and Jordan Scarlett are two of the nine players under investigation

The SEC released its 2018 schedule in full Tuesday afternoon, and it's dripping with intri...

The 2021 Chick-fil-A Kickoff Game will feature Louisville and Ole Miss
The Fornelli 50 ranks teams based on nothing but their performance in 2017

Penn State better have its eyes wide open with a trip to Iowa City on deck this weekend

Ohio safety Javon Hagan has a rather unique personal tradition during games