UAB football isn't alone in losing money for athletic departments
UAB could be the first major program to drop football in 19 years, but they aren't the only school losing money.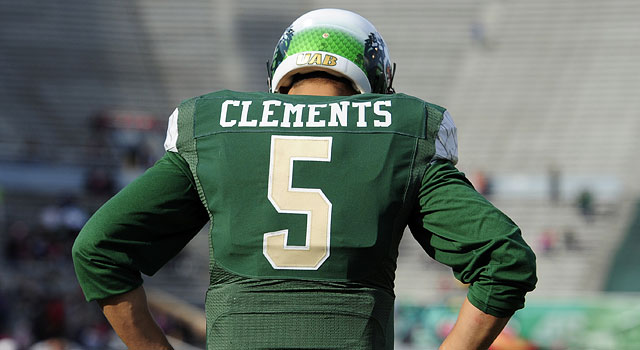 BIRMINGHAM, Ala. -- The University of Alabama at Birmingham athletic department, which could become the first to drop major college football in 19 years, ranks in the middle of the pack for annual deficits by FBS schools outside of the five biggest conferences.
Group of Five
Athletic Department Deficits

School
Deficit
UNLV
$35.3 million
Houston
$26.8 million
Air Force
$26.0 million
Old Dominion
$25.7 million
Massachusetts
$25.0 million
UCF
$23.6 million
Georgia State
$23.1 million
Eastern Michigan
$22.4 million
Buffalo
$22.1 million
Western Michigan
$21.3 million
San Diego State
$21.2 million
Akron
$21.2 million
Kent State
$21.1 million
Middle Tennessee
$20.7 million
Florida International
$19.9 million
Miami (Ohio)
$19.7 million
Cincinnati
$19.4 million
Memphis
$19.1 million
Texas State
$19.0 million
Connecticut
$18.9 million
Hawaii
$18.2 million
Central Michigan
$18.1 million
New Mexico State
$18.1 million
Ohio
$17.8 million
North Texas
$17.8 million
Colorado State
$17.7 million
UAB
$17.5 million
Ball State
$17.4 million
South Florida
$17.3 million
Northern Illinois
$16.6 million
Western Kentucky
$16.4 million
San Jose State
$16.2 million
Wyoming
$16.0 million
New Mexico
$16.0 million
East Carolina
$15.8 million
Texas-San Antonio
$15.6 million
Marshall
$15.2 million
South Alabama
$15.2 million
UTEP
$14.8 million
Utah State
$14.3 million
Florida Atlantic
$14.0 million
Troy
$12.9 million
Fresno State
$12.4 million
Appalachian State
$12.0 million
Toledo
$11.7 million
Boise State
$11.6 million
Nevada
$11.5 million
Bowling Green
$11.4 million
Southern Miss
$9.4 million
Idaho
$9.4 million
Arkansas State
$9.3 million
Louisiana Tech
$9.1 million
Georgia Southern
$8.3 million
Louisiana-Lafayette
$8.2 million
Louisiana-Monroe
$4.3 million
Army
$1.8 million
Numbers are from 2012-13. Source: USA Today Sports
Twenty-six athletic departments at public universities in Group of Five conferences reported a larger deficit in 2012-13 than UAB's $17.5 million loss when factoring in subsidies, according to a CBSSports.com analysis of the most recent USA Today Sports college athletics financial database. Many athletic departments run similar or larger deficits than UAB without the possibility of their football program being folded.
UAB reported to the NCAA that 64 percent of its 2012-13 athletic revenue came from subsidies, which are defined as student fees, direct and indirect institutional support, and state money.
Four other public universities currently in Conference USA had higher subsidy rates: Florida International (78 percent), Old Dominion (73 percent), Middle Tennessee (71 percent) and Florida Atlantic (68 percent). Those with lower rates: North Texas (61 percent), Texas-San Antonio (61 percent), Western Kentucky (60 percent), Marshall (52 percent), UTEP (51 percent), Louisiana Tech (50 percent) and Southern Mississippi (43 percent).
A campus-wide study of UAB's future university initiatives, including in football, is going to be released following the season. UAB is overseen by the University of Alabama System Board of Trustees. UAB supporters believe powerful trustees with Crimson Tide ties, including the son of legendary Alabama coach Bear Bryant, are finally planning to kill UAB football while reorganizing what UAB emphasizes as a university.
On Tuesday, UAB booster Jimmy Filler announced the newly-created UAB Football Foundation is prepared to raise $4-5 million in the next year and more over the next decade to support football. Filler said the foundation's support is based on UAB extending coach Bill Clark's contract, scheduling nonconference games beyond 2016 and supporting the program in ways to compete for Conference USA championships.
Also Tuesday, Alabama state Rep. Jack Williams, a UAB supporter, announced his plan to submit a constitutional amendment that would change the makeup of the Alabama board. Under Williams' proposal, the board would increase from 17 to 27 members by adding mayors from Huntsville, Birmingham and Tuscaloosa; leaders from counties in Alabama; selections by the system's three alumni groups; and one pick each by the speaker of the house and president of the senate.
For the legislation to pass, Williams said it requires 60 percent approval in both the house and senate and a simple majority from Alabama voters in the 2016 election. "There's no reason the board should oppose this," Williams said. "This doesn't take anything away from the current board. If they truly want to be fair to each campus and don't have anything to hide, they would do this."
Last week, even Alabama Gov. Robert Bentley weighed in and called into question UAB's existence in football. "You have to have a certain number of fans that attend the games," Bentley told reporters. "So I think fan base has to be looked at."
UAB announced a crowd of 28,355 for the Blazers' near-upset victory against Marshall last Saturday. "I think you saw what Birmingham's about today," Clark said Saturday. "It could be special if we want to do it right."
UAB finished 2014 with an average announced attendance of 21,841, which ranks 95th out of 128 FBS schools. This season was UAB's best average since 2006 and up more than 100 percent from last year.
No FBS/Division I football program has shut down since Pacific in 1995. That it could happen to a school in football-mad Alabama is one of the most unusual aspects to this story.
This is a state whose Iron Bowl winner has played for the past five national championships, and a state that now has three bowl games. UAB struggled to win and draw fans in recent years.
Alabama and Auburn overshadow almost everything in Alabama. But in recent years, South Alabama added football and moved into the FBS, Birmingham-Southern started football after dropping from Division I to Division III, and Alabama State built a new football stadium.
UAB enters the final week of its season -- and perhaps the football program's existence -- needing a win at Southern Mississippi to become bowl-eligible for the first time since 2004.
CBS Sports HQ Daily Newsletter
Get the best highlights and stories - yeah, just the good stuff handpicked by our team to start your day.
Please check the opt-in box to acknowledge that you would like to subscribe.
Thanks for signing up!
Keep an eye on your inbox for the latest sports news.
Sorry!
There was an error processing your subscription.
The Buckeyes got stomped by Purdue, and now that's all anyone will talk about for the next...

Purdue turned in its most impressive win of the year, and honored Trent with a "cancer sucks"...

The Big Ten's biggest fear may just be starting to come true
Purdue knocked Ohio State out of the College Football Playoff, and rival Michigan is happy...

NCAA football scores, highlights and updates from Week 8 all Saturday long

Projecting the new AP Top 25 college football rankings after a busy Week 8