Will Muschamp: Gators probably won't play FCS opponents
With conference schedules completed, SEC teams are freed up to schedule more future nonconference games. They have varying opinions on whether that includes FCS teams.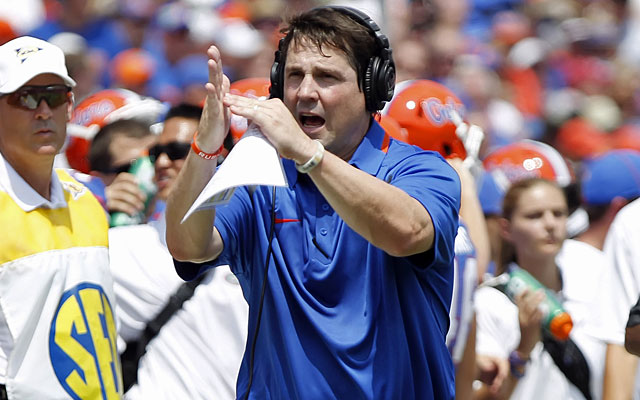 More college football: Jon Solomon | Dennis Dodd | Jeremy Fowler | Latest news
DESTIN, Fla. -- Florida probably won't schedule Football Championship Series opponents in the future, coach Will Muschamp said.
"I think more anything that [the College Football Playoff] is part of it, and our fan base, as much as anything, wants to see better opponents," Muschamp said Tuesday from the SEC spring meetings.
With future SEC conference schedules now complete, SEC teams are freed up to schedule more nonconference games. And that means tackling the issue of what playing an FCS team may mean for playoff chances and for attendance.
Last season, Florida lost to an FCS team (Georgia Southern) for the first time in school history. The Gators' average attendance dropped to 87,440 in 2013, down from 90,511 in 2010.
Big Ten schools in 2013 agreed not to schedule FCS schools moving forward. SEC commissioner Mike Slive said each SEC school will decide whether to continue playing FCS teams.
Alabama coach Nick Saban said he doesn't prefer playing an FCS opponent, but sometimes has no choice.
"We try not to do it now, but sometimes it's all that we have left to schedule 12 games," Saban said. "It's not by choice that we want to do it. The first people that need to be taken for consideration -- who get no consideration -- are the fans and people who support the program."
Alabama athletic director Bill Battle agreed he doesn't want to play FCS teams but may continue doing so.
"For example, if we're playing a game before Auburn that's not a conference game, we may have to," Battle said. "If our opponents are playing them in the league, then we have to take a look at it. That would be my preference as well [not to play FCS teams]."
Every SEC team is playing an FCS opponent in 2014. Sometimes the issue isn't as much that SEC teams are playing FCS opponents, but the quality of the FCS opponents they're facing.
• Western Carolina is 14-76 since 2006 and 1-29 in its last 30 Southern Conference games. Alabama and Auburn played Western Carolina the last two seasons, and Alabama faces the Catamounts again this season.
• Austin Peay is 3-27 in its last 30 games and was outscored 476-90 last year. Two of Austin Peay's games last year were against Tennessee and Vanderbilt.
Georgia coach Mark Richt supports playing FCS teams, citing his work as a member of the American Football Coaches Association board of trustees and his interaction with FCS coaches.
"What I'm learning is if we as BCS teams -- or whatever you want to call us these days -- if we don't have those games with the FCS schools, a lot of them have a very difficult time making their budgets," Richt said. "I think college football is too important at all levels to hurt them by setting criteria that would not allow you to play them."
A new names joins Saquon Barkley, Baker Mayfield and JT Barrett in the race

Anderson didn't hold back when taking a shot across the state

Arizona State will wear military-themed uniforms against Colorado on Nov. 4
The Gators are off to their worst start since 2014

Just in case you wanted another reason to watch this game

Irvin's son is a sophomore tight end for the Hurricanes