The Match 4 results, golf highlights: Aaron Rodgers, Bryson DeChambeau take down Tom Brady, Phil Mickelson
Mickelson fell to 2-2 all-time in the four Match charity events, 0-2 with Brady
The fourth edition of The Match ended in another loss for the team of Phil Mickelson and Tom Brady as the duo of Bryson DeChambeau and Aaron Rodgers convincingly won 3&2 on Tuesday evening in Big Sky, Montana. The Match 4, a head-to-head match play charity golf event, featured plenty of golf, a bit of trash talk and incredible views of The Reserve at Moonlight Basin.
The front nine didn't foreshadow an eventual early exit for Mickelson and Brady as the match was all square with the pairs making the turn. However, DeChambeau and Rodgers built a lead in style on the back nine en route to their eventual win as Rodgers caught fire with his putter, draining birdies on 10, 11 and 12 to go 3-up in a flurry.
Mickelson and Brady got one back at the 15th after DeChambeau and Rodgers found trouble in the woods. In fitting fashion, though, it was Rodgers who came up clutch in a big spot. After using DeChambeau's approach at the par-3 16th, Rodgers grabbed his putter and sunk the match-winning 10-foot birdie after Brady's attempt from twice the distance missed.
"I haven't been playing a lot of golf; I'm just a pretty good putter," Rodgers said after the round.
"I was glad I was able to get my partner up on the greens, and he was making everything today," added DeChambeau.
Mickelson and Brady went 1-up at the fourth and again at the seventh but could not muster any additional magic. DeChambeau's 480-yard drive on the 777-yard par-5 eighth set his team up to even the match before the floodgates opened on the back nine. That drive broke DeChambeau's career long, according to the golfer, though Bryson wasn't satisfied given the elevation created an opportunity to go past 500 yards.
"That was disappointing for me," he said. "I thought I had it, dude. That was super close to being 550 pretty easily."
The match play event had light moments sprinkled throughout it, as well. Rob Gronkowski called in to speak with his quarterback, Brady, and take some shots at Rodgers. A bear made an appearance on one hole before ducking out of picture. So did a moose and several goats. Rodgers also dodged questions about his future with the Packers. And throughout the round, there was trash talk from every angle, including a friendly-fire as the day started that served as a precursor for how the winners approached the day -- and how they eventually won it.
"Bryson, he's a maniac, man," said Rodgers. "The things he thinks about and talks about is a tad bit overwhelming at times. But I just humor him because he's my partner today."
Mickelson fell to 2-2 all-time in The Match with an 0-2 record when paired with Brady, who apologized to Lefty for letting him down after the round. The duo previously lost to Tiger Woods and Peyton Manning in May 2020.
"I feel like I'm the unfortunate variable to winning and losing with Phil," Brady said.
| | 1 | 2 | 3 | 4 | 5 | 6 | 7 | 8 | 9 |
| --- | --- | --- | --- | --- | --- | --- | --- | --- | --- |
| Mickelson & Brady | | | Tied | 1UP | 1UP | | 1UP | | Tied |
| DeChambeau & Rodgers | 1UP | 1UP | | | | Tied | | Tied | Tied |
| | 10 | 11 | 12 | 13 | 14 | 15 | 16 | 17 | 18 |
| Mickelson & Brady | | | | | | Win | | | |
| DeChambeau & Rodgers | 1UP | 2UP | 3UP | 3UP | 3UP | 2UP | 3UP | | |
See New Posts
Pinned
Pinned
DeAndre Ayton has 19 points and 19 rebounds right now. Last 20-20 game in the #NBAFinals was Shaq in 2004 via @bball_ref

— Justin Ray (@JustinRayGolf) July 7, 2021
Pinned
Pinned
Pinned
Pinned
Aaron Rodgers with the most impressive non-pro performance we've seen in these matches.

Excellent off-the-tee and cold blooded with the putter. Big cap tip! 👍

— Rick Gehman (@RickRunGood) July 7, 2021
Pinned
Pinned
Tom misses the must-have birdie putt on No. 16 and that will likely do it. Aaron's got a makeable birdie putt upcoming.
Pinned
Phil and Brady got one back at the 15th but Bryson and Aaron are two-up on 16 and have a chance to close it down here. Very good look at birdie here for Rodgers, and he has been clutch with the putter all day.
Pinned
Bryson is in some real trouble at the 15th. The door is open for Phil and Brady, who have an upcoming eagle putt.
Pinned
Bryson and Aaron are still three up headed to hole No. 15. Can put it away here.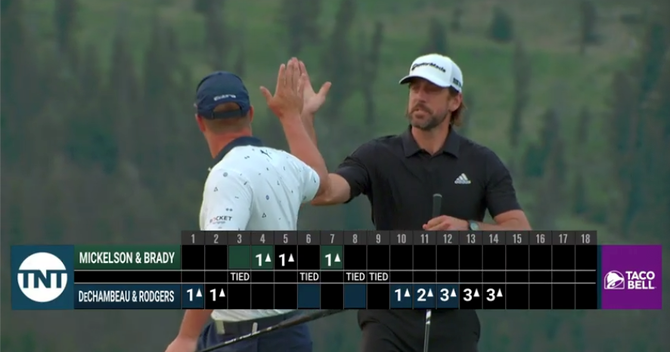 Pinned
The One Club Challenge should be renamed to the One Hour Hole for next year. Something to consider!
Pinned
Pinned
"We've got them right where we want them," Tom Brady says as he and Phil Mickelson trail by three with five to play.
Pinned
Tom Brady 7 iron, Bryson DeChambeau pitching wedge, Aaron Rodgers 3 wood and Phil Mickelson with a 4 iron for the One Club Challenge on 14. Should be a really interesting turn on this 443 yard par 4.
Pinned
Each player can use only one club on the 14th hole. The players choose an envelope that will determine which club they can use. Interesting little shake-up, especially with Brady and Mickelson on the ropes.
Pinned
WOW. Phil Mickelson drains the must-make bogey putt on 13 coming back uphill. So Aaron Rodgers and Bryson DeChambeau head to 14 three up. No.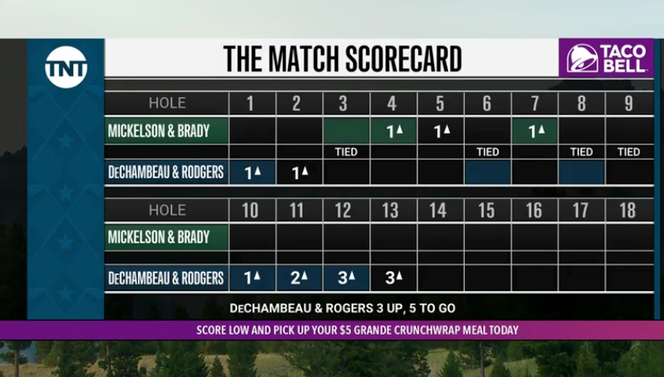 Pinned
Tom Brady's putt to potentially win the 13th hole sails past the flag. Now Phil has a tough bogey putt coming back to tie the hole.
Pinned
We can (and will!) give Bryson DeChambeau a ton of credit should he and Aaron Rodgers go on to win this. But I'm not entirely sure it's understated to say that Aaron's putting has saved the day and been the difference in this match.
Pinned
Aaron Rodgers is on fire right now. He's drained three birdies in a row. Said his partner, Bryson DeChambeau: "I honestly don't know why I brought my putter, man, this dude is making everything."
Pinned
Pinned
Aaron Rodgers has made three consecutive birdie putts to help he and Bryson DeChambeau go three up on Phil Mickelson and Tom Brady in #THEMATCH. Walked the last one in. pic.twitter.com/4YK0yMHUyw

— Kyle Boone (@Kyle__Boone) July 7, 2021
Pinned
Aaron Rodgers with ANOTHER clutch putt. He walks in a birdie to go three up with six holes to play. Bryson and Rodgers looking to put this thing away now.
Pinned
Phil and Brady are in their own heads right now. Neither hit the green on the par 3. Then Brady's approach from the fringe was completely misread. They're trying to press now facing the prospects of being down three with six to play.
Pinned
Baker Mayfield joins the show and says his golf game is in rough shape. Then the tone changes when Charles Barkley chimes in.
"IS THAT A ROBE YOU'RE WEARING?!"
"It's a nice little shirt, real silky smooth," Mayfield says.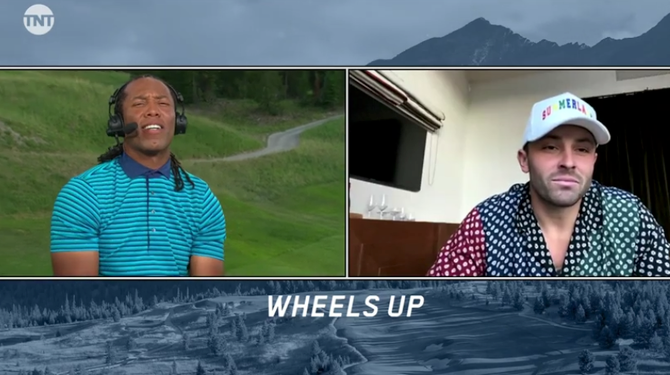 Pinned
Yowza. Bryson DeChambeau with a pin-seeking missile on the par 3 12th hole to within a few feet to really put pressure on Brady and Mickelson. If Rodgers can drop that putt they may be able to go up three with six to play.
Pinned
This was how Aaron Rodgers responded when asked -- twice -- about his future as the Green Bay Packers quarterback. "I don't know, we'll see."
Pinned
Aaron Rodgers with another clutch putt on No. 11 that drops for birdie. It gives he and Bryson a two-up lead, the largest of the day, with seven holes left to play.
Pinned
Bryson DeChambeau and Aaron Rodgers go one up after a birdie at the 10th. Their first lead since the second hole.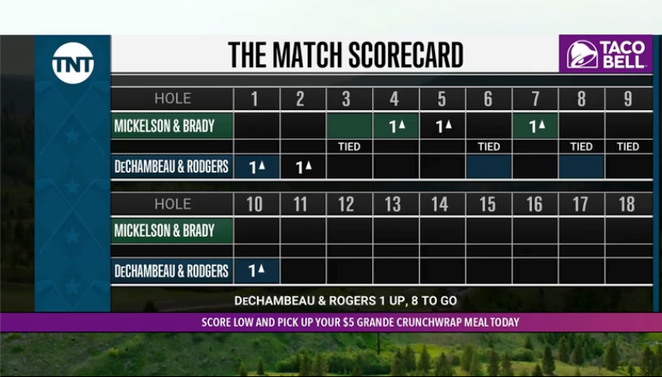 Pinned
See More