2012 Home Run Derby preview
The Home Run Derby goes down in Kansas City on Monday night. What can we expect?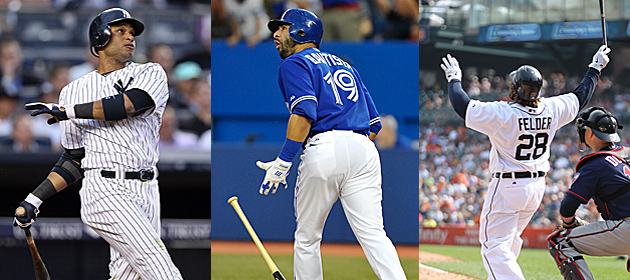 The latest episode of the Home Run Derby, the All-Star tradition that began back in 1985, will unfold in Kansas City's Kauffman Stadium on Monday night beginning at 8 p.m. ET on ESPN.
So to get you in the proper Derby state of mind, let's preview how things might unfold when the eight chosen sluggers take their cuts at an accommodating parade of batting-practice fastballs ...
The venue
K.C.'s Kauffman Stadium has played as a roughly league-average, run-scoring environment in recent seasons, but it does cut down on home-run numbers. This year, for instance, StatCorner tells us that Kauffman has reduced left-handed home-run rates by 27 percent and right-handed home-run rates by 15 percent. There are some sample-size concerns with those numbers, but it's also quite possible that Kauffman is genuinely less hostile toward righty mashers than their lefty counterparts. That's something to keep in mind.
The combatants
Representing the National League will be Carlos Beltran, Carlos Gonzalez, Matt Kemp and Andrew McCutchen, who have combined for 67 homers this season. On the American League side, we have Jose Bautista, Robinson Cano (owner of the 2011 Derby belt-and-title), Prince Fielder and Mark Trumbo, who boast 84 spanks among them.
In light of the park data above, it's worth remembering that Kemp, McCutchen, Bautista and Trumbo are all right-handed hitters, while Gonzalez, Cano and Fielder are lefties. As for the switch-hitting Beltran, his career power numbers are similar from both sides of the plate, so it'll be interesting to see whether he goes lefty or righty on Monday night. 
The numbers
Insofar as the Derby is concerned, you can look at traditional power measures like slugging percentage and raw home-run totals, but it's also worthwhile to examine some batted-ball data. So let's take all the Derby participants and see how they fare, both for their careers and for 2012, in at-bats-per-home-run (AB/HR), fly-ball rate (FB%) and home-run/fly-ball percentage (HR/FB%). All data courtesy of FanGraphs and Baseball-Reference ...
| | | | | | | |
| --- | --- | --- | --- | --- | --- | --- |
| Hitter | Career AB/HR | Career FB% | Career HR/FB% | 2012 AB/HR | 2012 FB% | 2012 HR/FB% |
| Jose Bautista | 17.2 | 46.3% | 16.1% | 11.7 | 48.8% | 21.3% |
| Carlos Beltran | 21.9 | 38.5% | 15.7% | 14.9 | 39.3% | 21.3% |
| Robinson Cano | 27.0 | 31.6% | 13.3% | 16.6 | 27.1% | 26.3% |
| Prince Fielder | 21.4 | 40.0% | 20.0% | 15.7 | 33.1% | 16.1% |
| Carlos Gonzalez | 20.9 | 34.6% | 18.3% | 18.5 | 30.3% | 23.6% |
| Matt Kemp | 21.3 | 37.2% | 16.8% | 10.1 | 32.3% | 40.0% |
| Andrew McCutchen | 27.3 | 38.6% | 11.7% | 17.2 | 33.7% | 21.4% |
| Mark Trumbo | 16.5 | 38.9% | 20.1% | 13.1 | 40.2% | 24.4% |
Yes, Bautista disappointed in last year's Derby, but those are some awfully encouraging numbers for him. Ditto for Kemp, although he's coming off an injury to his left hamstring (at least it's not his drive leg at the plate), and his 2012 numbers span a sample of just 144 plate appearances. Trumbo's also looking like a "central casting" kind of Derby entrant, what with all those fly balls and all those fly balls that are leaving the park.
Combatants + venue
So would each participant's 2012 homers have all left the park if he had played all his games in Kauffman? Thanks to the yeoman's efforts of Hit Tracker Online, we can get a quick-and-dirty answer to that question ...
Jose Bautista
Carlos Beltran
Robinson Cano
Prince Fielder
Carlos Gonzalez
Matt Kemp
Andrew McCutchen
Mark Trumbo
To be sure, these overlays aren't to be taken as gospel. That's mostly because estimations of home-run distances and landing spots entail some level of uncertainty. As well, these don't account for things like wind patterns and hitter visuals, which also influence homer rates. So consider these data points of a "for what it's worth" sort. Still, it's worth noting that two of the sluggers under consideration -- Bautista and Trumbo -- are tied for the major-league lead in what Hit Tracker classifies as "no doubt" home runs.
And all of this brings us to the ...
Prediction
I'm going to say, with a decided lack of confidence and authority, that Trumbo trumps Bautista in the finals. I'll also non-monetarily wager that Kemp will make the best showing among NL hitters.
So, readers, how do you, after giving full weight to the numbers and your tested instincts, think the 2012 Home Run Derby will play out?
For more baseball news, rumors and analysis, follow @EyeOnBaseball on Twitter, subscribe to the RSS feed and "like" us on Facebook.
Where might the Orioles third baseman land?

Kinsler will slot in at second base for the Angels

The Marlins got a better return for Ozuna than Stanton or Gordon
The two teams are going about things in very different ways

The Marlins are indeed in teardown mode under new ownership

The Marlins still have more attractive pieces