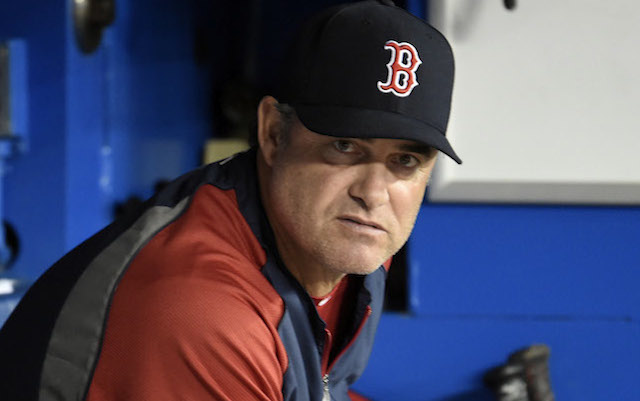 If paces hold, then the Red Sox will finish the 2014 season in last place in the AL East and with a record of 71-91. That's notable because the Sox are, of course, the reigning World Series champs, and they're in line for a 26-game decline from 2013 levels. The worst-to-first ascension was the story last October, but "first to worst" is the tale in Boston as August, 2014 draws to a close.  
The question, thus, is raised: Where do the 2014 Red Sox rank among the worst defending World Series champs in MLB history? To find out, let's take a look at all reigning champs who posted a losing record the following season (since 1903, year of the first modern World Series) ...
Teams with losing records year after winning World Series
Team
Winning percentage
1998 Marlins
.333*
2014 Red Sox
.437*
1991 Reds
.457
1918 White Sox
.460
1932 Cardinals
.468
2013 Giants
.469
1986 Royals
.469
1967 Orioles
.472
2003 Angels
.475
1994 Blue Jays
.478
2007 Cardinals
.481
1989 Dodgers
.481
1919 Red Sox
.482
1961 Pirates
.487
1983 Cardinals
 .488
1964 Dodgers
 .494
1965 Cardinals
.497
So -- assuming the 2014 Red Sox do indeed finish with a losing record -- that's 17 of 109 World Series winners, or 15.6 percent, that have followed up maximum glory with a sub-.500 mark. As you can see, this is the second year in a row that the World Series champ figures to finish with a losing record. 
As for the current Red Sox model, this doesn't paint a becoming portrait. In fact, only the 1998 Marlins have been a bigger flop when it comes to title defenses. Of course, there's a difference between those two clubs.
The Sox were built to defend the both belt and title, at least until the July 31 non-waiver deadline. The '98 Marlins, meanwhile, were strip-mined just after hoisting the trophy and became a calculated embarrassment. In a matter of months, owner Wayne Huizenga, in a fit of pique, ordered GM Dave Dombrowski to trade away core talents like Kevin Brown, Gary Sheffield, Moises Alou, Al Leiter, Devon White, Robb Nen, Charles Johnson and Jeff Conine. So it wasn't shocking in the least when the Marlins endured 108 losses on the season. 
Sure, the '98 Marlins are the worst defending champ in the annals of modern major-league baseball, but the 2014 Red Sox are shaping up to be the worst defending champ who made even a perfunctory effort at, you know, actually defending. 
Let it also be said that the 2014 Red Sox haven't been unlucky -- they're legitimately this bad. Saturday's thumping by the Rays (TB 7, BOS 0) dropped their run differential to -75, and they're now 11-18 when the margin is five or more runs. The injuries are noted, as is the deadline talent drain. However, any number of teams have dealt with injuries this season and haven't reached such depths in the standings, and it was the fact that the Red Sox were already bad that begat those deadline deals.
To be sure, many a franchise would love to "suffer" in a similar manner -- i.e., being lousy in the year following a championship means, ipso facto, that you won a championship. Still, the 2014 Red Sox are a bad team -- one of the worst ever, in fact, by the standards of reigning champs.