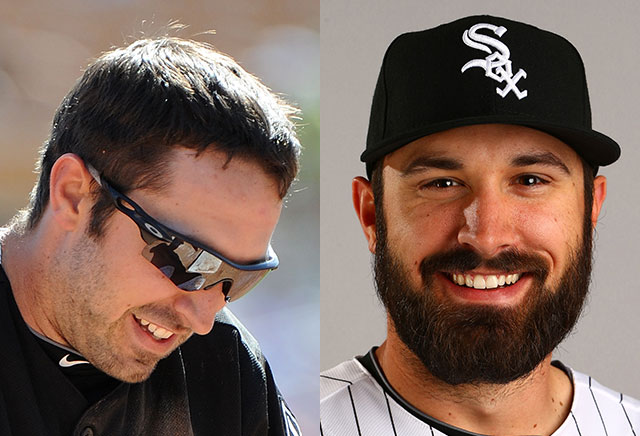 The Chicago White Sox played a terrible ballgame against the Minnesota Twins on Thursday night, and leadoff man Adam Eaton was part of the problem. Just ask Eaton, who went 1 for 5 with two defensive miscues — including a hilariously inaccurate throw from center field — in a 12-2 loss to the Twins. Ace left-hander Chris Sale also took a lot of the blame, rightly so, after allowing eight earned runs in three innings, the shortest outing of his career that wasn't truncated because of bad weather. Sale and right-hander Jeff Samardzija have been easy targets this week, combining to allow 15 earned runs in the past two games. That's not going to lead the team anywhere good, and each player said as much in postgame comments.
But neither went all in, like Eaton did, via CSN Chicago:
Eaton felt a change was necessary and cut off his beard.

"That guy sucks," Eaton said. "I've got to get rid of him."
This guy?
Eaton is batting .192, and has compiled a .504 OPS so far, making himself one of the 10 or 15 worst players in the league on offense. Numbers can change in a hurry at this time of year, and so can a team's outlook for an entire season. Not as quickly as a face changes after taking a razor to the cheeks, but pretty quick. Eaton and the White Sox are 8-11, which isn't good but also isn't a sentence to last place in the AL Central.
That said, it's also pretty obvious, even though 19 games, that they're not in the class of the Royals or Tigers. That doesn't leave much margin for error, if they wanted to compete for a second wild card spot. Getting blown out by the Twins sure isn't going to make it happen.
If the Sox are going to have a successful season, it's probably going to be a very close shave.