All-Time Single-Season Team: Chicago White Sox
Our offseason series continues apace with a look at the top single-season performers in Pale Hose history.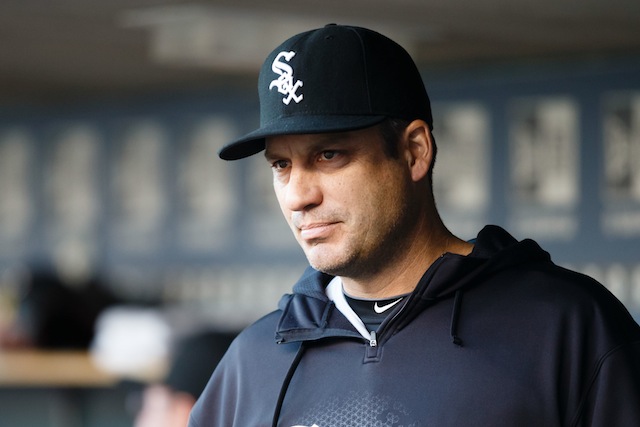 More All-time Single-Season Teams: CHC | STL | MIL | CIN | PIT
In order to pass the time between now and that holy day of obligation when the first pitchers and catchers report to spring training, we're in the early stages of naming the "All-Time Single-Season Team" for all 30 clubs.
Obviously, the term "single-season" implies that we're focused on brilliance within the confines of one campaign and not, say, career value or even value across a handful of seasons in the same uniform. While this is no doubt a largely subjective undertaking, please bear that in mind before airing objections. Or not. Whatever.
Also, we're largely limiting the selections to those of modern era (i.e., from 1900 onward) in large part because the "primordial soup" days of the sport bear only the most basic resemblances to the game played today. That's more a general principle than hard-and-fast rule, though. As well, a player can appear only once on the team in question. So even those who excelled at multiple positions over the years will be assigned one spot and one spot only.
And now on to the White Sox All-Time Single-Season Team ...
CATCHER - Carlton Fisk, 1983
For the '83 AL West champs, Fisk batted .289/.355/.518 (134 OPS+), while the average major-league catcher that season hit .252/.315/.377. Pudge also chipped in 26 homers and logged more than 1,000 innings behind the plate. For his efforts, he finished a career-best third in the AL MVP balloting.
Other considered include lots more Fisk, several Sherm Lollar seasons and even A.J. Pierzysnski in 2012.
FIRST BASE - Dick Allen, 1972
In 1972, it all came together for the mercurial and misunderstood Dick Allen, who was traded to Chicago in the winter of '71 in exchange for Tommy John. In part that may have been because his new manager, Chuck Tanner, was known for letting his players be themselves and not managing with excessive oversight. Whatever the reasons, Allen's numbers from that season are unassailable: .308/.420/.603 (199 OPS+) with an AL-leading 37 homers and an AL-leading 113 RBI (that OPS+ figure paced all of MLB). Allen was named AL MVP for the season, taking 21 out of 24 first-place votes. 
A number of Frank Thomas seasons announced themselves, but we've reserved another spot for the freshly minted Hall of Famer. 
SECOND BASE - Eddie Collins, 1915
Tough call here. A number of Collins seasons are worthy, as are, of course, a number of Nellie Fox seasons (1957 in particular). We'll go with Collins's 1915 efforts, though. The reigning AL MVP was sold off by Athletics overlord Connie Mack prior to the 1915 season, even though he was still at the peak of his skills. Sure enough, Collins in his first season in Chicago batted .332/.460/.436 with 46 steals, a majors-leading 119 walks and 118 runs scored. That's in addition to providing plus defense at the keystone.  
SHORTSTOP - Luke Appling, 1943
Old Aches and Pains gets plenty of competition from Luis Aparicio, George Davis and even a stray Ron Hansen season or two, but Appling's '43 campaign is tops in Pale Hose history. That year, Appling played in 155 games, won the batting title, led the AL in OBP, (.419) put up an OPS+ of 143 and tallied 33 doubles and 27 steals. In the AL MVP voting, he finished second to Spud Chandler of the Yankees.
Yes, the MLB talent level in 1943 was thinned out a bit because of World War II conscription, but as Appling proved before the war and after his own hitch in the service, he was a top talent even when MLB was at full strength. 
THIRD BASE - Robin Ventura, 1995
And here we have the current Sox skipper. Ventura was of course one of the best defensive third basemen of all-time, and he could also hit a little bit. In '95, Ventura batted .295/.384/.498 (132 OPS+) with 26 homers in a season that was limited to 144 games because of the '94 labor stoppage. 
Also in the mix are Bill Melton in 1971, Pete Ward in his rookie campaign of 1963 and a number of other Ventura seasons.
LEFT FIELD - Joe Jackson, 1920
Shoeless Joe is so much a part of baseball lore and scandal that it's easy to forget how great a hitter he was. In 1920, the dawn of the live-ball era, Jackson had perhaps his best season as a White Sock: .382/.444/.589 (172 OPS+) with 42 doubles and an AL-leading 20 triples. In 570 at-bats he struck out just 14 times. Yes, that would be more triples than strikeouts, which is an impossibly rare feat that Jackson pulled off three times in his career.  
Jackson was suspended on Sept. 28 of that year after news broke of the "fixing scandal" whirling about the 1919 World Series, which the heavily favored White Sox lost to the Reds. Jackson and seven others were soon thereafter banned for life by commissioner Kennesaw Mountain Landis. 
CENTER FIELD - Chet Lemon, 1979
The criminally underrated Lemon churned out a number of fine seasons, but his best was in 1979, when he batted .318/391/.496 (139 OPS+) with 17 homers and an AL-pacing 44 doubles. Lemon was also, of course, a standout defender in center field. 
Other contenders include 1966 Tommie Agee, 1926 Johnny Mostil, 2004 Aaron Rowand and 1920 Happy Felsch. As for the great Minnie Minoso, well ... 
RIGHT FIELD - Minnie Minoso, 1954
Minnie! One of the most beloved players in franchise history was indeed a good one. Of Minoso's many fine seasons, we're taking his age-28 campaign of 1954. That season, Minoso hit .320/.411/.535 (154 OPS+) with 19 homers, an MLB-leading 19 triples and 18 stolen bases. Minoso also topped the AL in total bases, played in 153 games and finished fourth in the AL MVP vote. All of that is in addition to his plus fielding (the "Cuban Comet" would go on to win three Gold Gloves). 
It should be noted, of course, that Minoso spent the healthy majority of his career in left field, but he did log more than 700 innings in right. For these purposes, we're considering the two spots interchangeable. 
Others up for right field honors include a number of Magglio Ordonez seasons, Carl Reynolds in 1930, Dave Martinez in 1996, Harry Hooper in 1924 and some Harold Baines, of course (recall that Baines wasn't a primary DH until 1987). 
DESIGNATED HITTER - Frank Thomas, 1994
You knew the Big Hurt, freshly elected to the Hall of Fame, would be on here. His '94 outputs are just absurd: .353/.487/.729 (212 OPS+) with 38 homers, 34 doubles 101 RBI and 106 runs scored in just 113 games. He failed to reach base in exactly eight games that season. 
Others? Given the above digits, know that there are no others. 
STARTING PITCHERS - 1971 Wilbur Wood, 1910 Ed Walsh, 1917 Eddie Cicotte, 1927 Ted Lyons, 1955 Billy Pierce
Some numbers ... 
Wood: 22-13, 1.91 ERA, 189 ERA+, 1.00 WHIP, 210 K, 334 IP, 22 CG, 7 SHO
Walsh: 18-20, 1.27 ERA, 189 ERA+, 0.82 WHIP, 258 K, 369 2/3 IP, 33 CG, 7 SHO
Cicotte: 28-12, 1.53 ERA, 174 ERA+, 0.91 WHIP, 150 K, 346 2/3 IP, 29 CG, 7 SHO
Lyons: 22-14, 2.84 ERA, 143 ERA+, 1.16 WHIP, 71 K, 307 2/3 IP, 30 CG, 2 SHO
Pierce: 15-10, 1.97 ERA, 200 ERA+, 1.10 WHIP, 157 K, 205 2/3 IP, 16 CG, 6 SHO
As you can see, the Sox's all-time single-season rotation has an old-school bent to it. Wood was the rare lefty knuckeballer, and never was he better than in '71, when he completed more than half his starts and notched a quality start in 88 percent (!) of those games. Walsh, a Hall of Famer, was a famous spit-baller who, the story goes, kept a piece of elm bark in his mouth during starts. He also boasted a legendary pick-off move. 
Cicotte was of course banned for life alongside Shoeless Joe, but he was indeed an exceptional starting pitcher. He threw an assortment of offerings, but as for his best pitch, some called it a "shine ball" (i.e., a ball obscured with mud and dirt) or a knuckleball or both. In 1917, Cicotte notched 40 decisions, which, suffice it to say, won't be happening again. Lyons made hay with a moving fastball, and in '27 paced the AL in innings and complete games. He also finished behind Lou Gehrig and Harry Heilman in the MVP vote. Pierce's relatively modest innings total drops him to the fifth spot, but the results on a rate basis -- thanks in part to a tough slider -- are exceptional.  
Others considered include Red Faber in 1921, Tommy John in 1968, Thornton Lee in 1941 and, yes, Esteban Loaiza in 2003.
Oh, and don't be surprised if Chris Sale eventually forces his name onto the above list, likely at the expense of Lyons.
RELIEF PITCHERS - 1967 Hoyt Wilhelm, 1999 Keith Foulke, 2003 Damaso Marte
The knuckleball-ing Wilhelm in '67 pitched to a 1.31 ERA and 230 ERA+ in 89 innings of work. That season, 32 of Wilhelm's 49 appearances lasted longer than one inning. Foulke makes the list with an era-defying 105 1/3 relief innings paired with an ERA+ of 222 and a K/BB ratio of 5.86. He finished 10th in the AL Cy Young balloting that season. The lefty is Marte, who was absolutely stellar in 79 2/3 innings in 2003: 1.58 ERA, 293 ERA+ (!) and just three homers allowed. 
Other names worth mentioning include Roberto Hernandez, Goose Gossage, Neal Cotts and Bobby Thigpen.
---
THE LINEUP
1. 1915 Eddie Collins, 2B
2. 1943 Luke Appling, SS
3. 1920 Joe Jackson, LF
4. 1994 Frank Thomas, DH
5. 1972 Dick Allen, 1B
6. 1954 Minnie Minoso, RF
7. 1994 Robin Ventura, 3B
8. 1983 Carlton Fisk, C
9. 1979 Chet Lemon, CF 
That's a pretty darn impressive lineup, to say the least, especially from the standpoint of right-handed power. 
Coming Saturday: The Detroit Tigers.
CBS Sports HQ Daily Newsletter
Get the best highlights and stories - yeah, just the good stuff handpicked by our team to start your day.
Please check the opt-in box to acknowledge that you would like to subscribe.
Thanks for signing up!
Keep an eye on your inbox for the latest sports news.
Sorry!
There was an error processing your subscription.
Harper will of course have plenty of suitors this coming offseason

It's a baseball and wrestling-related story, and that's fun

Jon Lester's outing Thursday night was a good sign
Who would've thought this a few months ago?

Carlos Gomez apparently has game on and off the field

Zack Cimini has a three-way parlay that could pay off huge on Friday