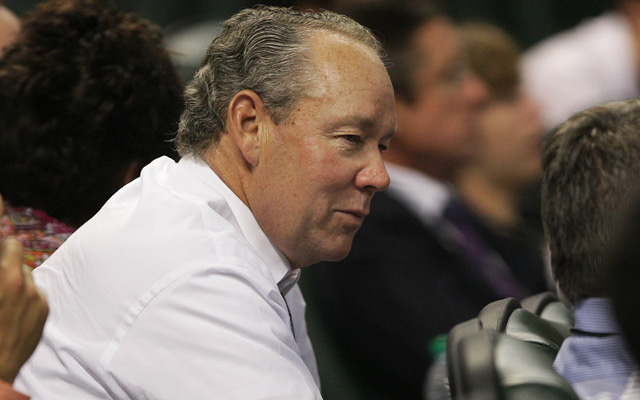 Two years after buying the Houston Astros for $615 million, Jim Crane has filed a lawsuit against former owner Drayton McLane, alleging that McLane misrepresented the value of the Astros' TV contract -- which has allegedly lost Crane hundreds of millions of dollars.
Astros games are broadcast locally on Comcast Sports Houston, of which Crane bought a 40 percent stake while purchasing the Astros. The channel, though, is only available in about 40 percent of the viewing area due to high local subscription fees.
Crane's lawsuit alleges that McLane was fully aware that the fees were "too high and that other distributors would not agree to pay the rate."
During a press conference Friday, Crane said that the network issues have caused the Astros to lose "tens, possibly hundreds" of millions of dollars. He also noted that if changes weren't made to the TV deal, that would continue to be the case moving forward.
"We now face a situation where either we accept millions of dollars in loss each year, with the damage to this franchise and this city for next 20 years, or we fight back," Crane said, via Associated Press. "I did not buy this team to have a low payroll and be mediocre. We bought this team to win championships and we bought part of this network so our fans can watch the games."
Comcast's reply:
It appears that Mr. Crane is suffering from an extreme case of buyer's remorse, and aiming to blame the network's challenges on anything but his own actions. Comcast/NBCUniversal looks forward to vindicating itself in this litigation and also remains committed to a reorganization of the network in bankruptcy court.
And now McLane's side, via the Associated Press:
McLane said in a statement the sale of the Astros was "absolutely transparent" and his side had provided thousands of pages of documents and answers to all questions that Crane and his representatives had.

"This was one of the most complex and scrutinized transactions of my business career," McLane said. "The accusations that have been reported are hollow and appear to be an attempt to recreate the facts."
The Astros had the lowest payroll in the majors last season and at this point estimate to only have a payroll around $20 million for next season -- though that is going to spike, according to McLane himself. And the Astros have been rumored to be looking at someone like Shin-Soo Choo as a possible signee.
Obviously, the TV deal is a major problem, no matter who is at fault. The TV money is what helps teams like the Dodgers and Angels spend huge in free agency. Houston isn't exactly a small market, either, checking in as the fourth most populous city in the United States. Still, the Astros drew some absolutely miserable TV ratings down the stretch last season, including a 0.0 mark.
Part of the problem? The Astros have gone 56-106, 55-107 and 51-111 in the last three seasons, respectively. Another part, though, is that the club isn't available to over half the market on television. According to Crane, he was misled on this front, hence the lawsuit.