Big seasons coming from Albert Pujols, Josh Hamilton? It's possible
During his manager session Angels skipper Mike Scioscia discussed how he's expecting a healthy Albert Pujols and productive Josh Hamilton in 2014. Obviously, he pretty much has to say that, but it's a very reasonable stance.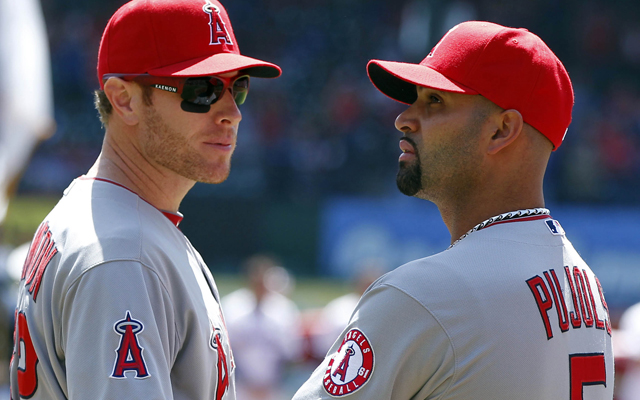 MORE: FA tracker: position players | FA tracker: pitchers | Winter Meetings updates
ORLANDO - The biggest news the Angels have made at this season's Winter Meetings is trading power hitter Mark Trumbo for two young and relatively unproven starting pitchers. This is a far cry from two winters ago, when they signed Albert Pujols and C.J. Wilson on the last full day of the meetings.
Two seasons later, the Angels have missed the playoffs each year -- and this coming after they also signed Josh Hamilton to a megadeal last offseason.
The problem last season fell mostly on the pitching staff, but Pujols battled injury woes and posted the worst season of his career while Hamilton also greatly disappointed. The offense managed to rank sixth in the 15-team AL in runs scored, but with so much invested in two supposed offensive juggernauts, that wasn't good enough.
Will that change in 2014?
A start would be Pujols' health. Manager Mike Scioscia believes they're in great shape there, too.
"Albert is swinging the bat," Scioscia said Wednesday. "He's taking batting practice. He feels very strong physically. I really feel that he's going to be the healthiest he's been, certainly from what he's been out here with us, probably a couple years before that in St. Louis where he was banged up."
One might recall, Pujols had arthroscopic surgery on his right knee last spring, which hampered him moving into the season and helped relegate him to mostly designated hitter duty. Later, he partially tore the plantar fascia in his left foot.
Earlier this offseason, Pujols noted that he'd been dealing with plantar fasciitis in his left foot for upwards up nine years. The tear, however, was far more severe than anything he'd dealt with before in that foot. He now says -- via MLB.com last month -- that his foot is 100 percent. Scioscia appears to have heard a similar story.
"I think the foot will be a non-issue," said Scioscia. "I think that he'll take a lot of pressure off his knee -- that kind of went hand-in-hand with having his foot issue [last season]."
As for Hamilton, his wasn't an issue of health, but instead one of adjustment and comfort. Now that Peter Bourjos has been traded and Mike Trout is ticketed for center field everyday -- not to mention that Hamilton has one year under his belt as an Angel, Scioscia expects a different Hamilton.
"Josh is going to move back to left field and just stay in left field," Scioscia said. "And I think he'll be more comfortable with that aspect as opposed to switching him to right field."
"I do feel, from the way he finished up the second half of last season and made some adjustments that he understands what his role is a little more, what our team is about and what he can bring," Scioscia continued, "And Josh is going to have a big year for us next year."
Yes, "the way he finished up." Though many may not have noticed due to the Angels being out of contention, Hamilton swung the bat very well down the stretch. In roughly the last seven weeks of the season (Aug. 9 to the end), he hit .329/.392/.518 with 11 doubles, three triples, five homers and 28 RBI in 189 plate appearances. This wasn't a small stretch, either, it was 45 games.
Now, Scioscia has to say what he did about his two highly-paid sluggers. He has to believe it, too, but it's an entirely reasonable belief with these two. There are circumstances with each player that very well may have been fixed heading into 2014.
Given what we've seen from Hamilton in the past, there's reason to believe he could bounce back with a monster year at age 32 in this lineup. Given what we've seen a healthy Pujols do in the past, there's reason to believe he's capable of a monster year himself, too.
So while the Mariners continue to make noise this offseason, the Rangers continue to stay in the news and the Athletics made several under-the-radar-yet-solid tweaks, don't forget about the Angels. Their biggest move heading into next year might just be getting back the Pujols and Hamilton of old.
The lefty starter is coming off a terrible season

After acquiring Ian Kinsler and Zack Cozart in recent days, the Angels are trending upward

Cozart's coming off a big season as the Reds' shortstop
The veteran slugger spent the last eight seasons with Cleveland

The Padres may be poised for an active winter

Yes, Bryce Harper is going to make a lot of money next winter