Blue Jays showing interest in their former outfielder Alex Rios
Toronto is casting a wide net, and it's uncertain if the Jays have much (or any) money to spend this month.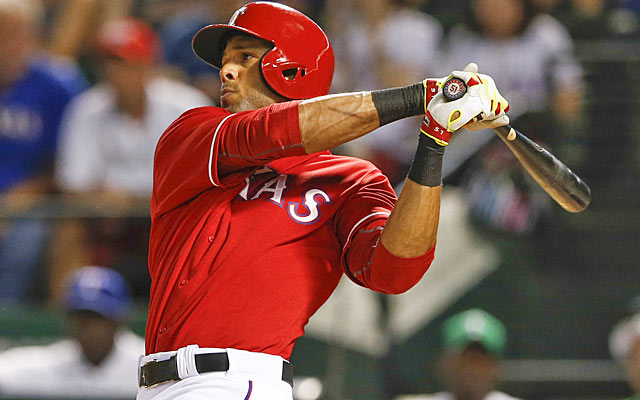 More MLB: Power Rankings | Expert Picks | Latest news & notes | Fantasy news
In an interesting twist, the Blue Jays are showing interest in their former player Alex Rios, according to sources.
Rios is one of the best hitters in a thin market for middle-of-the-lineup batters, so it shouldn't come as a surprise Toronto, with three key injuries hurting them now, would check in. Yet, it is a bit ironic since the Blue Jays were thrilled in 2009 when the White Sox shocked folks and claimed the outfielder off waivers, taking a $69.835-million contract many believed was untradeable at the time.
Of course things have changed and Rios is producing more now; he's hitting .302 with four homers and 42 RBI for the Rangers, who acquired him last July when Nelson Cruz was suspended in the Biogenesis probe. Another plus: he's worth the current $12.5 million salary, and also the $14-million team option for 2015 on that old unpopular contract looks reasonable now. (Texas will surely pick it up if it keeps him.)
"I'd recommend Rios," one AL scout said. 'You're not going to get much power, but he hits, he runs and he throws."
The Royals and Mariners are among other teams with interest in Rios, and the Giants could make sense, as well.
A friend of Rios said the trade rumors have bothered him, perhaps accounting for a drop in production this summer. He was at a high of .335 on June 9 and 10.
The Blue Jays are currently without Edwin Encarnacion (quad), Brett Lawrie (finger) and Adam Lind (foot) as they struggle not to fall behind in a tight AL East.
Toronto is also hard to predict as it is involved in maybe more talks than anyone, and there's also a question whether it has much (if any) money to spend at the deadline, as was written here.
Rios' old team is not on his six-team no-trade list, according to Cot's Baseball Contracts.
No, you're not imagining things. This MLB offseason has been very slow compared to the last...

Francesa will retire from radio next month, so he'll have plenty of free time next summer

Get your sports fans something that they'll wear all year
Get 15 percent off any order of more than $75 at CBS Sports Shop

The Twins need help in the rotation, and they may look to the trade market to find arms

Here are the bullet-points of what went down Tuesday regarding MLB and the Braves' punishm...