Chris Perez pleads not guilty to marijuana possession charges
After two packages containing 1/3 of a pound of marijuana were delivered to their home in their dogs name, Indians closer Chris Perez and his wife have plead not guilty.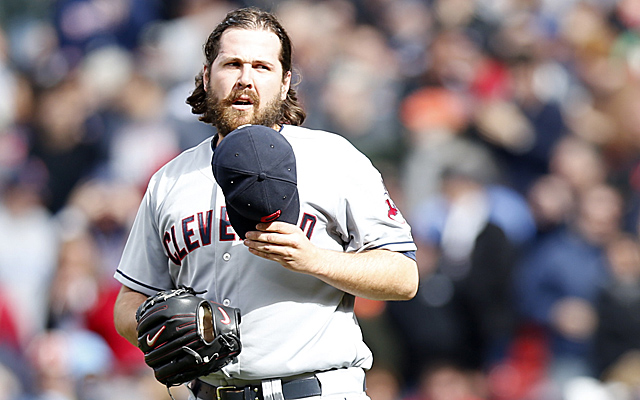 More MLB: Scoreboard | Standings | Probable Pitchers | Sortable Stats | Odds
Injured Indians closer Chris Perez and his wife pleaded not guilty Monday to misdemeanor marijuana possession charges. The pleas were faxed into Rocky River Municipal Court by their attorneys and included a request to drop the requirement that the Perezes appear in person for their June 19 arraignment, according to the Associated Press.
The charges stem from an investigation last week that revealed two packages containing about 1/3 of a pound of marijuana were delivered to the Perez household in the name of their dog. Seriously. Here's the excerpt from the AP:
Authorities say Melanie Perez, whose maiden name is Baum, told the undercover officer delivering the packages that they were intended for her dog, named Brody. The package was addressed to Brody Baum.
Chris Perez was reportedly cooperative with the authorities, as he "volunteered to direct the officers to the location" of the drugs when asked.
Reports indicate charges of this nature are tantamount to a traffic ticket, meaning Perez faces little more than a fine, at worst. Also, under the MLB drug agreement, players face treatment programs instead of suspensions for this type of offense.
Perez, 27, has successfully closed six of his eight save chances this season and sports a 4.32 ERA. The two-time All-Star had a 0.64 ERA before his last three outings, however, during which time he may have been dealing with pain. He's currently on the disabled list with shoulder tendinitis.
Mark Appel was one of the players being moved about on Monday night

Garrett Cooper is the answer to a trivia question

We still don't know if Ohtani will be jumping to the majors yet
Kinsler is a free agent next winter

Opening Day will be Thursday, March 29 -- the earliest opening day in MLB history

The World Series champion and big-time wrestling fan was on hand Sunday night