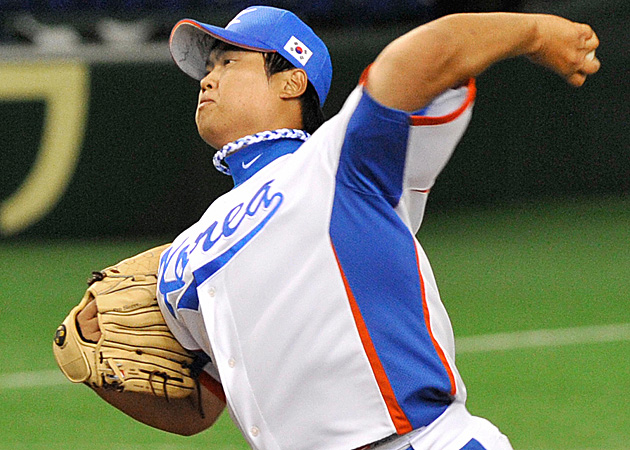 Ryu will pitch in Dodger Stadium in 2013. (Getty Images)
The Los Angeles Dodgers agreed to terms with Korean starting pitcher Hyun-jin Ryu just before the 5 p.m. ET Sunday deadline, reports CBSSports.com's Jon Heyman. The contract will pay Ryu $36 million over six years, a figure that includes a $5 million signing bonus.
Ryu also has an opt-out clause after five years and has a shot at $1 million per year in performance bonuses relating to innings pitched. So it's possible Ryu could make up to $42 million here.
Dodgers big offseason
Related content
The Dodgers paid a $25.7 million posting fee to Ryu's Korean team, which gave them a 30-day window to negotiate with the 25-year-old pitcher. The Dodgers would have had the fee returned to them had they been unable to come to terms, but they got a deal done just in the nick of time.
Ryu is a 6-foot-2, 215-pound left-hander. In seven years in the Korean Baseball Organization, Ryu had a 2.80 ERA, 1.15 WHIP and 1,238 strikeouts in 1,269 innings. According to Baseball-Reference.com's bullpen blog, Ryu throws in the 90-95 miles per hour range with a "decent curveball, a slider and a deceptive changeup."
Agent Scott Boras has said Ryu profiles as a No. 3 starter in the majors. On the Dodgers, at least at this point, Ryu looks like a four. Clayton Kershaw is the obvious ace with newly signed Zack Greinke a great No. 2. From there, Josh Beckett is likely the third guy with Ryu behind him. The fifth starter job would then go to either Aaron Harang, Chad Billingsley or Chris Capuano, assuming the Dodgers aren't still in play for the likes of Kyle Lohse and Anibal Sanchez.
For more baseball news, rumors and analysis, follow @EyeOnBaseball on Twitter, subscribe to the RSS feed and "like" us on Facebook.