Eric Wedge blames Dustin Ackley's woes on sabermetrics
Why is Dustin Ackley struggling? His manager says it's because he's worried too much about sabermetrics (of which he lumps in on-base percentage).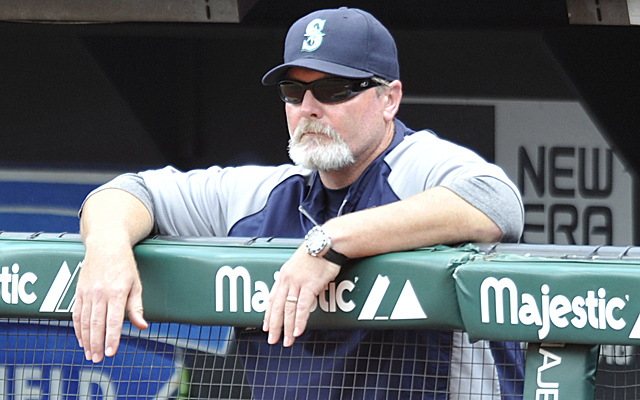 More MLB: Scoreboard | Standings | Probable Pitchers | Sortable Stats | Odds
Making the rounds on the Twitterverse on Tuesday was the following nugget from Mariners MLB.com beat writer Greg Johns as he discussed the struggles of recently demoted -- and former highly-touted prospect -- second baseman Dustin Ackley with Mariners manager Eric Wedge:
Wedge was talking about Ackley's demotion to Triple-A and his mental approach, and he intimated that Ackley might have been too concerned with pitch selectivity and high on-base percentage, leading to a one-liner that hit on one of baseball's most intriguing ongoing philosophical battles.

"It's the new generation. It's all this sabermetrics stuff, for lack of a better term, you know what I mean?" Wedge said. "People who haven't played since they were 9 years old think they have it figured out. It gets in these kids' heads."
OK, everyone who hates sabermetics, please indulge me and put aside said hatred for one second and think logically about two aspects of this unbelievably misguided statement.
1. On-base percentage isn't a new or advanced stat. It couldn't possibly be more simple. It is, quite literally, the number of times a batter doesn't make an out. Think about that. From the time we were (let's go with Wedge's number) 9 years old, the most basic goal when grabbing a bat is to not make an out. A major-league team only gets 27 outs to try to outscore its opposition. Each time a player makes an out, the lower the chances become of scoring more runs. It's unconscionable that one of 30 major-league managers in the entire world thinks OBP is some advanced measure. This is elementary-level stuff.
2. Sorry. If a kid has an issue with any stat -- even the beloved-to-old-schoolers batting average and/or RBI -- being too much in his head, he needs to be mentally stronger in order to compete at the big-league level. Think about it: What if a sabermetrics "geek" said a player was struggling because of the old-school mentality that batting average is the most important thing? How would the Eric Wedges of the world react to that?
This slaps of an old-school manager going out of his way to decry a group of stats he: a.) doesn't like; b.) doesn't even understand.
I don't know why Ackley is struggling. If it's because he wishes he weren't making as many outs (OBP), he needs to stop worrying about stats and just play the game that he grew up loving as a kid. The same goes for any player, any stat and any manager. It doesn't take someone who played past the age of 9 to grasp the concept that worrying about specific stats while attempting to play such a difficult game is not a good idea.
They still would much rather grab the AL East, however

Sale becomes the first AL pitcher to reach 300 strikeouts since 1999

Steve Balboni's long-standing record of 36 has finally fallen
Several players called for the netting to be extended down the base lines following Wednesday's...

Maria made landfall as a Category 4 on Wednesday

The players are trying to do their job and don't want to see anyone hurt