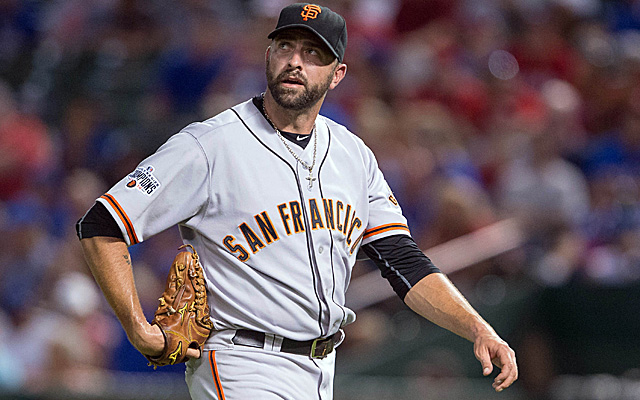 More than three years ago, I penned the headline "Jeremy Affeldt: King of weird injuries" and he's at it once again. Before Tuesday's game, Affeldt was placed on the 15-day disabled list with a subluxed left patella (basically a partially dislocated kneecap) by the Giants. How did it happen? Well ...
Manager Bruce Bochy tried to maintain sense of humor, noting it was a typical Affeldt injury (apparently was playing with kids) #sfgiants

— Chris Haft/SF Giants (@sfgiantsbeat) August 25, 2015
Affeldt said he was getting off an inflatable in a lake near Spokane and favoring his right knee when he felt a pop in the left one.

— Andrew Baggarly (@extrabaggs) August 26, 2015
Back in 2011, Affeldt sliced open his hand while attempting to separate frozen hamburger patties at a cookout.
In the aforementioned 2012 incident, Affeldt's then-4-year-old son jumped into his arms, causing a sprain in his right knee's MCL.
Later in 2012, Affeldt was in the dugout when he had to get out of the way of a Gregor Blanco foul ball and fell backward near the stairs in Great American Ball Park (sfgate.com).
So, yes, Jeremy Affeldt is still the king of weird injuries.