Hall of Fame candidate Gary Sheffield stays busy in retirement
Gary Sheffield is a baseball agent and now an investor in a huge youth baseball project in Florida.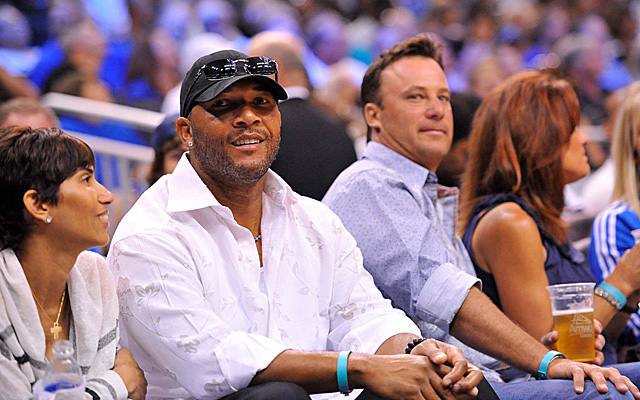 More MLB: Power Rankings | Expert Picks | Latest news & notes | Fantasy news
Nine-time All-Star and member of the 500 Home Run Club Gary Sheffield is eligible for the Hall of Fame this coming winter for the first time. In the meantime, though, he's keeping plenty busy in his retirement. Not only is Sheffield an agent (Jason Grilli is his most prominent client), but now he's signed on for a massive youth baseball project in Florida.
Sheffield -- a Tampa, Fla. native -- has joined up with Pasco Sports in the Tampa area on a project that will build a $34 million baseball complex in Wesley Chapel.
"I was already in the process of looking for a complex like this, and I got hit with the opportunity," Sheffield told Eye on Baseball. "This location came about and I was approached by James [Talton] and it was the perfect fit. The location was perfect, especially the Wesley Chapel area, because that area is growing."
The facility will have nine MLB-sized fields, a 2,500-seat stadium, 10 youth-sized fields and even some dorms for housing visiting travel teams. Those dorms will include a players' lounge, cafeteria, some classrooms and then practice fields on the roof. Here's the conceptual art, via Blue Marble Sports: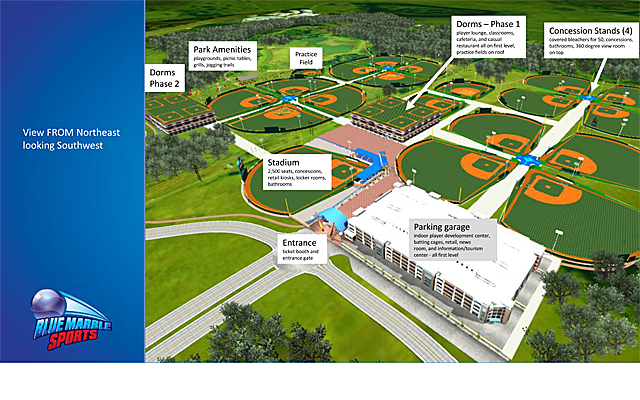 Sheffield signed onto the project with James Talton of Blue Marble Sports and now Chuck White of IBC Baseball and Game Ready Scout Day is also part of the project. Former MLB All-Star and Tampa Bay Devil Ray Fred McGriff has now signed on as well.
Sheffield plans on being visible around the complex and he doesn't intend to be alone, in terms of former MLB players.
"I'm not the type of person that I'm a part of something, and then I just leave it up to someone else and let them just use my name," Sheffield said. "I want to be involved in the situation."
"I'm not a day-to-day operations guy, but I'll be hands on," he continued. "I'll be in on the decision-making process. I'm gonna have Major League ballplayers around here. I'll be a part of it and I've gotten calls from 20-30 guys already who want to be a part of it."
Mainly, Sheffield wants to be working with the kids on the fields, which is something he discovered after his first few years of retirement -- when he was keeping a low profile.
"I stayed quiet for a couple years and I've got the retirement thing down pat now," Sheffield said. "I'm just looking at bigger and better things that I have a passion about and taking that time off allowed me to find the true passion that I have is serving kids. I think kids are very honest and innocent, so that's where it works for me. You have a kid that's open to learn and I'm willing to teach."
Having kids learn from Sheffield in the above facility in the area where he grew up is an excellent situation for everyone involved. After all, we're talking about a Hall of Fame caliber player in what looks to be a Hall of Fame type youth facility.
In Sheffield's 22 years in the bigs, he piled up 509 homers and 1,676 RBI with a .292/.393/.514 slash line. He won a World Series, a batting title and six times finished in the top 10 of MVP voting. His trademark bat wiggle is just as memorable as his gaudy numbers. Will this all be enough to have him enshrined in Cooperstown on his first attempt? Sheffield hasn't pondered as much.
"I haven't even thought about it at all," he said when asked about his Hall of Fame chances. "My thing is that I've got so much going on and the only time I even think about it is when someone else brings it up to me."
I jokingly apologized for bringing it up and he laughed.
"The way I've always carried myself, even when I played, is to take care of moments as they happen," he responded. "Before things happen, you don't know what your emotions are going to be one way or another. I'm pretty sure it would be a positive feeling if it happens. If it doesn't happen, I can't tell you how it would feel."
Meanwhile, Sheffield is more worried about helping out the kids in the soon-to-be-built Pasco facility.
"What we're doing is giving kids the opportunity to play against the best players in the world," he said, putting the focus back on the facility rather than himself. "This is going to be a destination where the best players come and all the scouts are going to be here waiting on them."
And these players are going to do things by the book, literally.
"There's gonna be a manual of how we want to teach these kids the right way to play the game."
Agent. Investor in massive baseball facility project. Mentor to youth baseball players.
Gary Sheffield is happily staying busy in his retirement after his long baseball career -- even if the Hall of Fame doesn't come calling.
Keep it locked right here for everything you need to know about the world of baseball Tues...

There have been several racially charged incidents at Fenway Park this year

Washington's right fielders have sputtered offensively since Harper went down
The good news? Wichita still has a chance to win the series Tuesday night

The 2017 season is going to shatter the all-time collective home run record

Ferrell somehow avoided going to the ground