Jarrod Parker (forearm), AJ Griffin (elbow) to see doctor in coming days
Athletics righties Jarrod Parker (forearm stiffness) and AJ Griffin (elbow) will soon see Dr. Andrews and Dr. Freedberg, respectively.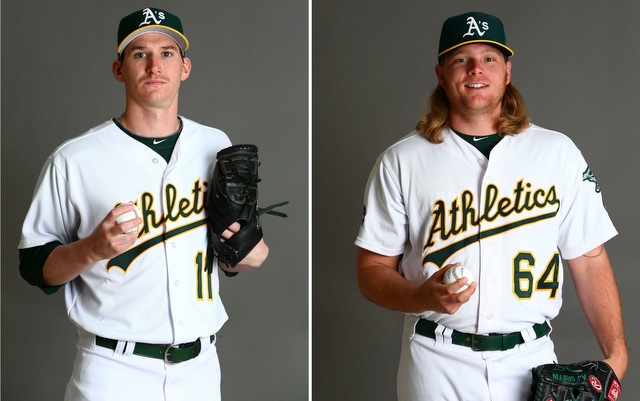 MORE: Spring Training | Scoreboard | FA tracker: hitters | FA tracker: pitchers
Athletics right-handers Jarrod Parker (forearm stiffness) and A.J. Griffin (elbow) will see the doctor in the coming days, reports Susan Slusser of the San Francisco Chronicle. Parker will see Dr. Andrews in Alabama on Monday while Griffin will see Dr. Freedberg in Arizona on Saturday.
Parker, 25, dealt with a forearm issue late last year but felt it improved over the winter. He had trouble getting loose earlier in spring training and showed reduced velocity in previous Cactus League starts. Parker had Tommy John surgery back in October 2009. Forearm stiffness is a common symptom of elbow problems.
Griffin, also 25, missed time with elbow inflammation late last season and had to sit out the ALDS. He also missed time with a shoulder strain back in 2012, but has otherwise been healthy during his big league career. Slusser says Griffin is expected to start the season on the DL.
In 32 starts and 197 innings last season, Parker went 12-8 with a 3.97 ERA (94 ERA+) and 2.13 K/BB. Griffin went 14-10 with a 3.83 ERA (97 ERA+) and a 3.17 K/BB in 32 starts and exactly 200 innings in 2013.
With Parker and Griffin out, the A's are likely to start the season with Jesse Chavez and Tom Milone in the rotation. Scott Kazmir, Sonny Gray and Dan Straily already have spots locked up.
Harrison has a thing for ending no-hit bids

Hill was close to perfect across regulation but it turned out to be all for nothing in the...

Plus Hank Aaron weighs in on Colin Kaepernick, Trevor Rosenthal hits the DL, and more
Davis should help fortify the Red Sox outfield

Whether or not Mike Matheny will adjust is to be seen

Hammerin' Hank wants to see Kaepernick get another shot in the NFL