Jeter fighting to avoid DL, other Yankees threaten to head there
The possible alignment now is Juan Rivera at first base, and Brennan Boesch and Ben Francisco splitting one outfield spot. But very little is set with the Yankees these days.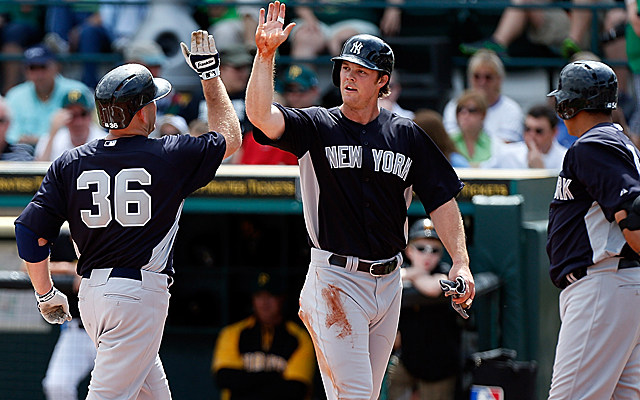 FORT MYERS, Fla. -- Every day, another injury. Or so it seems for the Yankees.
The newly acquired Brennan Boesch was scratched from the lineup for what was described a a "stiff ribcage.'' He joins a long list of infirmed Yankees, leaving a lineup that is unrecognizable to some.
"I look at that lineup, and I say, who are these guys?'' one scout with a National League team said. "That's not a Yankees team. What's going on?''
What's going on right now is that they are trying to figure out how to a form a respectable lineup with what they have, which doesn't include Curtis Granderson, Mark Teixeira, Alex Rodriguez and perhaps Derek Jeter (who may miss a few days at the start of the season, but worked out Friday and is fighting not to be placed on the disabled list), plus of course Nick Swisher and Russell Martin, who left via free agency.
Boesch regretted taking the bus trip here, only to be unable to play. "In hindsight, I probably should have spoken out before,'' the new Yankee said.
Yankees manager Joe Girardi concurred, saying after the game against the Twins, "Not very smart on his part. Not he's got two hours, fifteen minutes back (on the bus).''
Word is, as things stand now Juan Rivera is likely to open as the team's first baseman and Boesch (who'll be sidelines until Tuesday, at least) and another recent pickup, Ben Francisco, will share one outfield spot. But Girardi isn't committing, even to a leadership board. "We're still evaluating our guys. We really haven't made any decisions,'' Girardi said.
One reason is, you never know who might go down next (though Boesch's injury is not considered serious). The bigger, more hopeful reason it's too early to pencil in Rivera and the Boesch/Francisco platoon is that you never know who might pop loose on the waiver wire. They can always hope for a quick upgrade somewhere. "You don't know what's going to happen in other teams' camps,'' Girardi said.
The same could be said in Yankees camp, which now is like a MASH unit. Jeter worked out Friday, may DH in a minor-league game Saturday and is said to be "fighting like heck'' to be in the opening-day lineup, and as a shortstop no less. But the Yankees aren't going to play him in any more major-league spring games, keeping the possibility alive to backdate a potential disabled list stay, which would enable him to play as early as April 6.
Jeter, returning from a broken ankle, is feeling sore but an MRI was said to be clean and his resolve is unwavering. Even Yankees people are amused that Jeter won't call the latest episode a setback. "His mind is what makes him great,'' Girardi said.
Whether the team can maintain greatness is the real question here now. They've averaged an astounding 97 victories over the last 17 seasons. But they never started a season with this many defections and infirmities. Granderson will miss at least a month, and Teixeira will miss anywhere from six weeks to the entire season. (He has a 70 percent chance to avoid surgery, but an operation would end his year.)
In the meantime, first base would appear to be Rivera's until further notice. "He's made all the plays,'' said Girardi of the veteran outfielder while refraining from calling him the frontrunner.
Scouts are predicting the Yankees' demise, which doesn't deter Girardi. As he pointed out, "They've said that for a long time.''
Regardless, they've never lost this much of their offense at once. "It's too early to say what's going to happen. We have injuries to key guys. But we've had key guys get hurt before,'' Girardi said. "We had key guys go down last year, and other guys stepped up. We're not the only team going through hiccups.''
As Girardi noted, they lost Mariano Rivera, then for a while David Robertson last year. And they lost Andy Pettitte and CC Sabathia for a while.
But last year they had a strong bench with Eric Chavez, Raul Ibanez and others. They also had Rafael Soriano when Rivera went down.
This year, in addition to Jeter, who may begin the year on the DL, they also have Phil Hughes, who's likely to as he battles back after an early spring back ailment.
Girardi is taking an optimistic view, even while things around him seem to be disintegrating. There's been talk Jeter might be able to DH at the start of the year, but Girardi sounds more hopeful than that. If Jeter can't make it, Eduardo Nunez would play shortstop.
"The thing is, we need him to play shortstop,'' Girardi said of Jeter. "We have to see where he is after next week. He could progress to where he could play shortstop.''
If he can play shortstop, that would reverse the trend of bad news in Yankees camp.
Boston wants to add two big bats to their lineup, not just one

Even more relievers signed on the final day of the Winter Meetings

Keep tabs on the top 50 free agents right here
The league is not happy Ohtani's medical information leaked

Kansas City and Baltimore were quite busy at the Rule 5 Draft

Piscotty's mother was diagnosed with ALS earlier this year