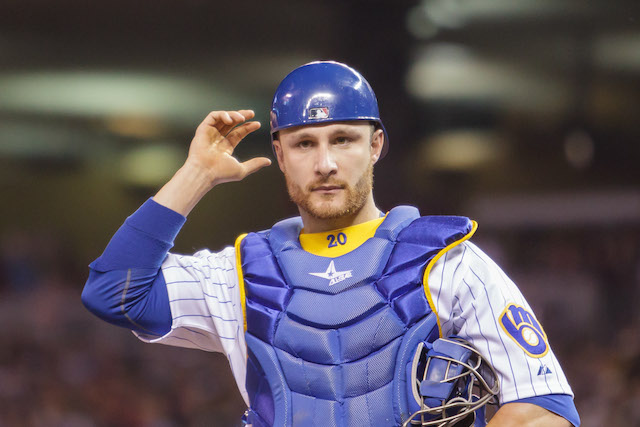 MORE: Spicing up the Home Run Derby
MINNEAPOLIS -- One of the emergent ways in which we're better understanding the role of the catcher has to do with the ability to frame pitches for strikes. That skill, which involves subtly positioning taken pitches on the margins of the strike zone so as to encourage called strikes, makes a big difference.
Among those catchers who have distinguished themselves in this regard is Brewers back-stop and NL All-Star starter Jonathan Lucroy. According to StatCorner, Lucroy this season ranks second in the majors with 15.4 runs saved relative to the average catcher's framing ability. This comes after Lucroy led the bigs in framing runs in 2013 and finished fifth in 2012, first in 2011 and third in his rookie season of 2010. In other words, Lucroy has an established skill, and he's consistently been among the best in baseball at framing pitches for strikes. 
StatCorner's numbers suggest that the best framers can be worth three to four wins per season based solely on preserving borderline strikes and converting just-misses to called strikes. To say the least, that's significant. Little wonder, then, that Lucroy takes his pitch-framing abilities very seriously.
"I've worked hard on it," Lucroy said during All-Star week in Minneapolis. "I kind of developed the technique myself. As a young catcher, you have to develop those things within your body type. Some guys can't do it because they're bigger, but some guys can get low. I can get low. I like to get low to the ground and work my way up."
When he says he can "get low" for the called strike, Lucroy tells no tales. For example ... 
(GIF via the most excellent Jeff Sullivan of FanGraphs)
In the above moving image, Lucroy gets the call in part because of his quiet glove, and in part because he's so low to the ground that he's able to receive the ball in the mid-line of his body. That probably serves as a visual cue to the ump that the pitch found its spot and at least nicked the zone. It's also probably easier to ease the ball up from that low position than it is to move down to the pitch, which so often results in the stabbing motion that says "ball" to the umpire. As you can see, there's very little daylight between Lucroy's haunches and the dirt, and his positioning looks not unlike the "ass to grass" squat positioning coveted by weightlifters. Getting low, indeed. 
Lucroy is also quick to point out that he's been fortunate to have "really good instructors" helping him with this aspect of his game coming up through the Brewers' system. So it's been the union of hard work, expert coaching and the hip mobility needed to hover just above the ground as the pitch is coming in that have allowed Lucroy to become one of the best pitch framers in all of baseball. 
Oh, and he can hit a little bit, too.