Justin Verlander owns the A's, literally, per their Wikipedia page
The Oakland A's Wikipedia page was altered during Thursday's Game 5 of the ALDS to say that the owner was Tigers ace Justin Verlander.
Well, this isn't likely to last long before the Wikipedia editors notice and fix it, but I took a screen-grab for posterity: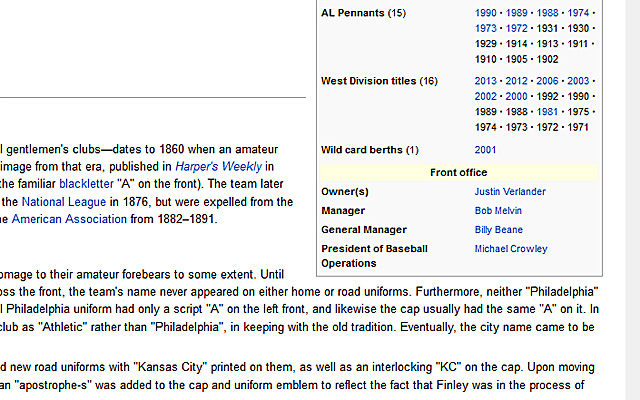 Yes, that's the Oakland Athletics Wikipedia page. And it says the owner is Tigers ace Justin Verlander.
After eight dominant innings Thursday night in his Game 5 win, Verlander now owns the following line in his career in Oakland, including both regular season and postseason: 0.30 ERA, 0.60 WHIP, 37 strikeouts, six walks, 30 innings pitched. So, yeah, he might as well own O.co Coliseum.
Supposedly, MLB execs have discussed letting teams hit any three hitters they want in the...

Keep tabs on the top 50 free agents on the market right here

After the departures of Steven Souza and Corey Dickerson, the Rays add a right-handed bat
Rasmus essentially walked away from baseball during last season

Forrest Whitley is the Astros' top pitching prospect and set to work in Double-A this year

Jonah Keri talks to Orioles manager Buck Showalter