Larry Doby, Ted Williams, Joe DiMaggio and Willie Stargell get stamps
The US Postal Service announced it would sell stamps with the images of Larry Doby, Ted Williams, Joe DiMaggio and Willie Stargell starting July 21.
There used to be these things called letters. You'd write out a message on paper with a pen or pencil, fold the paper up and stuff it in an envelope. On that envelope, you'd write where you wanted your message to go, put on what is called a stamp and put it in a blue box. Somehow, a couple of days later, that letter would magically appear where you wanted it. Or at least most of the time it would.

But, if you didn't have the stamp, there was no magic. Your letter wouldn't get where it needed to go. Now, I don't know how the magic worked between putting the letter in the box and it arriving where it needed to go, but somehow the magic was in that stamp. Because of the magic involved, the stamp has been revered for years. All over the world, people honor the stamp, collect the stamp and buy stamps in great quantities for their magic properties. In addition, governments, who control this magic, would put pretty pictures on the stamps, sometimes of flowers, sometimes of dogs and sometimes of famous people.

The department of magic in this country has added new stamps to honor four baseball legends -- Larry Doby, Ted Williams, Willie Stargell and Joe DiMaggio -- and here's what they look like: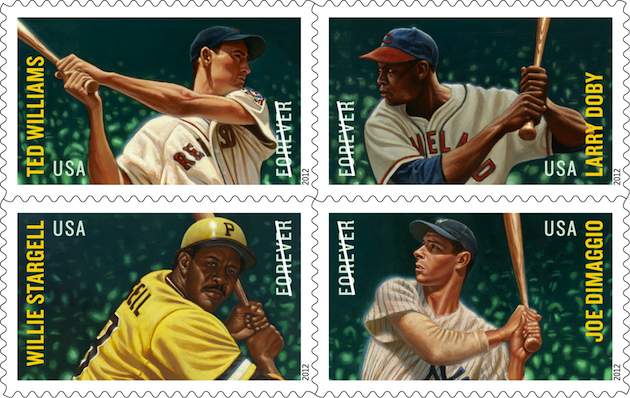 This version of the magic stamp will be available for purchase on July 21. Citizens will be permitted to buy sheets of 20 of these stamps, either of all four or 20 of just one of the baseball legends.

For more baseball news, rumors and analysis, follow @EyeOnBaseball on Twitter, subscribe to the RSS feed and "like" us on Facebook.
Wright was arrested at his home Friday

The former Tigers teammates were voted into Cooperstown by the 16-person Modern Era Commit...

The Yankees still have room for a good-sized signing even after Saturday's trade with Miam...
St. Louis gets some much needed help for their bullpen

Keep tabs on the top 50 free agents right here

Morrow thrived with the Dodgers last season